First batch of locally produced shrimp to hit Seychelles' market in April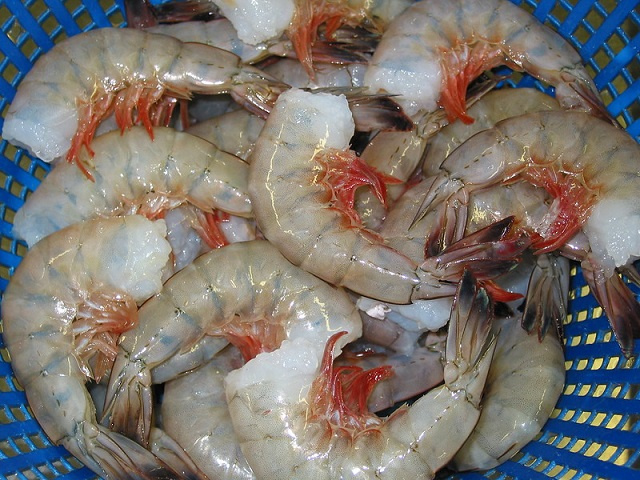 There are nine ponds being used to produce the whiteleg shrimp. (WOODSFISHERIES/Flickr) Photo License: CC BY-NC-SA 2.0
Send to Kindle
(Seychelles News Agency) - The first batch of white shrimp grown in Seychelles is expected to hit the local market around April said the chief executive of the Islands Development Company (DC), Glenny Savy, on Wednesday.
The IDC is mass producing shrimps on Coetivy, one of Seychelles outer islands.
"Unfortunately, the first batch will not be enough for the whole population, but we will be putting them in stores in April. We expect that by next year, it will be available in numbers for local consumption," said Savy.
He said that the first batch will also be sold to hotels and tourism establishments in the island nation in the western Indian Ocean.
At the moment, there are nine ponds being used to produce the whiteleg shrimp. Production of the black tiger prawns is expected to start soon.
The whiteleg shrimp is a short-lived prawn and is the largest prawn in its range, reaching lengths of nearly 20 cm. It is one of the more highly sought-after seafood species.
As for the black tiger prawns, they are large-bodied prawns that are native to the Indo-West Pacific Ocean but have established invasive populations in other areas. Tiger prawns get their common name from the stripes that cover their shell.
"It will take us about a year to arrive at full 200 tonnes production capacity and when that happens, we expect to have fresh and frozen prawns entering the market every week or 10 days," added Savy.
IDC's CEO explained that they are using a number of money-saving techniques for the prawns production, which will allow the company to give Seychellois consumers the product at a more affordable price than their imported alternative.
"We have not determined an exact price for the moment, but we do expect it to be lower than what is available at the moment, because if it is not cheaper than what is already available, then there is no point in producing it," Savy added.
Prawn farming is not new to Seychelles. In 1989, in collaboration with the Seychelles Marketing Board (SMB), IDC developed a black tiger prawn farm on Coetivy Island, with broodstocks imported from Madagascar and Mozambique. The partnership between the two companies was over before the prawn farm was deemed not profitable and ceased its operations in 2009. 
Fisheries
» Be a reporter: Write and send your article
» Subscribe for news alert