Seychelles is a prime destination for Bulgarian tourists, new charter flights start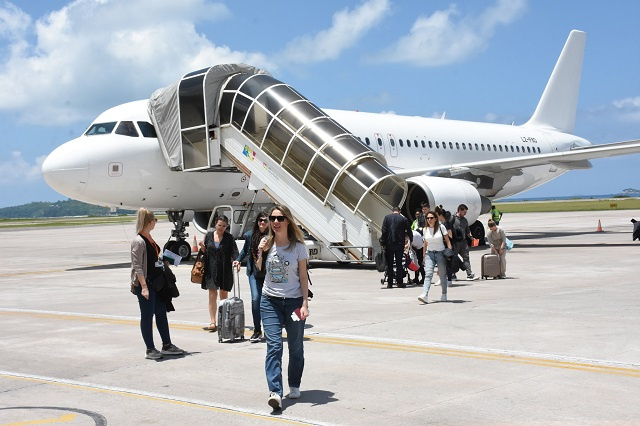 The Bulgaria Air flight which in Seychelles at 1 p.m. on Sunday carried 180 passengers onboard Bulgaria Air. (Seychelles Nation)
Send to Kindle
Another series of charter flights between Bulgaria and Seychelles started on Sunday, 26 February, with the island nation welcoming 180 passengers onboard Bulgaria Air.
Landing at the Pointe Larue international airport shortly after 1 p.m., the charter flight, which operates with a technical stop in Djibouti on each leg, was fully booked.
Andre Butler-Payette, the general manager of 7° South, a destination management company and tour operator in Seychelles, told SNA on Monday that the flight is one of two. The second will be operated on March 18.
"Considering that this is the second time that we are doing this, it means that there is great interest and the will to make this happen and that there is capacity in new markets, especially from central Europe so that we can explore new opportunities," said Butler-Payette.
The charter flight is part of a series being coordinated through a partnership between three Bulgarian tour operators - Planet Travel, Luxutour, and Abxa - and 7° South.
"We learned during COVID-19 that we were relying too much on markets that were already developed [...] This is why we launched into this venture to diversify our markets. It is important for the country to explore as many opportunities as possible and explore markets that will have positive impacts," said Butler-Payette.
The second round of chartered flights from Bulgaria was initiated in November 2022. It was during a blitz visibility campaign in Sofia that Seychelles' Tourism Department announced there will be new direct flights to be operated between Mahe, Seychelles, and Sofia, Bulgaria. 
The honorary consul general of Seychelles in Bulgaria, Maxim Behar, worked closely with 7° South to find the key partners for the charter flight.
"I can definitely say that Seychelles now is a prime destination for Bulgarian tourists and we expect the next completely full charter to depart very soon," Behar told SNA via email.
"Just a year ago Bulgarian visitors were coming to Seychelles very sporadically and this is changing due to the very proactive advertising campaign provided by the Consulate in Sofia. Three months ago the Ministry of Foreign Affairs and Tourism, alongside the Consulate organised a very aggressive and intelligent campaign in Sofia both with the tour operators, journalists and representatives of 7° South," he added.
The director general for marketing, Bernadette Willemin, said in a press release that after the blitz, it is part of the department's strategies to expand Seychelles' promotional efforts across all markets where there are noticeable and solid potentials.
She outlined that Bulgaria is among Seychelles' top five central European markets.  In 2022, over 1,700 Bulgarians landed in the island nation.
According to the press release, the Bulgarian Deputy Minister of Tourism, Irena Georgieva, said that "Seychelles is undoubtedly one of our partners in tourism with whom we want to develop our relations and deepen the opportunities for fruitful cooperation in the future."
She added that "it is a preferred destination for high-end tourism and is a shining example of a valuable tourism product that is developed and promoted by some of the best Bulgarian tour operators. I believe that the foundations of our cooperation have already been laid because many Bulgarians know the destination with its best advantages."
Similar charter operations were organised in 2022 from the European capital, with two full-capacity direct flights. 
Tourism is the top pillar of the economy of Seychelles, an archipelago in the western Indian Ocean.
Tourism
» Be a reporter: Write and send your article
» Subscribe for news alert