Nigeria ruling party candidate takes election lead, rivals claim fraud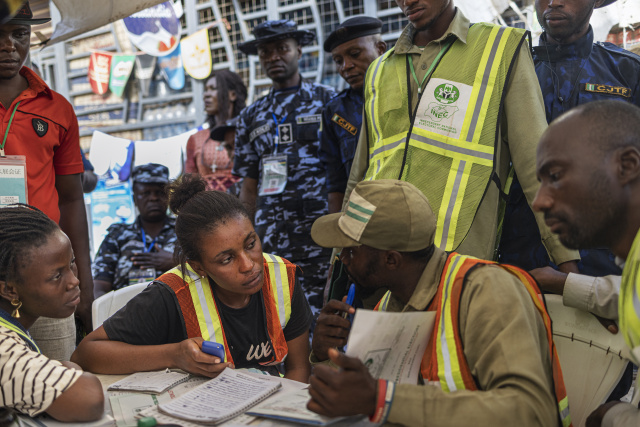 Independent National Electoral Commission (INEC) officials collate electoral results before returning the electoral materials to the INEC offices in Abuja on February 26, 2023, the day after Nigeria's presidential and general election. (Photo by Michele Spatari / AFP)
Send to Kindle
(AFP) - Nigeria's ruling party candidate Bola Tinubu took an early lead in the race for the presidency, according to initial tallies on Monday, after a tight election marked by long delays and an opposition walkout over fraud accusations.
Former Lagos governor Tinubu faced main opposition party PDP's Atiku Abubakar in Saturday's vote, but Labour Party's Peter Obi tested the two others as a third contender for the first time in Nigeria's modern democracy.
Highlighting his challenge to APC and PDP dominance, Obi won the key state of Lagos, a bastion of Tinubu's support which also has the largest number of registered voters.
With President Muhammadu Buhari stepping down, many Nigerians voted with the hope that a new leader will do a better job tackling insecurity, economic malaise and widening poverty in Africa's most populous country.
Voting on Saturday was mostly peaceful, but thugs ransacked some polling stations, many others opened very late, and delays slowed the uploading of results to an official website meant to promote transparency.
Counting was still ongoing late Monday, with 14 out of 36 states tallied, but the Independent National Electoral Commission (INEC) said Tinubu had won six states, Abubakar five states and Obi three states.
Tinubu, of the APC party, was ahead with more than 3.8 million votes, while Abubakar had 3 million and Obi 1.6 million, according to INEC figures.
INEC is expected to resume announcing results on Tuesday at 1000 GMT.
Candidates must win the most votes along with 25 percent of ballots in two-thirds of Nigeria's states -- a measure reflecting a country split between a mostly Muslim north and widely Christian south, and with three main ethnic groups.
- Fraud fears -
Votes for the presidency were tallied by hand at local polling stations, with results uploaded online to INEC's central database IReV.
But long delays in voting getting underway and the slow pace of uploading state-by-state counting fuelled accusations of manipulation.
PDP and other party agents on Monday walked out of a counting centre in Abuja.
"We are not here to rubber stamp the electoral fraud that has been prepared by INEC and APC," PDP official Dino Melaye said. "We are saying that INEC is compromised."
Nigeria has a long history of vote rigging and ballot buying, though INEC said new technology would help curtail electoral malpractice.
Labour campaign director Akin Osuntokun called for INEC to suspend announcing the results because of the manipulation of tallies.
An EU observer mission said INEC "lacked efficient planning and transparency during critical stages" and reduced public trust with delays in voting and results.
- Lagos victory -
Still, the Lagos win by Obi underscored his surprise challenge to APC and PDP, which have governed Nigeria between them since the end of military rule in 1999.
With more than seven million registered voters, Lagos is a key state. It is also the political home of APC's Tinubu, who governed Lagos from 1999 to 2007.
INEC said Obi won more than 582,000 votes in Lagos against around 572,000 for Tinubu.
Obi, 61, a former Anambra State governor, attracted younger voters with a campaign message of change from his two septuagenarian rivals.
Tinubu, known as the "Godfather of Lagos" for his influence, accepted defeat and urged his supporters to remain calm.
"You win some, you lose some," he said.
In 2019, INEC was forced to delay the election by a week just hours before voting started. PDP's Abubakar claimed fraud when Buhari beat him, but the supreme court later tossed out his claim.
The introduction of biometric voter identification technology and the IReV central database for results aimed to counter fraud and make the 2023 vote more transparent.
INEC said Sunday that problems with uploading results were due to "technical hitches" and there was no risk of tampering.
Tinubu, a southern Yoruba Muslim, and Abubakar, a Muslim from the northeast, are long-time political fixtures who have fought off past corruption accusations. But the emergence of Obi -- a Christian ethnic Igbo from the southeast -- threw the race open.
Buhari, a former army general first elected in 2015, will step down after two terms in office. His critics say he failed in his key promises to make Nigeria safer.
Whoever replaces him must quickly get to grips with Africa's largest economy and top oil producer, which is beset by problems including a grinding jihadist war in the northeast and double-digit inflation.
© Agence France-Presse 
Africa
» Be a reporter: Write and send your article
» Subscribe for news alert