Japan donates $735,000 worth of health equipment to Seychelles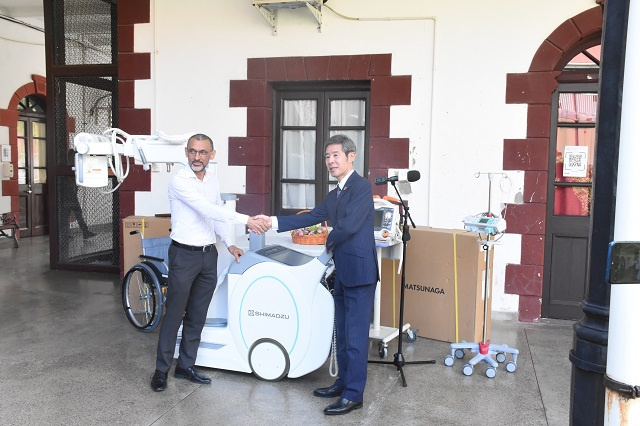 The Japanese ambassador to Seychelles, Ken Okaniwa, presented the equipment to the chief executive of the Health Care Agency, Danny Louange. (Seychelles Nation)
Send to Kindle
Seychelles has received a donation of health equipment worth $735,000 from the Japanese government that is aimed at helping to raise the island nation's quality of health services.
The Japanese ambassador to Seychelles, Ken Okaniwa, presented the equipment to the chief executive of the Health Care Agency, Danny Louange, in a short ceremony on Thursday at Seychelles Hospital.
The donation included a fully equipped ambulance, a portable x-ray machine, defibrillators, syringe pumps and wheelchairs.
When handing over the equipment, Okaniwa said, "we think that the equipment is important to raise the quality of health service in the country in order to deal with various situations including COVID-19 and other infectious diseases in the future."
Aside from being fully equipped, the new ambulance is being tweaked to cater to the Seychelles roads which are often steep.
"There are places where the roads are not paved, or they are rocky and we have problems reaching our patients," said Louange.
As for the mobile x-ray machine, Louange said it will be used in the main Seychelles Hospital, as Praslin is already equipped with such machines.
"The new La Digue hospital will be equipped with all the modern equipment needed," he added.
On the question about the maintenance of the equipment, Louange said that the local health services will be able to maintain the equipment, as "they are the same with the ones we already have, it will be easy to maintain them."
The health authorities have already placed some of the wheelchairs and other equipment from the donation to respective departments.
Throughout the years, Japan has financially assisted Seychelles, and the latest Japanese grant of nearly $1 million was given to purchase medical equipment to tackle the COVID-19 crisis in July 2020.
Health
» Be a reporter: Write and send your article
» Subscribe for news alert