Super-fast internet speeds ahead - 4G LTE technology now available in Seychelles
Anyone purchasing a mobile phone or tablet should make sure the device is compatible with Airtel's 800 MHz-frequency 4G service. (Robert Scoble/Flickr) Photo license: CC-BY 2.0
Send to Kindle
(Seychelles News Agency) - Mobile network operators in the Seychelles have announced the roll-out of fourth-generation (4G) technology, which is expected to deliver wireless broadband at up to ten times the speed of regular 3G mobile data speeds. 
Airtel Seychelles officially switched on its 4G service in pomp and ceremony on Wednesday night with a glitzy ceremony to mark the occasion. The company has become the first in 17 African countries where Airtel operates to launch a 4G wireless broadband service.
Airtel Seychelles, which is part of global telecom services provider Bharti Airtel's network of 20 countries across Asia and Africa, partnered with Swedish telecoms technology company Ericsson to deploy an 800 MHz Long Term Evolution (LTE) network.
The network is expected to initially cater for 10,000 LTE subscribers in its first phase, providing superior data speeds of up to 100 Mbps needed for services such as internet TV, mobile video-blogging, online gaming and various mobile office capabilities, and generally faster web browsing, downloads and improved quality of service.
The agreement with Ericsson includes equipment, software and support services, as well as multi-standard radio base station equipment, LTE software and also upgrading Airtel's existing 2G and 3G access network software.
Rival mobile network operator Cable & Wireless Seychelles also announced its "imminent" plans to implement a 4G service, coupled with a local advertising campaign that illustrated 4G's faster download speeds.
Celebrating Airtel's first LTE network in Africa
Seychelles' Vice President, Danny Faure, who also holds the portfolio of Information Communication Technology, was present at the launch event and commented that the 4G service would facilitate "new and exciting opportunities for businesses, the society and the people in the country".
"We are launching the latest phase of the digital revolution that is sweeping Seychelles and will continue to transform our lives," he said. "The launch of 4G is only the latest step to show Airtel's commitment to deliver one of the best networks in the world to consumers and businesses. This new infrastructure will also boost access to various broadband services such as e-governance, e-banking, e-learning and e-health."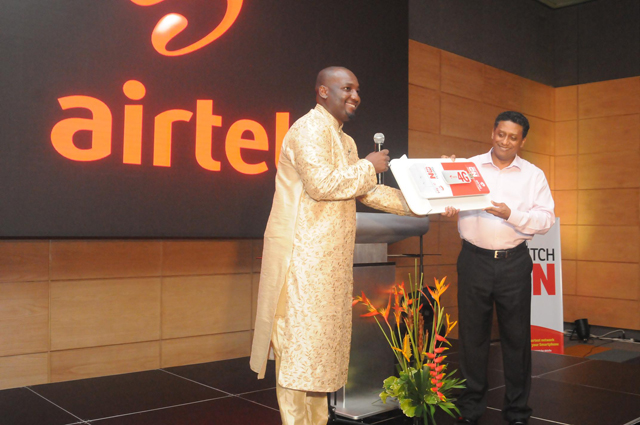 Airtel Seychelles' Managing Director, Amadou Dina, hands over a giant ceremonial 4G-enabled SIM card to Vice President Danny Faure (Jude Morel, Seychelles News Agency) Photo licence: CC-BY
"Let us ensure that we not only have the infrastructure which can deliver high speed internet access, but as a country we need to strive to meet our people's expectation in terms of quality of service and affordability."
Airtel Seychelles' Managing Director, Amadou Dina, said: "Besides offering rich content, Airtel's 4G will allow superfast access to High Definition (HD) video streaming, multiple chatting, instant uploading of photos and much more."
Headquartered in New Delhi, India, Airtel ranks among the largest mobile service providers in the world, with over 305 million customers in total.
Not for everyone
If Airtel's subscribers have been looking at the signal bars on their phones since Wednesday night, looking for that much-anticipated 'LTE' symbol, they might have been disappointed. Not everybody's existing phones and SIM cards are compatible with 4G technology.
In an interview with the Seychelles Broadcasting Corporation, Airtel's head of regulatory affairs & public relations, Gail Talma Jumeau, said that to be able to access the 4G service, a 4G-enabled handset is first required.
"4G works on different frequencies bands and for Airtel in Seychelles the frequency is 800 MHz. This means if somebody goes overseas or is buying a phone locally and wants to access the 4G service, they will need to ensure that the handset has the 800 MHz frequency," she said adding that regular Airtel SIM cards were not sufficient to access the service.
"You need to come by our office and request the service where you will have to be given a new SIM card known as a USIM," she explained.
4G technology began to be widely implemented after 2012, meaning that most mobile and tablet models over two years old will not be compatible with LTE.
The coverage area is also limited for the implementation of the first phase. According to SBC, the coverage area extends from Beau Vallon in the north of the main Seychelles island of Mahé to the Seychelles International Airport in the central Pointe Larue district.
Jumeau explains that this is because of the challenging topography of the islands. Although the 4G transmitter can be beamed in a radius of 30 kilometres on flat land, the high mountains on Mahé act as dampers, meaning that additional transmitters will have to be installed on different sides of the island.
According to the Airtel Seychelles MD, subsequent phases will extend the coverage to other parts of Mahé as well as the second and third largest inhabited islands of Praslin and La Digue by the end of 2015.
ICT
» Be a reporter: Write and send your article
» Subscribe for news alert