Japan donates patrol vessel to Seychelles for surveillance of marine protected areas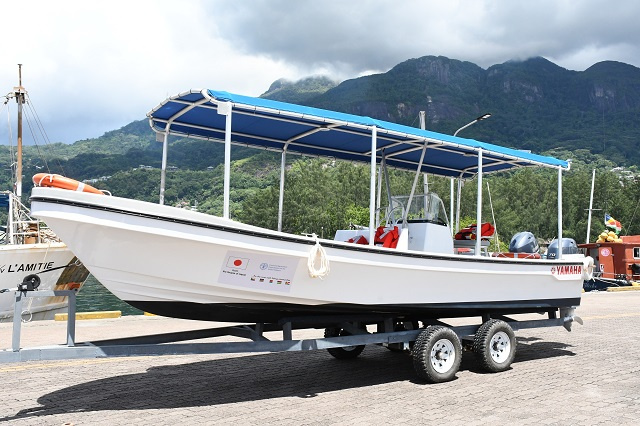 The patrol vessel will also enhance enforcement in the designated coastal areas. (Seychelles Nation)
Send to Kindle
A patrol vessel donated by the Japanese government will help enhance the capacity of the Seychelles Fishing Authority (SFA) to carry out surveillance in three designated sites of the REEFFISH project in Seychelles.
The regional REEFFISH project is being carried out in Seychelles, Comoros, Kenya, Madagascar, and Mauritius. Its aim is to enhance livelihoods, food security and maritime safety through increased resilience of fishing communities dependent on coral reef fisheries in the African coastal countries of the Indian Ocean. 
A total of $4.4 million has been distributed among the countries for the project funded by the Japanese government and supported by the Food Agricultural Organisation (FAO). 
The $880,000 for Seychelles is set to help the fishing communities better manage their coral reef resources. It will also allow the authorities to collaborate with local stakeholders in improving the management of coral reefs and ensure the long-term sustainability of these resources and the economic well-being of the local fishermen.  
The vessel was handed over to Minister Ferrari by Chargé d'Affaires of the Japanese Embassy, Ambassador Kato Eiji (right). (Seychelles Nation) Photo License: CC-BY  
During the handing over ceremony held on Tuesday, the Chargé d'Affaires of the Japanese Embassy, Ambassador Kato Eiji, said that the Japanese government has provided assistance to Seychelles in various areas including fisheries, climate change, maritime security, healthcare, and education.
"This particular boat will be used to improve surveillance in the marine protected areas. At the national level, it is hoped that this patrol boat will be used effectively for Seychelles to strengthen maritime surveillance," said Eiji.
The patrol vessel will also enhance enforcement in the designated coastal areas of the southern Anse Royale district, and the Silhouette and Curieuse marine protected areas, which are designated sites for the REEFFISH project.
Seychelles' fisheries minister, Jean Francois Ferrari, said that "the patrol vessel is very essential, as it will assist greatly with the prevention of illegal, unreported and unregulated (IUU) fishing, while also ensuring the monitoring of the fragile reef ecosystem during the natural restoration process."
He added that "the benefits of enhanced monitoring and surveillance are significant."
Ferrari said that this will greatly enhance the effort of the project beyond its lifespan in improving the resilience of fishing communities dependent on coastal reef fisheries such as traditional trap fishermen, who play an important role in guaranteeing the country's food security.
General
» Be a reporter: Write and send your article
» Subscribe for news alert