Seychellois aquaculture technicians and potential investors undertake training in Cyprus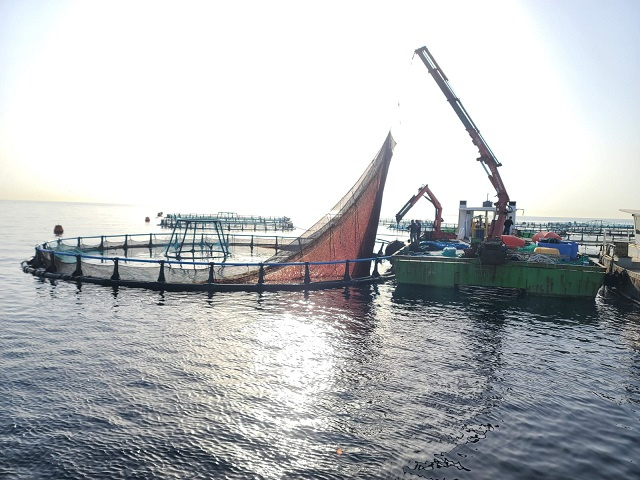 The farm has over 40 cages spread in two different locations, producing mainly European seabass and seabream. (Aubrey Lesperance)
Send to Kindle
(Seychelles News Agency) - Seychellois aquaculture technicians and businesses investing in the sector in the island state are benefitting from training opportunities in Cyprus, according to a fisheries official. 
Twelve participants - six aquaculture technicians from the Seychelles Fishing Authority (SFA) and six private sector candidates - are taking part in the training, which started in February and will continue until the end of May. 
The head of the aquaculture department of the SFA, Aubrey Lesperance, told SNA that the aim of the training is to have an aquaculture labour force that is driven by Seychellois and reduce the amount of foreign labour.
"To be more profitable, Seychelles would need to adopt a mid-road scenario which aspires to create an aquaculture industry that can generate 60,000 tonnes per year with an estimated value of $400 million by 2040. The HCDP [Human Capital Development Plan] reports indicate that in order to achieve such numbers, the industry will have to have over 1,800 direct staff. These will be at various levels, with varying qualifications," said Lesperance. 
The training sessions are being held at a farm called Kimagro, also referred to as Levantina's Farm,in Limassol, Cyprus. The farm has over 40 cages spread in two different locations, producing mainly European seabass and seabream. 
The training sessions are being held at a farm called Kimagro, also referred to as Levantina's Farm, in Limassol, Cyprus. (Aubrey Lesperance) Photo License: All Rights Reserved
The Kimagro farm is giving the training to SFA free of charge, while other associated costs are being catered for by the authority through the SWIOFish3 programme, a long-term regional programme of the World Bank for sustainable marine fisheries. 
Lesperance said that Seychelles and Cyprus form part of the same Commonwealth Blue Charter group called Sustainable Aquaculture Action Group. Cyprus chairs the committee and hosted members at the beginning of 2020 for the Action Group's first meeting.
"Following the training, Seychelles aquaculture was also chosen as a case study by the Commonwealth. The discussion for the training started at that first meeting, but due to COVID restrictions we have been unable to conduct the training until now," he explained.   
Cyprus has a lot in common with Seychelles as it is a relatively small island state and has a growing aquaculture industry that started over 30 years ago.  
The country has nine licensed marine open sea cage farms culturing mainly European seabass and gilthead seabream, three marine hatcheries, one land-based shrimp hatchery/farm and eight small freshwater units culturing mainly rainbow trout and smaller quantities of sturgeon.
Apart from the private fish production units operating in Cyprus, there are also two government-operated aquaculture research stations, one for marine species and the other for freshwater species. 
The Kimagro farm is giving the training to SFA free of charge. (Aubrey Lesperance) Photo License: All Rights Reserved
Calvin Horner, an aquaculture technician at the SFA, was among the first to benefit from the training. 
"My one-month training there, mainly at Kimagro and Blue islands hatchery, has expanded my knowledge in that industry and I have gained some great experience and have enhanced my understanding to newer heights. I believe that I should be able to apply some of those techniques in my job here at the SFA and also believe that we could bring aquaculture in Seychelles to that kind of level and for that we will need the full support of everyone," said Horner.
Another trainee, Danroy Prudence, said that he was able to experience work done from the sea cages with automatic feeding systems on floating silos.
"On the hatchery farm also, we managed to participate in different groups of stages of larvae fry, to juvenile, and their transportation. We gained a lot of ideas and strategies about the larvae stages, some errors that we were making, the do's and don'ts for the rotifers, artemia, and algae production," he exaplained.
Meanwhile, Jean-Luke Bristol commented that "the training we attended in Cyprus was one to remember and very informative on many levels. Not only did we get the chance to see how well an aquaculture farm can do, but we also experienced different parts of the farms. Much of what we learned in the training is now being implemented back in Seychelles."
Fisheries
» Be a reporter: Write and send your article
» Subscribe for news alert