Illegal fishing: Seychelles Defence Forces intercept 2 Malagasy vessels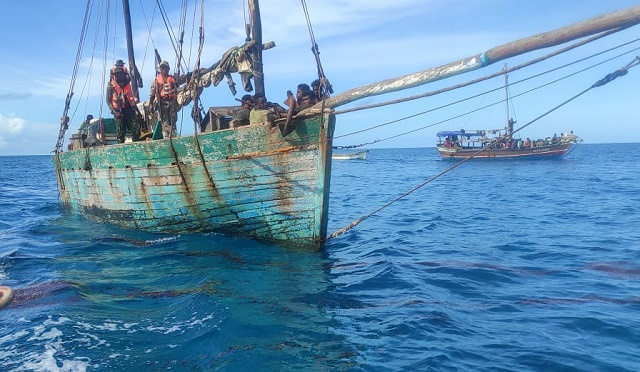 The vessels are being escorted closer to a nearby island for further investigation. (Seychelles Defence Forces)
Send to Kindle
(Seychelles News Agency) - The Seychelles Defence Forces (SDF) have intercepted two Madagascan fishing vessels suspected of conducting illegal unreported and unregulated (IUU) fishing within the island nation's waters.
According to a press release from the SDF, the operation was carried out in a joint effort involving the Coast Guard, Air Force, and Special Forces.
Seychelles Coast Guard auxiliary ship Saya de Malha detected two unknown vessels at around 395 nautical miles southwest of Mahe on the morning of April 26. The two vessels, which were flagless, were approached and a boarding operation was conducted.
"Preliminary information has revealed that the two vessels originated from Madagascar and were carrying a combined total of 56 crew members, with a substantial quantity of sea cucumber also found on board one of the vessels. Information gathered also indicated that both boats have been engaging in illegal sea cucumber fishing in Seychelles waters," said SDF.
The vessels are being escorted closer to a nearby island for further investigation.
Meanwhile, the Malagasy boat that was intercepted on April 21 sank shortly while being escorted back to Mahe, the main island.
All crew members were transferred on board a Coast Guard patrol ship and subsequently handed over to Malagasy authorities where necessary legal action is expected to be initiated against them.
The SDF continues to work in close collaboration with the Regional Centre for Operation Coordination (RCOC) to ensure proper liaison with concerned countries and partners in the region. This is being done to find a solution to the continued acts of IUU fishing in the Seychelles Exclusive Economic Zone of 1.4 million square kilometres. 
General
» Be a reporter: Write and send your article
» Subscribe for news alert