4 coastal areas chosen for 2D/3D mapping of Mahe Island in Seychelles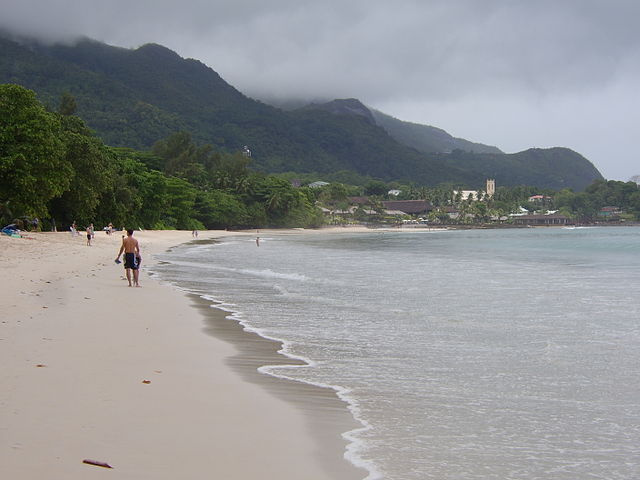 Beau-Vallon is one of the coastal areas that the World Bank recommended that coastal erosion studies be carried out. (Welcomematt22, Wikimedia Commons) Photo License: CC BY-SA 3.0
Send to Kindle
A two dimensional (2D) and three dimensional (3D) mapping project being undertaken on four coastal sites on Seychelles' main island, Mahe, seeks to provide up-to-date data that will help in the integration of ecological processes into the development and planning of coastal areas.
The high-resolution 2D/3D coastal mapping and monitoring of the island is being carried out by Geomer Consulting in partnership with the Ministry of Agriculture, Climate Change and Environment, with part of the funding provided through Seychelles' Conservation and Climate Adaptation Trust (SeyCCAT) Blue Grants Fund.
The project lead, and the director of Geomer, Jonathan Pinchart, told SNA recently that the last 2D images - similar to what can be seen on the website of Seychelles WebGIS - of coastal areas were captured by the government in 2011.
"We saw that there was a gap there as the government no longer carries out coastal erosion studies and hence we came forth with the project. We decided to use more developed and innovative technologies to do that. Monitoring, whether if you are doing compiling or a full mapping, takes quite a while and some very sophisticated pieces of equipment and a lot of manpower," said Pinchart.
He identified four coastal areas - Beau Vallon, North-East Point, Anse la Mouche, and Baie Lazare - as areas of focus that in 2019, the World Bank recommended that coastal erosion studies be carried out.
Through the project, which started in 2021 and will end in 2023, Geomer is undertaking 2D and 3D coastal mapping and monitoring using unmanned aerial vehicle (UAV) and structure-from-motion photogrammetry techniques.
"Throughout the two years, we carried out 2D mappings every four months and for each year we have four snapshots of the sites so that we can identify linear changes, the movement of the shoreline. These sites are prone to seasonal changes and the sands are being moved from one end of the beach to the other," said Pinchart.
He added that 3D mapping is a little more complicated but through it "we can calculate the total volume of the beach and through the seasons we can assess how this evolves. We can then identify where the sand is moving and how much sand is being moved, in cubic metres."  
Pinchart said that in the long term, this will allow relevant authorities to understand if it is the seasonal movement of sand or if it is going out of the area that is being mapped, and this requires a longer period of time.
He shared that hopefully through climate change funding given to the government, monitoring of the sites can continue.
All the photos compiled in the project are being provided to the coastal unit and GIS unit within the ministry and the data is also expected to be placed in the public domain for anyone to access.
General
» Be a reporter: Write and send your article
» Subscribe for news alert