New Airbus A320 joins Air Seychelles fleet for Indian Ocean regional flights
Air Seychelles cabin crew greet a member of the public for a tour onboard the airline's new Airbus A320.(Air Seychelles)
Send to Kindle
(Seychelles News Agency) - Air Seychelles took delivery of its third large aircraft, an Airbus A-320, this morning, which will be used for its regional network, including three new destinations; Mumbai, India, Dar Es Salaam,Tanzania and Antananarivo, Madagascar, starting this week.
Arriving from Abu Dhabi, the new 136- seater plane touched down at 9.20 local time on the Seychelles main island of Mahe, painted in the national airline's colourful livery and was showered by the traditional water canon by fire engines of the Seychelles Civil Aviation Authority (SCAA).
"We know the islands were familiar to Arabs, Chinese and Indian mariners from ancient times, who harnessed the seasonal monsoon winds in a quest for riches. Today, we sail the jetstreams to again tap into the great flows of trade between Africa and Asia, connecting India, Mauritius, Madagascar, Tanzania, South Africa and the Middle east," said the airline's General Manager for Corporate Affairs, Alan Renaud as he described the aircraft's name and the regional routes it will service.
On Monday, the aircraft will fly its first route to Mauritius, where the existing three weekly flights will be maintained. Mumbai will also be served by three rotations as from Tuesday evening. There shall be two weekly services to Dar Es Salaam and Antananarivo.
The Airbus A320, about 5 years old and leased from Etihad Airways, has 120 seats in economy class in a 3 by 3 configuration, with 16 seats in a 2 by 2 configuration in the business class.
In November this year Air Seychelles picked up the awards for the Indian Ocean's Leading Airline – Business Class' and 'Indian Ocean's Leading Cabin Crew' at the World Travel Awards in London.
The new addition to the Air Seychelles fleet is  named " Amirantes" after a group of atolls in the southern part of the 115 island archipelago of the Indian Ocean. (Mervyn Marie, Seychelles News Agency) Photo license: CC-BY
Air Seychelles creates regional hub
After cutting the ceremonial ribbons the Seychelles President James Michel and other guests went aboard the aircraft to inspect the interior.
Speaking to press on board the plane Michel said this is a proud moment for the airline, its crew as well as for Seychelles.
"This shows that Air Seychelles is going forward and is becoming the de facto regional airline, with services to Mauritius and South Africa and now Mumbai, Dar Es Salaam and Antananarivo".
He added that negotiations are currently underway for Air Seychelles to operate to the Comoros as well.
"That means that Air Seychelles is becoming the first airline and hub of the Indian Ocean islands," Michel said.
According to Michel, such progress underlines the wisdom of the strategic partnership the airline established with Etihad Airways in 2012.
Michel said that the recent acquisition by Etihad Airwys of 40% shares in Alitalia, with a similar stake in Air Berlin, Jet Airways, Air Serbia and Virgin Australia, means that Air Seychelles has become part of a " big family in global aviation". 
The Seychelles President cuts the ribbons. The ceremony was observed by Vice President Danny Faure, Minister of Home Affairs and Transport, Joël Morgan, Air Seychelles' Chief Executive Officer, Manoj Papa, other high-level government dignitaries, and officials from the tourism and aviation sectors. (Air Seychelles) Photo license: CC-BY
Air Seychelles acquired two Airbus A330 in 2012 and 2013, the "Aldabra" and "Vallee de Mai" respectively, named after Seychelles' two World heritage sites listed by UNESCO.
These are the two Airbus A330, already operating flights to Paris, Abu Dhabi, Hong Kong and Johannesburg.
The airline's CEO, Manoj Papa said the arrival of the new aircraft and tapping of three regional routes, mean an extra 49,000 seats available yearly.
He added the the flight schedules have been worked out to provide flexibility for passengers and a minimum transit time for those connecting for destinations beyond Seychelles.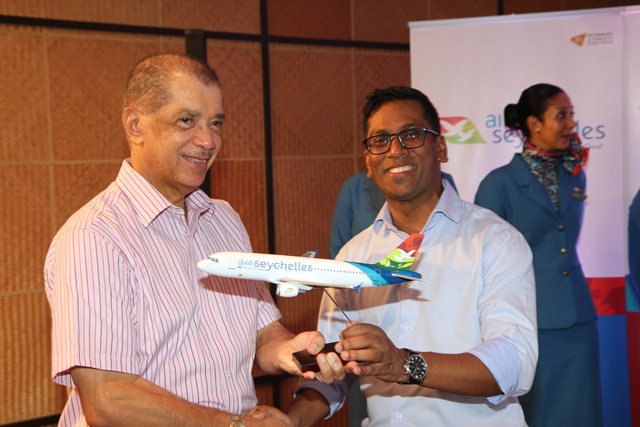 Manoj Papa presents James Michel with a model of the new plane (Mervyn Marie, Seychelles News Agency) Photo license: CC-BY
Air Seychelles was established in 1977 and adopted its present name in September 1978. Between 1978 and 2012 it was wholly owned by the Seychelles government but in 2012 the UAE's Etihad Airways bought a 40% share in the airline, investing $45 million in Air Seychelles.
Air Seychelles has a codeshare agreement with Etihad Airways which has seen a significant expansion in the first half of the year with Amman, Dammam, Jeddah, Riyadh, Rome, Seoul and Zurich added to its new total of 28 destinations around the world.
In April this year, the Seychelles national airline Air Seychelles announced its second successive year of net profit, raking in a total of $3 million, almost three times more than the $1.1 million net profit recorded in 2012, a pattern Papa is determined to repeat for the third successive year.
Tourism
» Be a reporter: Write and send your article
» Subscribe for news alert