Africa Island States Climate Commission meeting in Seychelles to discuss upcoming COP28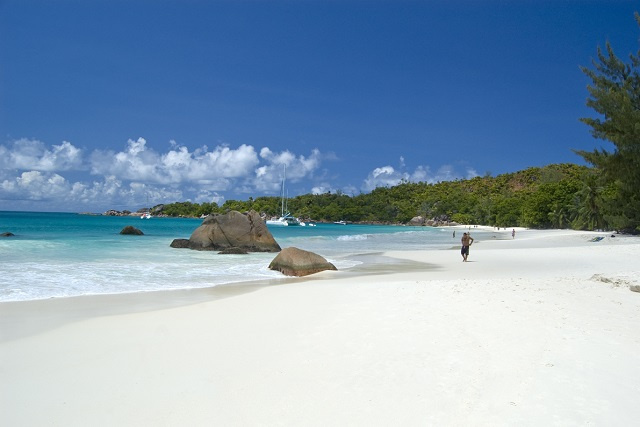 An island in Seychelles (Gerard Larose)
Send to Kindle
(Seychelles News Agency) - Member countries of the Africa Island States Climate Commission (AISCC) are gathering in a three-day meeting to reach a consensus on the best practical ways to put into operation the AISCC and also discuss the expectations for the upcoming 28th Conference of the Parties to the United Nations Convention on Climate Change (COP 28) in Dubai in November.
The technical and expert group meeting, being held in Seychelles from May 10 to May 12, seeks to establish a governance framework for the commission, debrief members on the outcome and follow-up of COP 27 - specifically the implications for African island states and how African island states individually and collectively are moving towards the implementation.
In his pre-recorded opening statement, the Seychelles' President and chair of AISCC, Wavel Ramkalawan, outlined that "this is a unique opportunity for all members of AISCC to interact with each other and our key international partners and come up with concrete actions to be taken to make the climate commission finally operational."
"It is vital now, more than ever, for the commission to provide support to member countries in addressing their climate ambitions, and act as a joint mechanism that allows countries to come together and address climate at the sub-regional level," said Ramkalawan.
President Wavel Ramkalawan (State House) Photo license: CC BY
Seychelles' agriculture, climate change, and environment minister, Flavien Joubert, said that "today we will be working on its establishment, and components that will ensure that in the future it will continue to function and provide results for its members."
"At the same time, we are also considering different propositions and actions that we will take in the future. We have the Great Blue Wall [Initiative] that covers the conservation of the ocean, and we want it to be extended to Western African countries. There are also propositions on finance that will be placed forward among others," said Joubert. 
"We expect to have concrete information and propositions to place on the table when we meet with ministers in an online debriefing that will be held towards the end of the year during COP. We hope to get the commitment of other countries on the actions and that of partners when it comes to their support. We think that with this, African islands can get to a level that will allow them to undertake climate-related actions on the same levels as other big countries," he continued.
The technical meeting will also encompass two extraordinary general meetings dedicated to exploring the issuance of a regional-level blue bond and the development of blue carbon markets in the African island states.
AISCC was set up on the sidelines of the 22nd Conference of the Parties to the United Nations Convention on Climate Change (COP22) held in Marrakech in 2016. Seychelles is the chair of the Commission with other member states being Cabo Verde, Comoros, Equatorial New Guinea, Guinea Bissau, Madagascar, Mauritius, Sao Tome and Principe, and Tanzania.
Its aim is to enable the African Island States to work together towards a shared, long-term vision to effectively take ownership of its available resources, namely its ocean spaces. This is to be done by inspiring leadership and facilitating collaboration in mobilizing financial resources and technical expertise at national, regional, and international levels to combat the climate crisis.
Climate
» Be a reporter: Write and send your article
» Subscribe for news alert