Taste of Seychelles' tuna at Seafood Expo Global 2023 was a success, says SFA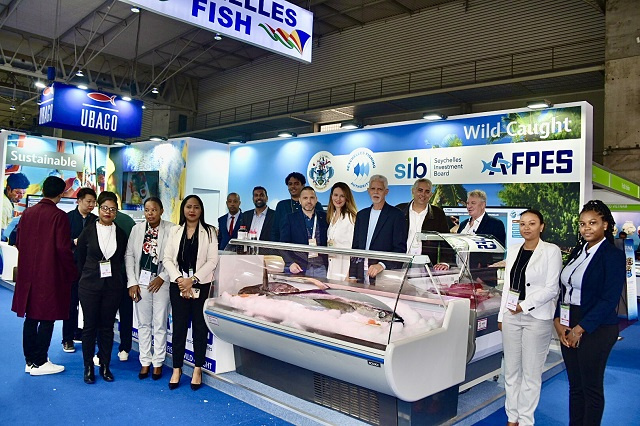 The Seafood Expo Global 2023 attracted over 33,000 seafood professionals. (MInistry of Fisheries and the Blue Economy) 
Send to Kindle
Seychelles' participation at the Seafood Expo Global 2023 provided more exposure to the island nation's tuna products and gave a good example of a public-private partnership, said the interim chief executive of the Seychelles Fishing Authority (SFA) on Monday.
Philippe Michaud told SNA that participating in the event was a success as it permitted Seychelles to expose and advertise its products.
Held in Barcelona, Spain, during the last week of April, the Seafood Expo Global 2023 attracted over 33,000 seafood professionals, setting a record in the level of attendance. The Expo saw the participation of 2,078 companies.
"Attendees got the chance to taste our products. Our stand focused on raw tuna. Fresh tuna was prepared by a sushi chef, and presented to the visitors to our stand," said Michaud.
He added that "Seychelles exports a lot of its tuna to Europe and present were a lot of large European companies that buy tuna to distribute to restaurants, supermarkets among others."
The Seafood Expo Global is seen as the world's leading and largest seafood trade event and it brings together buyers, suppliers, and other players in the seafood industry from more than 160 countries.
Participating alongside SFA, was the Association of Fish Processors and Exporters Seychelles (AFPES). AFPES' presence at the Expo was made possible by signing a memorandum of understanding (MoU) with the SFA.
Under the MoU, both parties agreed to co-participate in the Seafood Expo Global where the SFA allocated a budget of €33,000 directly towards Seychelles and AFPES exhibiting at this event. The contribution came from the EU Sectoral Support Fund, which is devoted to the development of the Seychelles fishing industry.
"The only drawback was that there was a problem with supply. There were a lot of clients who came for the tuna, but there were not enough. There is a lot of demand but the supply is limited," said Michaud.
In a previous article, the chairman of AFPES, Louis Bossy, shared that being sustainable can also be economically unsustainable because of the volume being caught. 
"It is high time that we, as the local processors, make the most out of the small volume that we have," said Bossy.
"The theme of sustainability was one that resonated across all the stands. Evidently, this is a challenge in itself. We need to give more value to the product and focus on quality," said Michaud. 
The next Seafood Expo Global will take place from April 23-25 next year.
Michaud outlined that depending on the country's means, Seychelles will continue to participate in the Seafood Expo Global. 
Fisheries
» Be a reporter: Write and send your article
» Subscribe for news alert