UNESCO project: Seychelles to work on laws for artists' and cultural workers' rights and social protection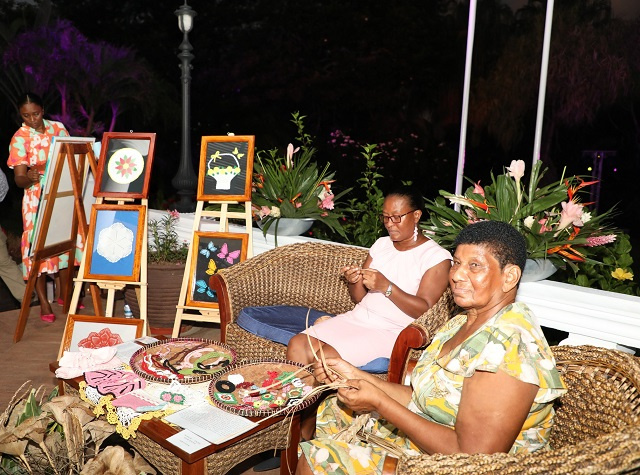 Joffe is conducting a series of consultative meetings with artists, artisans, and key partners in arts and culture scene in Seychelles. (State House)
Send to Kindle
With the aim of providing artists and cultural professionals of Seychelles with more rights and access to social protection laws in future, an international expert is in the country to work on a policy-making project.
Tasked by the United Nations Educational, Scientific and Cultural Organisation (UNESCO) under the Aschberg programme, the expert, Avril Joffe, is conducting a series of consultative meetings with artists, artisans, and key partners in arts and culture scene in Seychelles. She is joined by the project officer for culture at UNESCO's regional office for Eastern Africa, Cristina Cusenza.
The series of meetings will be conducted on Mahe, Praslin, and La Digue from June 13-15.
Joffe told reporters on Monday that there is a need to learn more from artists and cultural professionals on the ground.
"We need to find out what are working conditions like, what are the remuneration rates, what are some of the challenges that artists and cultural professionals face in being able to have and earn a living from their creative practice, what the current laws of Seychelles allow for in terms of minimum wages, social protections such as maternity leave, employment insurance, and pension fund contributions," said Joffe.
She outlined that she will be working with a local law firm to see how access to such rights can be enlarged for artists and cultural professionals, and what laws, regulations, and policies need to be amended or created to achieve these objectives.
"The law on the status of artists will include things like the right to collective bargaining, the right to minimum wages, the right to fee remuneration, the right to artistic freedom in your expressions," she said.
Joffe also touched on the need for artists and cultural professionals to understand both their rights and responsibilities.
"Artists and cultural professionals will need to be registered, pay tax, and make voluntary contributions so that the fullness of their life can be enhanced in the same way that for example a lawyer, architect, or engineer is as a professional. Whether they are working formally or informally, we are thinking about how this is best done in a context like Seychelles," she explained.
During the meetings, there will be presentations about artists' laws in other parts of the world that have done really good impacts for artists and cultural professionals from Germany, Morocco, France, Uruguay, and Argentina. Different laws for artists will also be presented.
The meetings are in line with UNESCO's recommendation on the Status of Artists from 1980, based on which the Aschberg Programme was developed to support that recommendation to ensure that artists' and cultural professionals' rights are heightened and that their economic and social rights are secured in law, regulations, and policies.
During her working mission in Seychelles, Joffe will also be preparing the grounds for Seychelles' upcoming first Quadrennial Periodic Report (QPR) regarding the implementation of the UNESCO 2005 Convention on the Protection and Promotion of the Diversity of Cultural Expressions.
The report will provide a status quo analysis of where Seychelles is at in supporting four Sustainable Development Goals (SDGs) - supporting a system of governance for culture, supporting a balance of trade in cultural goods and services and artist mobility, supporting the integration of culture and sustainable development, and supporting fundamental freedoms, particularly gender equality and artistic freedom.
It will also allow the country to look forward and start the planning process of what the concerned institutions should be doing going forward so that Seychelles can really develop a robust, vibrant culture and creative sector.
General
» Be a reporter: Write and send your article
» Subscribe for news alert