Seychelles' President describes his state visit to Maldives a success
Among the visits of Seychelles' President and the First Lady was one to the Ghanzee primary school. (State House)
Send to Kindle
(Seychelles News Agency) - Seychelles' President Wavel Ramkalawan has described his state visit to Maldives as highly successful, said State House on Friday.
Ramkalawan visited several key Maldivian projects and facilities in order to observe best practices and possible exchanges of expertise on Thursday. 
These included the new Maldives International Airport project, the Ghanzee primary school, tuna fishing port, fish and vegetable markets and various cultural sites, including mosques in the capital Male.  
"The relations between Seychelles and the Maldives are now at a higher level. We have now identified various common issues on which we will stand by each other on the international scene. These include climate change, economic development, development of the tourism industry and putting emphasis on the establishment of the Multi-dimensional Vulnerability Index (MVI) and the Loss and Damage fund," said the President.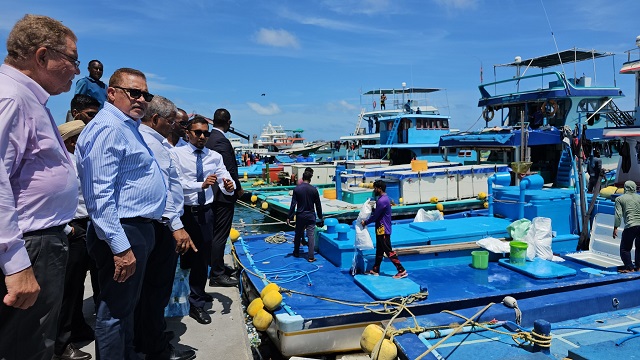 The Maldivian tuna fishing port. (State House) Photo License: CC-BY   
He added that "as Indian Ocean neighbours, the support to each other to maintain the Indian Ocean region as a zone of peace and for greater cooperation in the domain of maritime security are also important obligations we will fulfil."
Ramkalawan also wished the Maldives peaceful elections and said that "may their democracy continue to be strengthened."
The first round of election in Maldives is scheduled for September 9 and seven candidates have declared their intention to contest in the upcoming election. 
Diplomacy
» Be a reporter: Write and send your article
» Subscribe for news alert