Air Seychelles inaugural flight to Mumbai connects a regional diaspora to the Indian subcontinent
The flag of Seychelles is proudly waved from the cockpit windows as the Air Seychelles' first flight to Mumbai landed at the Chhatrapati Shjivaji International Airport. (Air Seychelles)
Send to Kindle
(Seychelles News Agency) - After officially re-opening a regional thrice-weekly route to India's capital city of Mumbai on Wednesday, Air Seychelles' CEO Manoj Papa promised that this time the Seychelles to India air link was here to stay.
Air Seychelles briefly flew between the nation's main inhabited island of Mahe and Mumbai in 1995 and again between 1998 and 2005, at one time with a stopover in the Maldives. Both times, the routes were halted due to low occupancy levels.
This time, however, coupled with the commencement of a new direct regional flight to the east African city of Dar es Salaam in Tanzania which commenced Tuesday, and existing direct flights to Johannesburg, Air Seychelles hopes to tap into the large Indian diaspora living in Eastern and Southern Africa to sustain its connecting Mumbai link in the long term.
The national carrier of the Seychelles arrived in India's commercial hub in its brand new Airbus A320, named Amirantes after an atoll within the outer reaches of the archipelago of 115 islands.
The almost-full 136-seater aircraft touched down at Mumbai's Chhatrapati Shivaji International Airport in the early hours of Wednesday morning to a customary water canon salute.
Although the media and a delegation of travel agents were on board as guests of the airline, the other fare-paying passengers were flying on to Chennai and elsewhere in India.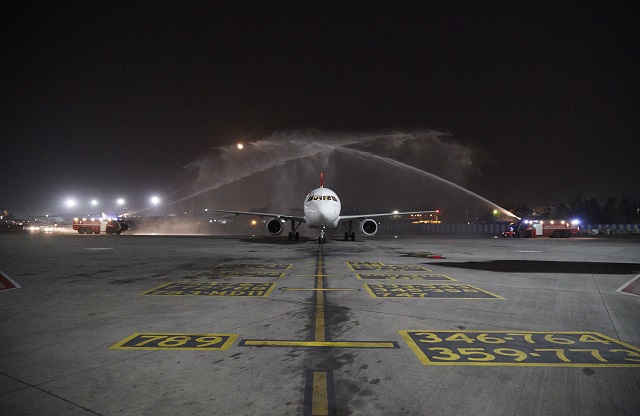 Air Seychelles' first flight to Mumbai, HM 260, is greeted by a traditional water cannon salute. (Air Seychelles) Photo License: CC-BY
A different game plan
"We've brought Seychelles, Another World to Incredible India," Papa told members of both the Indian and Seychelles media at a press conference on Wednesday.
"We've changed the game plan. This time we are focusing on connectivity to build up regional air access in the Indian Ocean, to boost tourism and trade. Also in recent years, we've seen the tourism market shifting away from Europe to Asia," said Papa.
"This time, our business model is to use Seychelles as a connective hub, especially for passengers from Dar Es Salaam and Madagascar which have large Indian communities, but no direct air links with India," he said.
Papa added that the transit could prompt many passengers to spend some time in Seychelles.
The Chief Executive of the Seychelles Tourism Board (STB), Sherin Naiken, also pointed out that on the previous routes, Air Seychelles had operated just a single weekly trip without seriously targeting India as a source tourism market.
India is now one of the fastest-growing outbound tourism markets in the world, second only to China, with Indian tourists forecasted to grow to around 50 million per year by 2020.
Papa noted the thrice-a-week flights to Mumbai opened up an extra 21,000 seats for passengers annually.
Papa also noted that seamless two-way connections would be offered from Mumbai to Indian destinations such as Chennai, Delhi and Hyderabad.
"We will continue to work closely with our equity partner, Etihad Airways, which has a strong and growing presence in India, and our Etihad partner, Jet Airways, to ensure our on-going success in this exciting market."
Altogether, the regional network served by the newly-leased Airbus A320, with two flights each week to Dar es Salaam, Tanzania and Madagascar's capital city of Antananarivo has given Air Seychelles an extra 49,000 seats yearly.
The Airbus A320 will also be servicing the airline's long-running route to Mauritius. Air Seychelles already has two bigger aircraft, the Airbus A330, serving Paris, Hong Kong, Abu Dhabi and Johannesburg.
Manoj Papa, Air Seychelles' Chief Executive Officer, and Sherin Naiken, Chief Executive Officer of the Seychelles Tourism Board, are greeted by airport officials in Mumbai. (Air Seychelles) Photo License: CC-BY
Enormous growth potential
The potential now certainly exists for Indian holidaymakers to combine a beach holiday in the islands with a safari holiday, either in South Africa or in Tanzania.
Papa told the media that although he is aware that the share of Indian visitors vacationing in Seychelles – just 3,600 this year – is still small, he believed that this could have been linked to difficult air access until now.
"We now have the potential to treble that number and I believe that this can be achieved within the next 18 months."
Expressing considerable optimism, Papa said until about three years ago, visitors from China to Seychelles were insignificant. But, the situation has changed rapidly with Chinese visitors increasing by 80% this year and could top 13,000 by the end of 2014.
"I believe we can see a similar situation evolving in the Indian market, except that here Air Seychelles is operating direct flights," he said.
Currently, Air Seychelles operates a route to Hong Kong with a stopover in Abu Dhabi, although a Chinese charter company has recently expressed its intention to operate nonstop flights from China to Seychelles from early 2015.
The Chairman of the Air Seychelles board also the archipelago's Minister for Home Affairs and Transport, Joel Morgan, also expects trade between the two countries, which reached $53.7 million in 2013, to be given a sizeable boost with the additional 1.5 tonnes of cargo capacity running between the Indian Ocean countries three times per week.
According to a press release issued by Air Seychelles, the minister said that the flights symbolized a strong potential for inbound tourism from India.
"Our archipelago is well-recognised as a premiere honeymoon destination and a choice filming location for Bollywood, and with sub five hour flights, it means we are now more accessible than ever to both business and leisure travellers."
Manoj Papa, Air Seychelles' Chief Executive Officer, and Sherin Naiken, Chief Executive Officer of the Seychelles Tourism Board, pictured with a model of the Air Seychelles' A320 Airbus. (Air Seychelles) Photo License: CC-BY
A home away from home
Naiken told the Indian press that Indian visitors would feel very much at home in Seychelles, where a large proportion of the nation's population of 90,000 can claim Indian heritage from the Indian merchants who made the tiny Indian Ocean archipelago their home up to 150 years ago.
Among the many surviving cultural links with the subcontinent, is a shared love for curry.
"We eat a lot of curry at home," she said, smiling.
 While she is aware that many Indians have already travelled to the Maldives or Mauritius, she pointed out that Seychelles was in many ways different.
"You may think you've seen it all, but I would say that is not correct until you've seen the Seychelles," she said.
A logical step
The new route has also been welcomed by travel agents and the business community.
"India is our biggest neighbour and Mumbai is its financial capital," Shirish Dhanjee, the owner of Seychelles travel agency Vision Voyages told SNA. "Mumbai, which also has a new airport, has good flight connections to almost anywhere in India and beyond."
Dhanjee, who was among the passengers on the inaugural flight to Mumbai, also said the new Air Seychelles regional routes are a positive move.
"Connectivity is the key. Passengers can now fly from India to Seychelles and connect to another destination. For instance, there are a lot of Malagasies working in the Gulf countries, notably Saudi Arabia. They can now fly to Seychelles and connect to fly home," he said.
Another passenger, building contractor Vijay Patel, who also chairs the Seychelles Indian Association, said the three flights to Mumbai constitutes good news for both the local Indian community as well as migrant workers from the subcontinent working in Seychelles.
"Travelling between Seychelles and India will be more convenient and hopefully, more economical," he told SNA. "The new schedule of three weekly flights, instead of just one previously, will mean more flexibility and convenience to the increasing number of Indian businessmen travelling between the two countries."
Manoj Papa, Air Seychelles' Chief Executive Officer, and Sherin Naiken, Chief Executive Officer of the Seychelles Tourism Board, participate in a traditional cake-cutting ceremony at Chhatrapati Shjivaji International Airport. (Air Seychelles) Photo License: CC-BY
Tourism
» Be a reporter: Write and send your article
» Subscribe for news alert