Rwandan President arrives in Seychelles for state visit - key agreements signed 
President Kagame (front left) with President Ramkalawan in the arrival ceremony at State House. (State House)
Send to Kindle
Seychelles and Rwanda signed five memoranda of understandings (MOUs) and an agreement on the first day of the state visit of Rwandan President Paul Kagame to the island nation on Wednesday.
At the invitation of Seychelles' President Wavel Ramkalwan, Kagame, accompanied by First Lady Jeannette Kagame, is on a state visit from June 28 to July 3, and will be the guest of honour at the National Day celebrations on Thursday, June 29.
The Rwandan President had a tete-a-tete with President Ramkalawan at State House.  The two presidents then held a bilateral meeting followed by the signing of the MOUs and an agreement by Seychelles' foreign affairs minister, Sylvestre Radegonde, and Rwanda's Minister of Trade and Industry, Jean-Chrysostome Ngabitsinze.
The MOUs are for cooperation in the field of defence and security, law enforcement, agriculture, health, and tourism. The two countries also signed a visa waiver agreement which will allow Seychellois citizens to travel to Rwanda visa-free. Travel for Rwandans to Seychelles is already visa-free.
The MOUs and an agreement were signed by foreign affairs minister, Sylvestre Radegonde, and Rwanda's Minister of Trade and Industry, Jean-Chrysostome Ngabitsinze. (Seychelles Nation)  Photo License: CC-BY 
In his press statement, Ramkalawan outlined that within law enforcement, Rwanda has one of the best police academies.
"We have agreed that our police force will be able to use the facilities of your academies at all levels. In the same way for defence and security, Rwanda continues to play a leading role," he said.
"We realise that in the field of agriculture, Rwanda is again showing leadership on the African continent and small Seychelles would like to tap into the experience. The MOU signed will give our agricultural field a greater hope for improvements. In the field of health, tourism, and other areas, I think what we signed today marks the confirmation of the solid relationships that we want to further," he added.
On his side, Kagame said that discussions held at State House with his Seychellois counterpart were productive as Seychelles and Rwanda are driven by common aspirations to improve the life of their citizens, working hand in hand with partners in the region and beyond.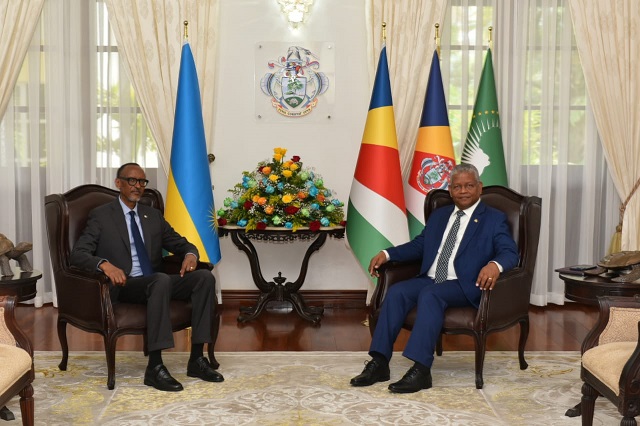 The Rwandan President (left) had a tete-a-tete with President Ramkalawan at State House. (Department of Foreign Affairs) Photo License: CC-BY 
"Building on our strong bilateral ties, we intend to deepen our cooperation across strategic areas of mutual benefits. For Seychelles and Rwanda, tourism is a key driver of economic growth. Collectively, there is a lot we can do to make the sector more sustainable and resilient. Tourism creates enormous opportunities for air connectivity and commercial links bringing businesses from Seychelles and Rwanda closer together," said Kagame.
Diplomatic relations between the two countries were established in October 2010. Over the years, Seychelles and Rwanda have had engagements and exchanges as members of the United Nations (UN), African Union (AU), the Common Market for Eastern and Southern Africa (COMESA), the Commonwealth, and La Francophonie.
In August 2013, Seychelles and Rwanda signed a general cooperation agreement which makes provision for the establishment of a Joint Commission to pave the way for more effective collaboration between the two countries, especially in the fields of health, tourism, culture, education, agriculture, trade and investment promotion, air services, information, communication, and technology.
In December 2018, the two countries signed a bilateral air service agreement (BASA).
Radegonde, who has also holds the portfolio for tourism, outlined that the newly signed visa waiver agreement will facilitate travel for Seychellois visiting Rwanda.
"As Rwandans can come to Seychelles without a visa, Seychellois will also be able to travel to Rwanda visa-free for the given three-month period. Our objective is to sign this agreement with all countries to facilitate people-to-people contact," said Radegonde.
As part of his visit to Seychelles, an archipelago in the western Indian Ocean, Kagame also addressed the National Assembly in an extraordinary session on Wednesday.
Diplomacy
» Be a reporter: Write and send your article
» Subscribe for news alert