Happy Seychelles National Day: Celebrating 47 years of independence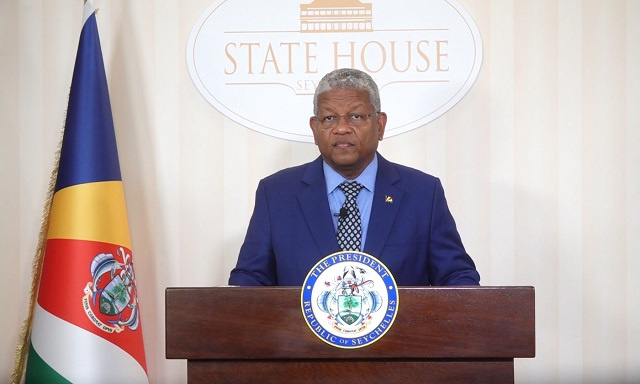 President Wavel Ramkalawan wishes a Happy National Day to all Seychellois citizens. (State House)
Send to Kindle
Seychelles' President Wavel Ramkalawan wishes a Happy National Day to all Seychellois citizens as the island nation celebrates 47 years of its independence on Thursday, June 29.
Ramkalawan said in his message that "47 years in the life of a country earns us the classification of a young nation. We are still taking note of all that surrounds us, we are planning, aspiring and formulating the ideas that we hope will make us stand strong and truly breathe that pride as one people."
He said that as a young nation, "we will make mistakes, but that's not what counts. What is important is that when we fall, we find the courage to pick ourselves up, dust ourselves off and renew that determination to move forward. This is the Seychellois Creole spirit flowing in the veins of every Seychellois and that we also want to share with everyone we meet."
In his message, Ramkalawan said that the government is working really hard to establish the appropriate infrastructure in the country and announced the building of a new modern hospital at Mont Fleuri and that details would be provided later. 
"We estimate that such a project can cost at least SCR 1 billion rupees ($74.5 million).  I am launching an appeal, like when the first Victoria/Seychelles Hospital was built, for all of us to make a contribution. I invite all schools, workplaces, and all Seychellois to put boxes where people will be able to contribute, cent by cent. An account will be opened for this project and all the details will be furnished. If all goes well, we will be able to start this construction in 2024," he said.
Two other large projects that the government is already working on are a new airport and a new port and plans are already being made and appropriate funding is being sought.
 "Seychellois sisters and brothers, today let us continue to celebrate our achievements. Let us, each one of us, find out what more we can do for our beautiful Seychelles," said Ramkalawan.
Patrick Hermine, the president of the main opposition party - United Seychelles - also wished the people of Seychelles a blessed and wonderful Independence Day.
In his message, Herminie said, "If today we are proud as a Nation, we must give credit to those brave and bold enough to fight for Independence."
"As we celebrate our 47th anniversary and joyously sing our patriotic songs, no matter our ideology or beliefs, let us remember and reflect on how this multi-cultural nation has moved from bondage of slavery from the start of its existence to liberty and freedom of choice today," he added.
Herminie said that Seychellois citizens should never be complacent and should ensure that "we continue to maintain our independence from any outside influence and that we forge ahead with the success of all our people in mind "lest we forget" the lessons of the past."
Happy National Day wishes also came from the secretary general of the ruling Linyon Demokratik Seselwa (LDS) party, Gervais Henrie. 
"With a new government leading Seychelles since October 2020, we have been given a new opportunity to restart - to avoid past mistakes and build on the good elements in us as a Creole nation," he said in his message.
Henrie added that "even when it is not easy to accomplish all, LDS remains determined to lead Seychelles on a new road where we become a working nation. One that obeys the law, proud of its culture and identity, and believes in the principles of democracy."
A former President of Seychelles, James Michel, also wished all Seychellois a Happy National Day.
"Seychelles has grown and matured into a proud nation, standing tall alongside other successful countries. In such a short time, we have managed to make significant progress on all fronts. Our country and accomplishments are highly regarded and valued across the globe. It is reason enough to be proud indeed," said Michel.
"As we celebrate this Independence Day anniversary, let us remember the many people who fought hard for our political and economic freedom. Our celebration of nationhood should also be a time for serious reflection on the people we have become and our aspirations for our children and generations to come," he added.
General
» Be a reporter: Write and send your article
» Subscribe for news alert