Seychelles and India agree to increase military cooperation and training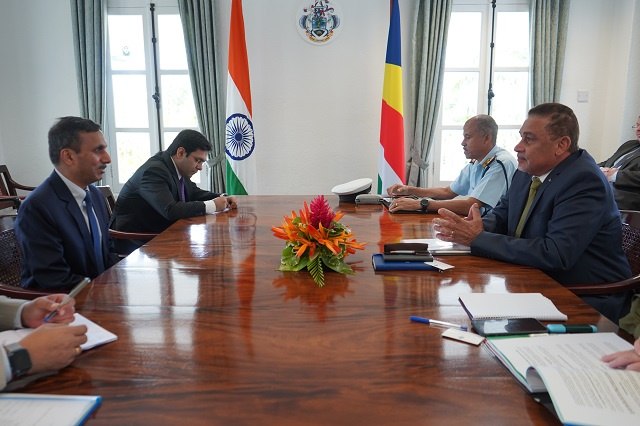 Discussions were held between Minister Radegonde (right), and the Joint Secretary from the Ministry of External Affairs of India, Puneet Agrawal. (Foreign Affairs Department)
Send to Kindle
(Seychelles News Agency) - Seychelles and India will explore new avenues of cooperation, especially in specialised training and the sharing of knowledge from military experts, said the Foreign Affairs Department.
According to a communique from the Department, the new areas were part of a discussion held between the Minister of Foreign Affairs and Tourism of Seychelles, Sylvestre Radegonde, and the Joint Secretary from the Ministry of External Affairs of India, Puneet Agrawal.
Training through joint military exercises, sharing of knowledge from military experts deputised at the Seychelles Coast Guard, maritime surveillance, assistance on community projects and capacity building in various fields were the main points discussed during the courtesy call.
Radegonde expressed his gratitude to India for the continued support offered to Seychelles throughout the years.
"I cannot express how grateful Seychelles is for the multifaceted assistance the Indian government has provided to its citizens, especially in capacity building through scholarships as well as short-term courses. We hope to continue to count on India's support in this regard," he said.
On his side, Agrawal said, "The government of India is always ready to provide support to the government of Seychelles, be it in the form of specialised or customised training that will cater to the needs of the country."
Seychelles, an archipelago in the western Indian Ocean, agreed that there is scope for future collaboration in other fields namely information technology, digital interface and payment initiatives, visa waiver for short-term stay, and hydrography.
Radegonde also touched on the challenges and vulnerabilities of small island developing states (SIDS) such as Seychelles, categorised as middle or high-income countries, and, therefore, not eligible to access concessional finance.
He said that the creation of a multidimensional vulnerability index (MVI) would allow Seychelles to gain access to concessional financing to mitigate these effects.
India is one of Seychelles' oldest and closest military partners, having provided patrol ships, aircraft and helicopters to its defence forces over the years since the country gained independence from Britain in 1976.
Seychelles also has a large Indian diaspora and numerous Seychellois of Indian origin, as well as descendants from many generations in the French and British colonial eras.
Over the years, the two countries have developed strong trade, education, health sector and cultural ties. 
Diplomacy
» Be a reporter: Write and send your article
» Subscribe for news alert