10 personalities honoured at Seychelles National Awards
(State House)
Send to Kindle
Seychelles for the first time awarded 10 people in a sign of recognition in various fields in June 2023.
The National Awards coincided with the National Day celebrations of the island nation, which marks the Independence Day of June 29, 1976.
In this week's buzz, SNA presents you with the 10 awardees.
Late Sir James Mancham - Seychelles' first President - Medal of the Republic
Mancham was the first President of Seychelles upon independence from Great Britain in June 1976. Forced into exile after a coup in 1977, Mancham, who was the leader of the Seychelles Democratic Party founded in 1964, returned to the islands in 1992, when the multi-party system was reintroduced.
During his career and retirement, the founding President of Seychelles received many awards. He was awarded a Knight Commander of the British Empire in 1976, the "Trophy of the Foundation for Democracy in Africa for the Promotion of Peace, Reconciliation, and Prosperity in Africa" in 2000, and he was designated "Ambassador for Peace" by the International Federation for World Peace in 2010. Mancham passed away in January 2017 at 77.
The Medal was received by Mancham's widow and son.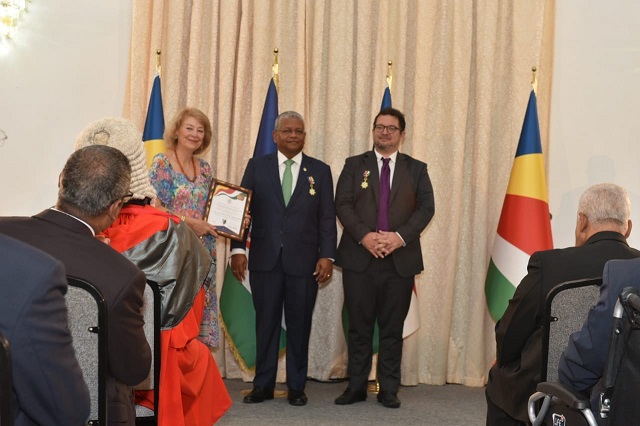 (State House) Photo License: CC-BY
Wavel Ramkalawan – current head of state - Medal of the Republic.
An ordained priest of the Anglican Church, Ramkalawan was sworn in as the fifth President of Seychelles in October 2020 after more than three decades in political life.
With the return of the multi-party system in Seychelles in 1991, Ramkalawan joined others who had been active in opposing the government to form Parti Seselwa (Seychellois Party) and became its leader. The party became the United Opposition (UO) and then the Seychelles National Party (SNP).
Ramkalawan led an opposition coalition, Linyon Demokratik Seselwa, (LDS) to win the presidential elections in October 2020. LDS was the first opposition party to win a presidential election in Seychelles.
(State House) Photo License: CC-BY
Caroline Abel – Central Bank governor - Medal of Honour
Abel became the first woman in Seychelles to be appointed Governor of the Central Bank of Seychelles and assumed office in March 2012. She started working at CBS in April 1994 as a senior bank clerk.
With a first degree in economics from the University of Leeds and a master's degree in monetary economics from the University of Glasgow, she held several posts at the financial institution until her appointment as governor. 
The Medal of Honour is the latest, in several, bestowed to the Governor. She received the Global Women Achievers Award in 2022 for her influential role in developing Seychelles' economy from the World Women's Leadership Congress (WWLC). In 2020, Abel won the Africa's Woman Leaders Award and the African Banker Awards. In July 2015, the African Leadership Magazine awarded Abel the African Female Public Servant of the Year Award.
(State House) Photo License: CC-BY
Late Archbishop Emeritus French Chang-Him - Medal of Honour
Chang-him, the first Seychellois Anglican priest, Bishop, and Archbishop, passed away in May. June 9 marked the 60th anniversary since he gave his life to the service of the Anglican Church and community of Seychelles, and the Indian Ocean.
In December 2014, Queen Elizabeth II designated Archbishop Chang-Him an Officer of the Most Excellent Order of the British Empire (OBE) for his services to reconciliation, human rights, charity, and democratic values and his invaluable service to British nationals in Seychelles, past and present.
Active in civil society and a founding member of the Cancer Concern Association – a disease he suffered from, Chang Him was a strong promoter of reconciliation and forgiveness.
The Medal was received by his daughters Frances and Michelle.
(State House) Photo License: CC-BY 
Late Mazaren – self-taught environmentalist and conservationist - Medal of Honour
The late Antonio Constance, known as "Mazaren", received the Medal of Honour for his dedication and work of science on the Aldabra atoll, a UNESCO World Heritage Site.
He is credited with being among the Seychellois group that was involved with setting up a research center on Aldabra. Mazaren spent more than 10 years on the atoll, where he met the love of his life, who became his wife, named Alda, after the atoll, Aldabra.
He passed away in June 2022 and is remembered as a conservationist, a champion for environmental protection and a land tortoise expert.  He was a true islander who spent 30 years working with the Island Development Company (IDC). Mazaren's Medal was received by his widow Alda Constance. 
(State House) Photo License: CC-BY 

National hero Luc Grandcourt – Medal of Honour
Hailing from the second most populated island of Praslin, another recipient of the Medal of Honour is Luc Grandcourt, a retired seafarer, who at a very young age, decided to follow in his father's footsteps as a sailor.
On August 12, 1976, Grandcourt was the skipper of the schooner 'Ero' from Praslin to Mahe, the wooden passenger schooner capsized and sank, with 22 passengers, amongst them the late Archbishop Emeritus French Chang Him, back then a young priest was left stranded at sea, threatened by sharks.
Grandcourt managed to secure all passengers and at one point when Chang Him drifted away, he managed to swim to Chang Him, bringing him to the rest of the passengers until they were all safely rescued.
(State House) Photo License: CC-BY 
Longest blood donor Harry Marcel Dingwall - Medal of Merit
Donating blood is now part and parcel of Harry Dingwall's life ever since he started in 1991. The Medal of Merit recipient was rewarded for his long time and regular blood donations.
For over 30 years, Dingwall donated over 115 pints of blood every three months. The 64-year-old, who is also a volunteer of the Red Cross Society of Seychelles, once said "Giving blood is the love you give to someone without condition and I give it for free."
(State House) Photo License: CC-BY 
Late Helen Fontaine - legacy as a surgical nurse - Medal of Merit 
A person who had left her mark and earned respect in the field of surgery as a nurse, the late Helen Fontaine also received the Medal of Merit for her contribution to the medical vocation as a surgical nurse.
Aged 83, when she passed in 2021, Fontaine is remembered as a legend who has closely accompanied the evolution of the operating theatre at the Victoria Hospital over the years.
Fontaine started her nursing training in 1954, at the tender age of 16. Four years later, in 1959, she was certified as a staff nurse. She spent most of her nursing career as a theatre nurse, a position she assumed in 1974. Fontaine retired in September 2004, after 50 years of service.
Her Medal was received by her daughter Johanne Pragassen.
(State House) Photo License: CC-BY  
Late Regina Melanie - writer and poet - Medal of Merit
Melanie, who passed away in 2016 aged 83, was awarded for her contribution in the documentation and promotion of the Seychellois Creole language.
She was one of the first participants in the "Progranm alfabetizasyon," a literacy programme for adults in the 1980s.
Melanie then developed an interest in literature and began writing poetry and short stories in Creole and became a well-known writer. She was considered a pioneer in Seychellois Creole literature and in 2012, published her own book, Remor, through the Seychelles Creole Institute.
Her daughters Chantale Melanie and Clivette Philoe received the Medal on her behalf.
(State House) Photo License: CC-BY  
Joseph Samy - composer of patriotic songs - Medal of Merit
Samy was awarded for his contribution to the promotion of Seychellois music as an entertainer and composed and wrote many songs about the beauty of Seychelles.
A musician and former journalist, Joe Samy, was also awarded the Chevalier de l'Ordre des Arts et des Lettres by the French Republic in 2013, presented to him by the then French ambassador, Geneviève Iancu.
(State House) Photo License: CC-BY  
Seychelles Buzz
» Be a reporter: Write and send your article
» Subscribe for news alert