Jamaican-American centenarian attends renewal of vows of relatives in Seychelles
Kiffin and his two daughters with Minister Sylvestre Radegonde. (Department of Tourism)
Send to Kindle
A Jamaican-American centenarian, Irwin Alexander Kiffin, is currently in Seychelles and attended the renewal of the wedding vows of one of his family members in the island nation on Tuesday.
Kiffin, aged 101, left the United States on July 4, travelled to Kenya where he went on several safaris and arrived in Seychelles for the first time with 16 relatives on Monday, July 10.
Seychelles' Minister of Foreign Affairs and Tourism, Sylvestre Radegonde, called on Kiffin at his presidential villa at the Constance Ephelia Seychelles resort on Thursday. He presented a souvenir to Kiffin, who is the first centenarian to travel to Seychelles, an archipelago in the western Indian Ocean.
The general manager of Constance Ephelia Resort, Stephane Duchenne, organised a small get-together for him and his family.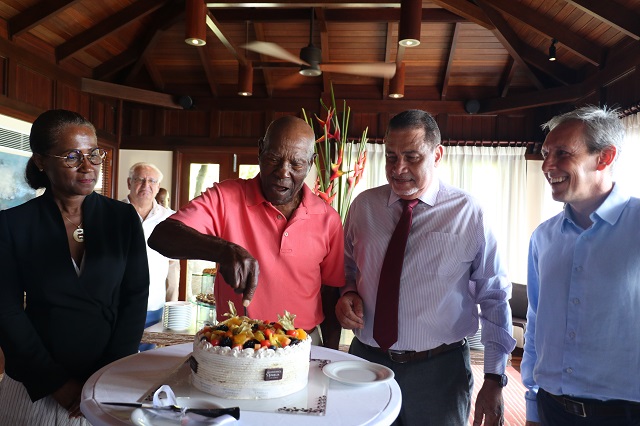 Kiffin cutting his cake in a small get-together at Constance Ephelia Resort. (Department of Tourism) Photo License: CC-BY
Daily newspaper Seychelles Nation spoke to his cousin Errol Harris, who said that the centenarian is an active man and has travelled the world accompanied by his large group of relatives.
Kiffin's two daughters, Valerie Kiffin Lewis and Arleen Haywood, with whom he lives in Florida, are also part of the group.
Valerie Kiffin said her father is a celebrity everywhere they go and sometimes gets into trouble at airports when they get confused about 1922, the year her father was born.
She described her father as a man of principle, an amazing person and a good role model.
Valerie said she sold her house to move with her sister Arleen to take care of her father.
Asked how he could stay so fit and healthy, Kiffin said the daily walks and other exercises help him.
His daughter Valerie said that her father's daily routine includes a two-mile walk followed by hours of gardening.
"He did the whole safaris, waking up at 5 a.m. or 6 a.m. and going the whole day, sometimes even on two safaris a day," she added.
Born on February 11, 1922, in Jamaica, Kiffin was the youngest member of a family of 12. He lost his mother as a baby and was raised by relatives.
He attended school until 15 years old when he had to work to earn a living and his first job was as a mechanic. He then migrated to the United States and worked in a paper-making factory.
Kiffin said that through hard work he could raise his four children who are now a lawyer, a judge, a doctor and a basketball player.
"Today, I am happy!  More than happy!" he said.
General
» Be a reporter: Write and send your article
» Subscribe for news alert