Seychelles launches SDGs Investor Map tool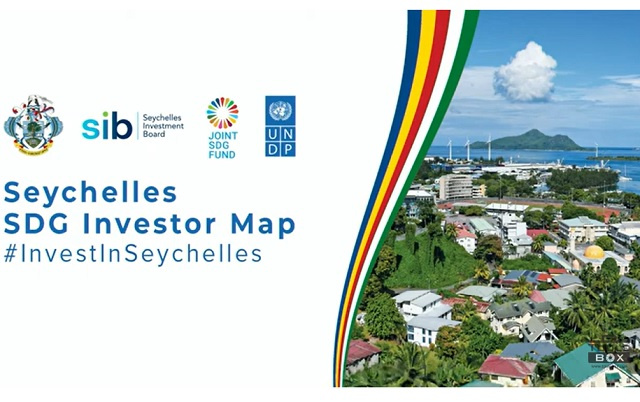 The Sustainable Development Goals (SDG) Investor Map tool was launched on Thursday. (State House/YouTube) 
Send to Kindle
The private sector in Seychelles has been urged to take advantage of opportunities provided by the new Sustainable Development Goals (SDG) Investor Map tool, which was launched by President Wavel Ramkalawan on Thursday.
The appeal was made by the Minister for Investment, Entrepreneurship and Industry, Devika Vidot, who described the launch as a milestone.
She said that Seychelles, with its natural beauty, can attract investors on its own but the investor map "provides an opportunity to have a coordinated approach to provide clear guidance in regards to where our resources should be allocated."
Vidot said that although the government can put in place all appropriate frameworks "make no mistake we will need the role and responsibility of the private sector to capitalise on these evolving opportunities."
Ramkalawan (centre) who launched the investor map with Minister Vidot and Serumaga, resident representative of the United Nations Development Programme. (Seychelles Nation) Photo License: CC-BY
Now that it has been finalised, the map is attached to an online platform featuring other countries that have also participated in the same process. The link for this platform will later become publicly available.
Private investors in Seychelles are being asked to invest in five main areas namely renewable resources, technology and communications, services, food and beverages and infrastructure.
The chairperson of the Seychelles Chamber of Commerce, Oliver Bastienne, said in his address that "the investor map is a tool that informs and provides an investment route for businesses to achieve what I call wonderful treasures. These treasures are what we call sustainable development goals with good financial returns."
He said that "the private sector should build on the current momentum on maximising wealth not only for itself but for the Seychelles community as a whole. This is what we call investment with an impact. The investor map is designed to enable Seychelles to identify impact investments and emerging priorities through local evidence-based insights."  
The resident representative of the United Nations Development Programme (UNDP) for Seychelles and Mauritius, Amanda Serumaga, said that the investor map is a tool that UNDP has on a global platform.
"This platform is larger and it's a call of a series of initiatives by the UNDP as part of the United Nations, aimed at establishing comprehensive mechanisms for financing the sustainable development goals. The 2030 agenda goes beyond the scope of a single UN agency or government. It represents a shared responsibility and undoubtedly the attainment of sustainable development requires collaboration," she added.
"It is our hope that the private sector in Seychelles perceives this map not merely as an incoming competition but rather as an opportunity to mobilise resources and technology, expand their businesses and tap into emerging markets including those within the African continental free market area," said Serumaga.
The identified and emerging Investment Opportunity Areas will serve as a foundation for partnerships in implementing tangible and viable solutions to support the achievement of the UN 2030 Agenda for Sustainable Development.
Updated 8:13pm
Investment
» Be a reporter: Write and send your article
» Subscribe for news alert