Putin to skip BRICS summit in S. Africa under arrest threat
Johannesburg, South Africa
|
July 20, 2023, Thursday @ 19:00 in
World
»
GENERAL
|
By:
AFP
|
Views:
2478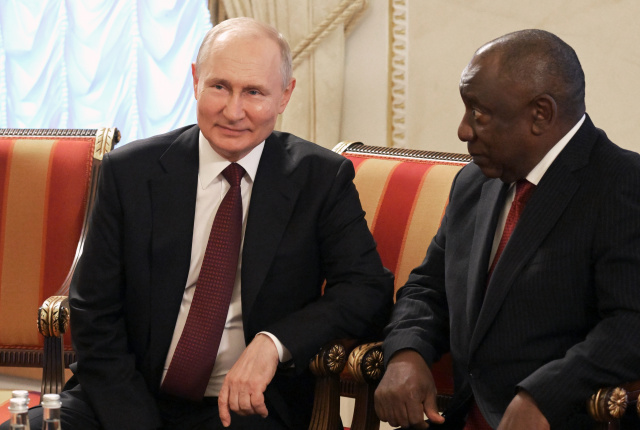 (FILES) This handout picture taken by RIA Novosti on June 17, 2023 shows Russian President Vladimir Putin (L) speaking with South Africa's President Cyril Ramaphosa (R) following a meeting with delegation of African leaders at the Constantine (Konstantinovsky) Palace in Strelna, outside Saint Petersburg. (Photo by Evgeny Biatov / RIA NOVOSTI / AFP) 
Send to Kindle
(AFP) - Vladimir Putin, who is under an international arrest warrant, will not attend in-person, a BRICS nations summit in South Africa next month, Pretoria said on Wednesday, ending months of speculation over whether the Russian President would show up.
Putin's potential visit has been a thorny diplomatic issue for Pretoria.
The Russian leader is the target of an International Criminal Court arrest warrant -- a provision that South Africa as an ICC member would be expected to implement were he to set foot in the country.
"By mutual agreement, President Vladimir Putin of the Russian Federation will not attend the summit," Vincent Magwenya, a spokesman for President Cyril Ramaphosa, said.
Foreign Minister Sergei Lavrov will represent Russia, Magwenya said.
But Putin will participate remotely in the high-level talks, according to Moscow.
"President Putin decided to take part in the BRICS summit in a video conference format," Kremlin spokesman Dmitry Peskov was cited as saying by Russian news agencies. "It will be a full-fledged participation."
The decision for Putin to stay way from South Africa follows "a number of consultations" held by Ramaphosa, the latest of which took place last night, said Magwenya.
Pretoria is the current chair of the BRICS group, an acronym for heavyweights Brazil, Russia, India, China and South Africa, which sees itself as a counterweight to Western economic domination.
Putin was formally invited to a BRICS summit due to take place in Johannesburg between August 22 and 24, but Pretoria has been under heavy domestic and international pressure not to host him.
The other countries' leaders will all be in attendance in person, Magwenya said.
"President Ramaphosa is confident that the summit will be a success and calls on the nation to extend the necessary hospitality to the many delegates who will arrive from various parts of the continent and the globe," he said.
Putin is sought by the ICC over accusations that Russia unlawfully deported Ukrainian children.
In court papers released Tuesday, Ramaphosa wrote that arresting him would have amounted to a declaration of war on Russia.
- 'Victory for South Africa' -
The assessment was given in an affidavit responding to an application by the country's leading opposition party, the Democratic Alliance (DA), which aimed at forcing the government's hand and ensuring the Kremlin leader was handed over to the ICC if he were to arrive.
Kremlin spokesman Peskov denied Russia threatened to wage war but said in Moscow that it was "absolutely clear to everyone what an attempt to encroach on the head of the Russian state would mean".
The affidavit revealed South Africa was seeking an exemption under ICC rules, arguing that enacting the arrest could have threatened the "security, peace and order of the state".
An arrest would have also undermined a South African-led mission to end the war in Ukraine and "foreclose any peaceful solution", Ramaphosa argued.
Last month, Ramaphosa led a seven-country African peace delegation including representatives from Egypt, Senegal and Zambia, to talks in Kyiv and Saint Petersburg.
Pretoria has long said it wants to stay neutral over the war in Ukraine but has been accused by critics of tilting towards Moscow.
Some feared hosting Putin could have been read as a signal of support for Russia and jeopardised South Africa's strong economic and trade relations with the United States and Europe.
Trade with Russia is much smaller, but their ties date back decades to when the Kremlin supported the ruling African National Congress party during the struggle against apartheid.
DA leader John Steenhuisen said Putin not coming was "a victory for South Africa".
The country's economic interests as well as its "reputation on the international stage and its commitment to upholding the rule of law were at stake in this matter," he said.
In recent local media interviews, South African Deputy President Paul Mashatile said the government had been trying to persuade Putin not to come but met resistance from the Kremlin.
Ramaphosa is due to travel to Russia next week to attend a Russia-Africa summit in Saint Petersburg.
© Agence France-Presse
General
» Be a reporter: Write and send your article
» Subscribe for news alert