Kenyans hope for end to demos as Ruto offers to meet opposition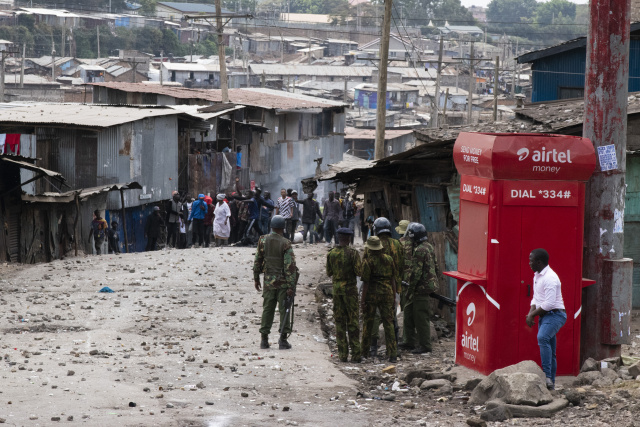 Kenya, Nairobi, 2023-07-19. Street running battles with the police which contains protesters in Mathare slum. Violent demonstrations. The first of three days of a major social movement launched by opponent Raila Odinga against the latest government taxes and William Ruto s government. Photography by Claudia Lacave / Hans Lucas. Kenya, Nairobi, 2023-07-19. Batailles de rue avec la police qui contient les manifestants dans le bidonville de Mathare. Violentes manifestations. Premier jour sur trois d un mouvement social d ampleur lance par l opposant Raila Odinga contre les dernieres taxes gouvernementales et contre le gouvernement de William Ruto. Photographie par Claudia Lacave / Hans Lucas. (Photo by Claudia Lacave / Hans Lucas / Hans Lucas via AFP)
Send to Kindle
(AFP) - Weary Kenyans on Wednesday voiced cautious optimism for an end to political unrest after President William Ruto said he was ready to meet opposition leader Raila Odinga "anytime" following months of anti-government protests.
Since veteran politician Raila Odinga urged Kenyans to take to the streets in March, his Azimio alliance has held nine days of protests against the government, with the demonstrations sometimes descending into looting and deadly clashes with police.
Late Tuesday, Ruto expressed his willingness to meet Odinga in a social media post addressing the opposition leader.
"As you have always known, am available to meet one on one with you anytime at your convenience," Ruto posted on Twitter, which is being rebranded as 'X'.
There was no immediate response to the offer from Odinga, who has urged Kenyans to "come out" for parades and vigils on Wednesday for anti-government protesters killed in the demonstrations.
Odinga called off demonstrations in April and May after Ruto agreed to dialogue, but the talks broke down, with several demonstrations held this month.
Several Kenyans told AFP they were fed up with the disruptions.
"Let them sit and talk," said motorcycle taxi driver Josphat Ng'atho, 36.
"If they don't, the stalemate will never end and our suffering will continue forever."
The violence has sparked outrage among rights groups, with campaigners denouncing the police for firing tear gas and live rounds to disperse stone-throwing protesters.
Twenty people have been killed, according to official figures, though Azimio says at least 50 people have died.
Azimio on Monday said it would stage "solidarity parades and (a) vigil for victims of police brutality".
The coalition asked "Kenyans to come out and light candles and lay flowers, preferably white, in remembrance of and respect for the victims."
Odinga, who claims last year's presidential election was "stolen" from him, has blamed the government for a spiralling cost-of-living crisis and on Tuesday accused authorities of "unprecedented police brutality".
More than two dozen rights groups including Amnesty International last week said they had evidence of 27 "extrajudicial, summary and arbitrary executions" in July alone.
The interior ministry on Tuesday said allegations of "extrajudicial executions and/or excessive use of force... are malicious, false and intended to distort public opinion".
© Agence France-Presse
Africa
» Be a reporter: Write and send your article
» Subscribe for news alert