"Relive Seychellois Craftwork": Artisans present exhibition of traditional creations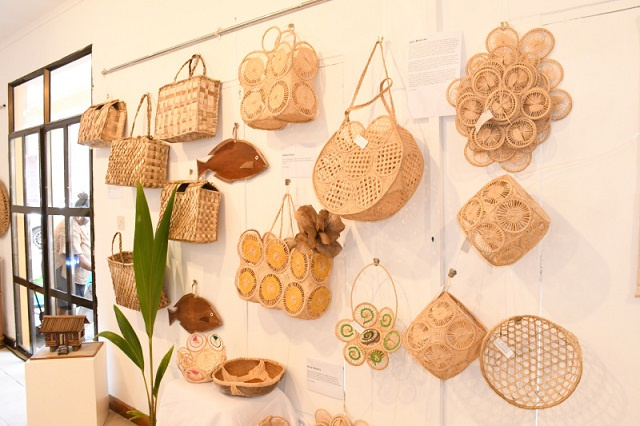 The exhibition is made up of an array of craftwork from over 20 artisans of two groups. (Seychelles Nation)
Send to Kindle
(Seychelles News Agency) - With the aim of creating an opportunity for Seychellois craftspeople to display their products as well as provide business opportunities for them, a four-day exhibition of local artisanal works is being held at the Carrefour des Arts in the capital Victoria.
Under the theme "Reviv Lartizana Seselwa" – Creole for "Relive Seychellois  Craftwork"-  the exhibition was organised by the National Arts and Crafts Council (NACC) in collaboration with the crafts steering committee.
The exhibition, which is open until August 4, is made up of an array of craftwork from over 20 artisans of two groups - Group de Artisans Seychelles and Cooperative des Artisans. With all the exhibits on sale, items have been crafted from vacoa, fiber, raffia, bamboo, wood, sand and coconut.
There are also ceramic, textile and crochet works among others on display.
Albest said NACC wants to inspire the Seychellois youths. (Seychelles Nation) Photo License: CC-BY 
In an interview with SNA, the person responsible for craft development at NACC, Juliette Albest, shared that as the theme states, the aim of the exhibition is to relive artisanal work.
"We also want to inspire our youth, showing them that artisanal crafts are of high quality and they can make a living out of it. We want to inspire them to create. We would also like more Seychellois to support local work as well as buy them. There are many talents in our country," said Albest.
Stopping before the work of Florent Servina, a 71-year-old artisan, Albest shared that the former policeman recently conducted two workshops with students from the Seychelles Institute of Technology (SIT) and Seychelles Institute of Arts and Design (SIAD), showing them how to carve into coconuts.
The work of the student is also displayed in the exhibition.
For over 40 years, Servina has been crafting with coconut, recreating different animals – tortoise, bird, monkey, and bat among others.
Albest outlined that the exhibition is being held in line with the mandate of NACC, which is to develop this sector.
There is the possibility to showcase work produced during workshops at schools and district level.  (Seychelles Nation) Photo License: CC-BY 
"With the creation of the crafts steering committee, it has been outlined that there is the need to pass on artisanal work knowledge. They are putting together a plan on how to meet with agency and relevant authorities to find solutions to this challenge," she said.
NACC is also working on other projects that will help achieve its mandate.
"There is the possibility to showcase work produced during workshops at schools and district level that are currently being conducted. Soon there will be a young Creolophone artist exhibition in which pupils from different schools will be participating.  This will be held in October as part of the Creole Festival," said Albest. 
Arts & Culture
» Be a reporter: Write and send your article
» Subscribe for news alert