Seychellois boxer Keddy Agnes wins silver at 2023 African Elite Men and Women Boxing Championship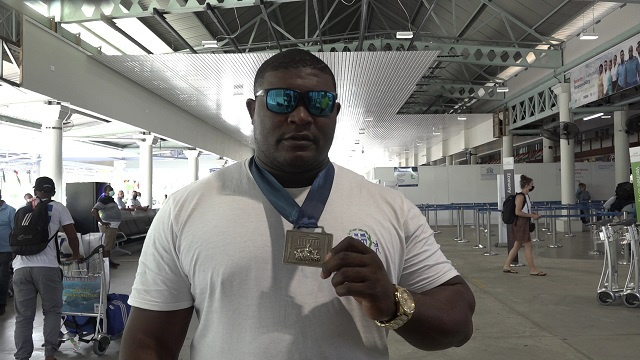 Agnes with the silver medal he won silver at the Acropolis Cup in Athens in 2022. (Seychelles News Agency)
Send to Kindle
Seychellois boxer Keddy Agnes won a silver medal at the 2023 African Elite Men and Women Boxing Championship held in Yaounde, Cameroon, from July 25 to August 6.
Agnes was awarded second place after he was forced to abandon the contest in the elite final of the +92kg category on Saturday due to an injury. He surrendered after the first round versus his opponent Cameroonian Zacharie Mvogo Amougou, who won the gold medal.
The Seychellois heavyweight boxer won a cash prize of $15,000 with his silver medal. To reach the final, Agnes won 4-3 on points against Sadiki Maroy from Ivory Coast in the quarter-final. In his semi-final against Kenyan Fredrick Ramogo, he won by referee stopped contest (RSC) to proceed to the final. 
Agnes is no stranger to winning medals on the African continent. In 2022, he won gold at the Africa Zone 4 championships and secured silver at the Acropolis Cup, before losing in the quarter-finals of the Commonwealth Games.
Four other boxers from Seychelles, an archipelago in the western Indian Ocean, also competed in the event.
Dasheil Fanchette lost his one and only bout to Mpi Anauel Ngamissengue of Congo, after the referee stopped the fight with a minute left in the first round of the 75-80kg weight class.
In the 67-71kg category, Jovani Bouzin lost 5-0 to Mauritian Merven Clair in his first fight, while Shain Boniface, in the 63.5kg-67kg, lost to Cameroon's Junior Jean on a score of 4-3.
Fabio Roselie was also in action at the championship, where he lost after the referee stopped the contest, with 48 seconds left in the second round. Roselie, who was in the 57-60kg category, lost to Democratic Republic of Congo's Mweba Kitangila.
With the one silver medal, Seychelles has actually ended the tournament in 15th place in the medals table. Morocco took the top spot with 8 gold medals and a total of 13 medals.  
In second place was the Democratic Republic of Congo with 5 gold medals and 15 medals, with Algeria in third place with four gold medals.
The Seychelles team is using the tournament as one of the preparations for the Indian Ocean Island Games that will start in Madagascar on August 23 until September 3.
Sport
» Be a reporter: Write and send your article
» Subscribe for news alert