4 features of the Feast of the Assumption of the Virgin Mary in Seychelles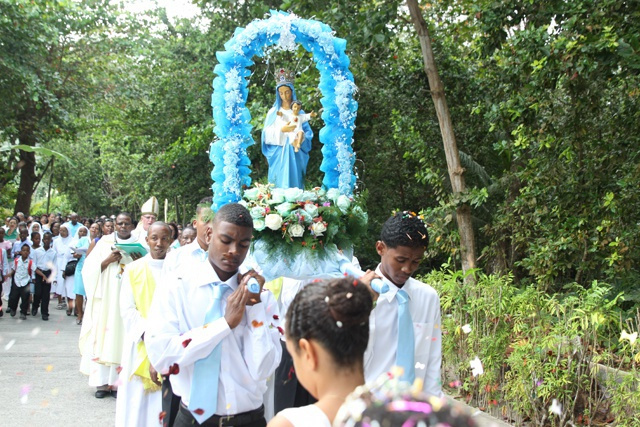 (Joe Laurence, Seychelles News Agency)
Send to Kindle
(Seychelles News Agency) - Seychelles joins Catholics around the world on August 15 to celebrate the Feast of the Assumption of the Virgin Mary. In the island nation, the day is a public holiday in which believers attend mass and participate in processions in honour of the Blessed Virgin Mary. 
As the Blessed Virgin Mary is the Patron Saint of La Digue, the third-most populated island of Seychelles, the celebrations are centered mostly on the island.
This week's buzz brings you four aspects of the La Digue celebration.
The Procession
The ceremony starts with a religious procession of the statue of the Blessed Virgin Mary. The statue is decorated with white and blue flowers, and men carry cloth also dressed in white and blue. Also accompanying the procession are children dressed in their white holy communion and confirmation costumes.
A large crowd usually participates in the procession, which begins at the grotto at Anse Reunion and ends at the Church of St. Mary.
(Joe Laurence, Seychelles News Agency) Photo License: CC-BY
The Mass
It is the most important feast for La Digue every year and the mass this year will be led by Monseigneur Alain Harel, the Bishop of the Catholic Diocese of Port Victoria. The Feast of the Assumption of the Blessed Virgin Mary commemorates the death of Mary and her bodily assumption to Heaven.  
(Seychelles Nation) Photo License: CC-BY
La Digue feast – a time for family reunions
For the occasion, most people born on La Digue who are working on Mahe, the main island, or on Praslin, the second most populated island, makes it a must to participate in the celebration.
The August 15 celebration is the time to reunite with families and for others, it is simply a time to celebrate. This is why all accommodations on La Digue are fully booked during that time.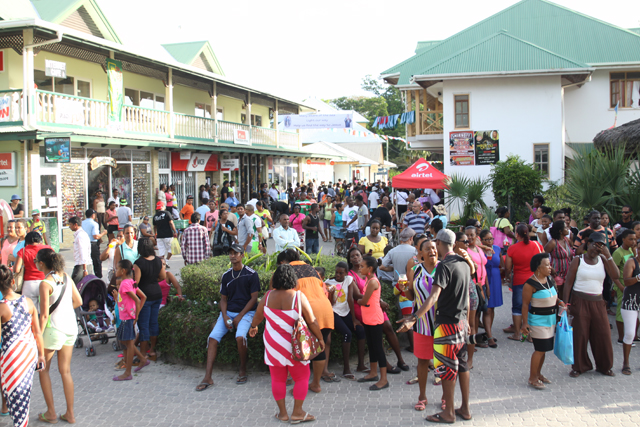 (Joe Laurence, Seychelles News Agency) Photo License: CC-BY
The feast of La Digue, where traditions meet modernisation
La Digue's feast is unique, like the island and its islanders. The usually laid-back atmosphere becomes alive and buzzes with thousands of visitors and many activities – entertainment, friendly competitions and a fair selling various goods, from the crafts to authentic food, unique to the island.
This is where traditions meet the more modern way of life.
The feast offers something for everyone, the locals, visitors, the young, the old, the faithful, and others who have come just to have a good time and enjoy the La Digue hospitality. A rendezvous not to be missed by those brave enough to cross the rough seas in view of the windy season at this time of the year.  
(Joe Laurence, Seychelles News Agency) Photo License: CC-BY
Seychelles Buzz
» Be a reporter: Write and send your article
» Subscribe for news alert