Seychelles' health authorities to expedite signing of MoU with Zambia for recruitment of doctors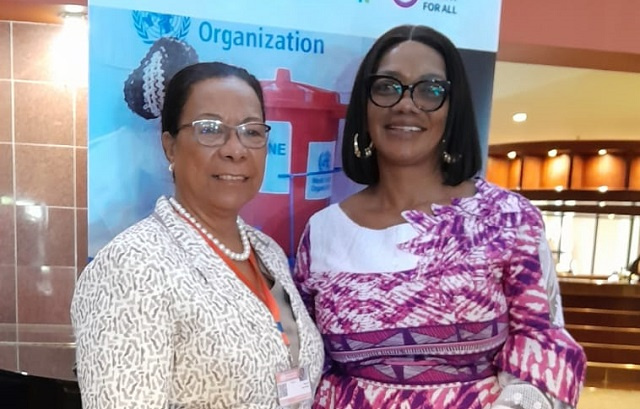 The Minister of Health Peggy Vidot (left) and her Zambian counterpart Sylvia Masebo. (Ministry of Health) 
Send to Kindle
(Seychelles News Agency) - Seychelles' health authorities have agreed to expedite the signing of a memorandum of understanding (MoU) with Zambia to facilitate the recruitment of Zambian health professionals to work in the island nation.
In a press statement on Thursday, the Ministry of Health said that Minister Peggy Vidot and her Zambian counterpart Sylvia Masebo made the agreement during a meeting on the sidelines of the 73rd Regional Committee of the Africa region of the World Health Organisation (WHO).
"The MoU will also allow Seychellois health professionals to be trained in Zambia. Seychelles has a lack of health professionals while Zambia has a surplus. Discussions have been ongoing between the two sides since early this year for the recruitment of doctors," said the Ministry. 
Discussions have been ongoing between the two sides since early this year for the recruitment of doctors.
According to the Annual Health Sector Performance Report of 2022, as at the end of 2022, there were  514 doctors on the register of the Seychelles Medical and Dental Council (SMDC). Only 22 percent are Seychellois nationals and around 241 doctors on the register were professionally active in Seychelles in 2022.
As per Article 29 of the Constitution, Seychelles offers free primary health care in state institutions for all its citizens.
During her meeting, Vidot said, "With the MoU, Seychelles stands to benefit from a broader scope of cooperation, sharing of best practices and capacity building."
Minister Vidot also met with the health minister of Rwanda, Sabin Nsanzimana, to follow up on the signing of an MoU held in discussions in June with Rwandan President Paul Kagame.
Vidot and Nsanzimana agreed to the visit of a delegation from the Seychelles health ministry to Rwanda for Seychelles to have a deeper insight into the health training facilities, the primary health care system, and the use of the electronic health information system there, among others.
The collaboration between Seychelles, Rwanda and Zambia represents a new approach of the island nation's Ministry of Health, to collaborate more with high performance developing countries.
The Seventy-third session of the WHO Regional Committee for Africa took place in Gaborone, Botswana from August 28 August to September 1.
Health
» Be a reporter: Write and send your article
» Subscribe for news alert