Seychellois canoeist organises fund-raising event for children's corner at the La Digue's St. Mary's Hospital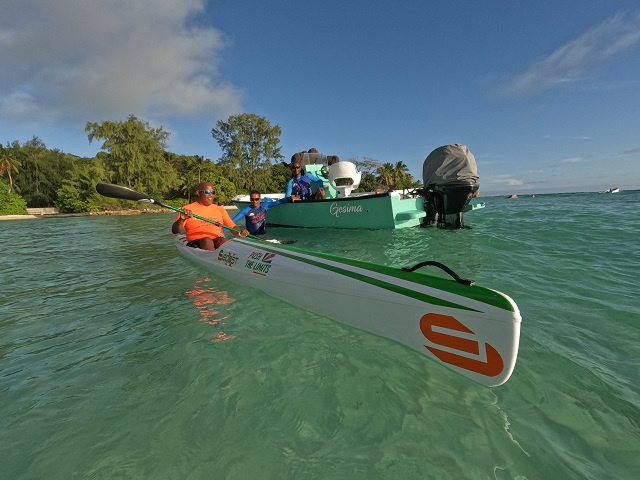 The 53-year-old who comes from La Digue. (Mervyn Marie)
Send to Kindle
(Seychelles News Agency) - Seychellois canoeist Frederick Ladouceur De Speville is on a challenge to go around the main island of Mahe in his kayak in less than a day on November 11 with the aim to raise funds for a children's room at the newly built hospital on La Digue Island.
The 53-year-old, who comes from La Digue, the third most populated island, saw this as a personal challenge to test his endurance and to bring down his weight.
"Once I started this journey I saw it turning into a big event and I decided to lead it with a good cause, and that is to create a space for sick children at the new La Digue hospital, called St. Mary's Hospital. This will give the children some comfort because in order to regain your health it doesn't depend solely on medicine but on other things as well," he said.
De Speville, who was awarded the best canoeist award in 1989 in Seychelles, chose to start the challenge at the Marine Charter, the place where he started canoeing. The challenge will begin at midnight on Friday, November 11 for a period of 15 hours and also end at the Marine Charter.
As part of their collective effort to raise funds, the team has prepared a banner for the public to sign on at a cost of SCR100 ($7.5). The banner will be placed at the Marine Charter and at La Digue's harbour.
"Companies can also have their logos displayed on the kayak that will be used for the event at a cost of SCR5000 ($378). We also have carbon oars that people can sign on, and we also invite any company who wishes to display their logo on my T-shirt that day to come forward and it will cost SCR25,000 ($1890)," he said.
De Speville has the support of his team of 15 all inhabitants of La Digue. The group is called "No Limit" and their motto is "Push the limit." 
De Speville in his T-shirt with the motto of the group - "Push The Limit." (Mervyn Marie) Photo License: All Rights Reserved  
In order to make the children's space project at the hospital a reality team "No Limit" has partnered with the La Digue business association and any cheque that people or businesses want to contribute, the money will be credited into the association's bank account.
"We have also approached some sponsors and various organisations and explained our intentions and plans in order to gain their support. At this point, we are asking the public to join us! Push the limit with us, help us with logistics," said De Speville.
The canoeist said he had this idea in his mind for about a year and he started investing in this project with the help of his wife.
"We started off by importing a new kayak from South Africa and I got myself registered in an association in Germany for me to be able to practice while I was on holiday. Throughout, I did continuous training, around 12km per day in a lake and in the river by using some modern equipment," he explained.  
On the day of the event, De Speville said: "We want to start off in the vicinity of Providence all the way down to Cap Ternay. When we get there, we shall take a two-hour break and resume in the afternoon. We will do it this way because we will be accompanied by supporters who will be on a Mason's Travel catamaran."
He said that for people to win a spot on that boat people they will have to participate in special games that will be organised for the event.
On their way back, people who would like to join the challenge in their kayaks or canoe will be able to do so at Beau-Vallon.
"So that they can also give us the support for the charity and push the limit," said De Speville.  
Sport
» Be a reporter: Write and send your article
» Subscribe for news alert