Maldives frontrunner eyes closer ties with China
Colombo, Sri Lanka
|
September 15, 2023, Friday @ 14:50 in
World
»
INDIAN OCEAN
|
By:
AFP
|
Views:
2814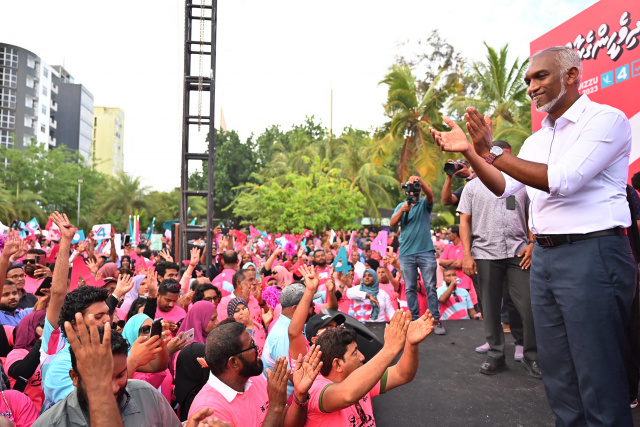 Dr Mohamed Muizzu (R), presidential candidate of People's National Congress (PNC) party, greets his supporters at a campaign rally before country's presidential election in Male on September 8, 2023. Maldives leader Ibrahim Mohamed Solih will seek re-election on September 9 in a presidential vote also serving as a referendum on his pursuit of renewed ties with India, the archipelago's traditional benefactor. (Photo by Mohamed Afrah / AFP)
Send to Kindle
(AFP) - The Maldives stands at a geopolitical crossroads ahead of its presidential runoff vote with the frontrunner, a former construction minister, set on demolishing India's influence and building stronger ties with China.
The archipelago nation, better known for its upmarket beach resorts and celebrity vacationers, sits in a strategically vital position in the middle of the Indian Ocean astride one of the world's busiest east-west shipping lanes.
The vote on the chain of atolls -- scattered some 800 kilometres (500 miles) across the equator -- takes place with growing Western concern at China's growing assertiveness in the Indo-Pacific, with rival India part of the Quad, a strategic alliance alongside the United States, Australia and Japan.
Frontrunner Mohamed Muizzu is the protege of former leader Abdulla Yameen, who steered the archipelago towards Beijing's orbit while in office and became an eager recipient of financial largesse from China's Belt and Road infrastructure programme.
Muizzu won just over 46 percent of Saturday's first-round vote with incumbent Ibrahim Mohamed Solih, who presided over a restoration of ties with traditional benefactor India, trailing on 39 percent.
Foreign policy is set to dominate the campaign before the September 30 runoff, with both men sharply divided on managing the India-China rivalry.
Muizzu told an online meeting with Chinese Communist Party representatives last year that a return to power of his Progressive Party of Maldives (PPM) would "script a further chapter of strong ties between our two countries".
Now the mayor of the capital Male, Muizzu also spearheaded the $200-million China-Maldives friendship bridge linking his island city to the country's main airport while serving in the previous government.
- 'Reset relations' -
Last month, he marked the fifth anniversary of the bridge by praising the "visionary leadership" of both his patron Yameen and Chinese President Xi Jinping.
But any turn back to Beijing would come at the expense of ties with New Delhi.
"Should Muizzu win, he is likely to reset relations with India," retired senior civil servant Imad Masood told AFP. "He will not go overboard like Solih did with India."
Solih beat Muizzu's mentor Yameen in a landslide election win five years ago and moved swiftly to repair relations with New Delhi.
Yameen had borrowed heavily from Beijing for construction projects during his autocratic rule, a decision condemned by opponents as debt trap diplomacy.
After a legal challenge to his loss failed, Yameen was convicted of corruption and jailed for 11 years, barring him from contesting this year's vote.
He has instead backed Muizzu to steer a coalition led by the PPM back to office in a Muslim nation home to more than half-a-million people, nearly a third of whom are foreign workers in its tourism industry.
Their party and other activists regularly staged street protests demanding a reduction in Indian influence during Solih's tenure.
- Existential climate threat -
Last year, an Islamist group stormed a football stadium in Male to break up a public yoga session, with police firing tear gas to disperse the protesters.
The campaign has clearly resonated, with Masood saying Muizzu's "India Out" posture helped him take a comfortable lead by swaying undecided voters.
But ex-Maldives foreign minister Ahmed Shaheed said Muizzu cannot afford to antagonise India and expect a trouble-free tenure.
"He needs to learn from Yameen's mistakes and pipe down the 'India Out' campaign," Shaheed, also a law professor at the University of Essex in Britain, told AFP.
During his election campaign, Muizzu promised to free Yameen from imprisonment on the remote island where the former president had also once jailed many of his own political opponents.
Loyalists expect the jailed ex-leader to play a key role in government should his proxy win the poll.
Both Muizzu and Solih are scouting for allies among the six other candidates knocked out of the race after Saturday's first-round vote.
Solih is seeking a reconciliation with the Democrats, a breakaway faction of his party whose candidate polled just over seven percent -- a bloc which could tip the runoff.
Eighty percent of the Maldives is less than a metre (three feet) above sea level, making it one of the countries most threatened by rising sea levels linked to climate warming.
© Agence France-Presse
Indian Ocean
» Be a reporter: Write and send your article
» Subscribe for news alert