Mid-Year Budget Review: Seychelles' government cuts back $25.4m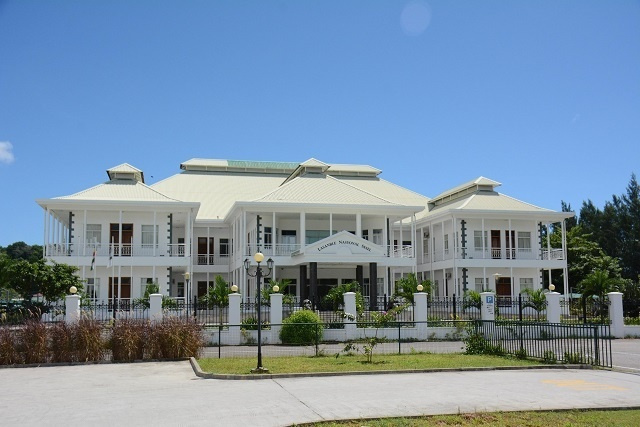 The government is asking the Seychelles National Assembly for a supplementary budget of over SCR275.5 million. (Seychelles News Agency)
Send to Kindle
(Seychelles News Agency) - The Seychelles government has cut back over SCR345.8 million ($25.4 million) from the overall 2023 national budget, despite asking the Seychelles National Assembly for a supplementary budget of over SCR275.5 million ($20.2 million) in its 2023 Mid-Year Budget Review.
Vice President Ahmed Afif presented the review to the Seychelles National Assembly on behalf of the finance minister, Naadir Hassan, who is on an overseas mission.
"The government is making a demand for a supplementary budget in accordance with Section 154 (6) of the Constitution for a sum of SCR 275,506,848.63. This is being financed through a reduction in budget expenses for a sum of SCR 621,370,992.77 ($45.7 million). This means that I am presenting to the Assembly a reduction of SCR 345,864,144.14 in the 2023 budget," said Afif.
A budget of close to SCR 10.5 billion was approved by the Seychelles National Assembly for 2023.
A portion of the supplementary budget is being requested to fund wages. One such request is for a sum of SCR 4.3 million linked to additional support for the Truth Reconciliation and National Unity Commission (TRNUC), whose mandate was prolonged.
There is also reallocation to cover workers who were supposed to move under the new Communications Authority as well as transfers of workers from the AIDS National Commission which no longer exists, to the Public Health Authority. 
"However, a total of SCR 106.3 million ($7.8 million) is being cut from the salaries of ministries, departments, and agencies and SCR 19.3 million ($1.4 million) from other wages. For goods and services, a sum of SCR56.4 million ($4 million) is being recommended to cover the additional expenses for the year," said Afif.
"Under goods and services, we are also making a budgetary reduction of SCR26.2 million ($1.9 million) in different ministries, departments, and agencies and SCR4 million ($293,000) under other goods and services. Under capital projects, a sum of SCR 197.6 million ($14,3 million) is being recommended as additional budget, and a sum of SCR 324 million ($23.5 million) as a budgetary reduction," continued Afif.
He outlined that the reduction is due to projects that will not be completed or materialised in 2023. The majority of these projects are being or were to be financed through grants and loans. The revision in the exchange rate has also influenced this.
Looking at the fiscal performance for the first half of 2023, Afif said that the country has attained "a primary fiscal surplus of SCR365.8 million, or 1.2 percent of GDP" during this period. Projections for the first six months of the year were initially set at a primary fiscal balance of only SCR15.4 million or 0.1 percent of GDP.
"This means that we have collected more revenue than we had projected and have spent less than we expected," said Afif.
Addressing government debt, he said that by the end of June 2023, the total debt of the country stood at SCR17.7 billion ($1.3 billion), or 63.9 percent of GDP. This compares to a debt of SCR18 billion ($1.32 billion) or 62.7 percent of GDP at the end of 2022.
"We are projecting that by the end of the year, our debt will reach SCR18.6 billion, or 62 percent of GDP. The government's debt remains on a sustainable trajectory. Based on the performance of the first six months and negotiations with IMF, we are foreseeing a primary fiscal deficit of SCR70.98 million ($5.1 million) or 0.24 percent of GDP for this year," said Afif. 
General
» Be a reporter: Write and send your article
» Subscribe for news alert