Pope urges Europe against treating migrants as invaders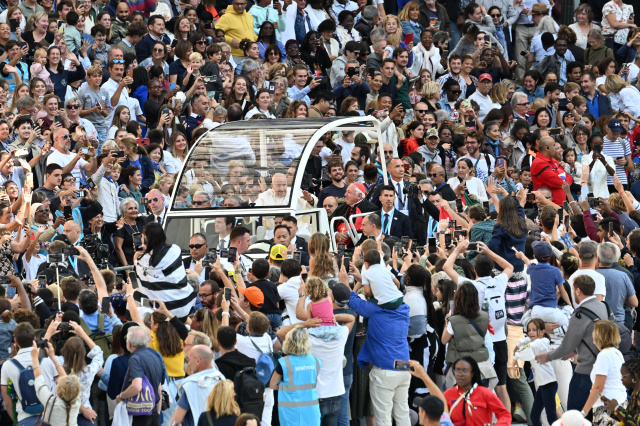 Pope Francis waves as he arrives to celebrate mass at the Velodrome stadium, in the southern port city of Marseille on September 23, 2023.
The first pope in 500 years to visit the city of Marseille, Pope Francis is on a two-day visit for the concluding session of the Mediterranean Meetings, a Church-led initiative aiming to build community amongst the region's various peoples, religions, and cultures. (Photo by Andreas SOLARO / AFP)
Send to Kindle
(AFP) - Pope Francis on Saturday urged European governments to welcome migrants instead of viewing them as invaders, striding into in a hugely sensitive political debate again inflamed by mass arrivals on the second day of his visit to France's Mediterranean port of Marseille.
The pontiff made the comments hours before he leads a mass in Marseille's main stadium -- usually the venue for rugby or football matches -- in a gigantic event due to be attended by French President Emmanuel Macron.
"Those who risk their lives at sea do not invade, they look for welcome," Francis said in a speech closing a conference of bishops and young people from around the Mediterranean.
Migration is "a reality of our times, a process that involves three continents around the Mediterranean and that must be governed with wise foresight, including a European response," the pontiff added.
Noting the risk to the lives of migrants if they are not taken to safety, he warned against turning "the Mediterranean, the mare nostrum, from the cradle of civilisation into the mare mortuum, the graveyard of dignity."
Francis' 35-minute speech drew a standing ovation from his audience, but his position on migration was unlikely to please Macron and Interior Minister Gerald Darmanin, who were both present and plan tougher measures to control arrivals.
The pope's forceful interventions come as the migration debate has been stoked by mass arrivals on the Italian island of Lampedusa last week.
Speaking at a monument to people lost at sea on his arrival in Marseille on Friday, the pontiff had insisted that "people who are at risk of drowning when abandoned on the waves must be rescued".
He thanked aid groups rescuing migrants in danger at sea, condemning efforts to prevent their work as "gestures of hate".
- Tens of thousands expected -
Tens of thousands of people are expected to watch Francis as he travels through the streets of Marseille later Saturday before celebrating mass for almost 60,000 people in the city's famed Velodrome stadium.
Thousands were already starting to pour into the iconic venue which only on Thursday had hosted France's clash with Namibia in the Rugby World Cup.
Clutches of black- or white-robed priests and nuns were scattered through the crowds while volunteers tasked with distributing communion wafers during the service were taking up position.
Up to 100,000 are expected to line the Avenue du Prado for his "popemobile" tour and many roads are decked out with the white-and-yellow colours of the Vatican.
Francky Domingo, a Beninese man who heads a group of undocumented migrants in Marseille, said he hoped the pontiff's visit would "give us back a little hope" and "calm the political tensions".
Around 40 people have been killed in shootings in Marseille this year, and Macron has promised billions of euros to upgrade city infrastructure in a bid to stop the downward spiral.
Not everyone has welcomed the pope's visit.
Some politicians on the left have criticised Macron's decision to attend Saturday's mass as an infringement of state secularism.
Others on the right have attacked Francis for "interfering" in domestic politics.
- 'Pushed aside' -
The pontiff did nothing Saturday to dodge such allegations, appearing to weigh in on two of Macron's projects -- assisted dying and inscribing the right to abortion in the constitution.
Old people risk being "pushed aside, under the false pretences of a supposedly dignified and 'sweet' death that is more 'salty' than the waters of the sea," Francis warned.
He also spoke of "unborn children, rejected in the name of a false right to progress, which is instead a retreat into the selfish needs of the individual".
Francis' messages may have less resonance given Catholicism's long decline in France.
Fewer than a third of people still say they are Catholic, and only a fraction of those regularly attend mass.
The country's religious heritage nevertheless still has enormous weight, with Macron showing off progress in restoring the fire-ravaged Notre Dame cathedral in central Paris to Britain's King Charles III this week.
© Agence France-Presse
General
» Be a reporter: Write and send your article
» Subscribe for news alert