Iranian fishing vessels detained on suspicion of illegal fishing in the Seychelles waters
The two Iranian flagged vessel pictured in Port Victoria this afternoon. (Joe Laurence, Seychelles News Agency)
Send to Kindle
(Seychelles News Agency) - Two foreign vessels have been intercepted by the Seychelles Coast Guard after being suspected of fishing illegally in the Seychelles waters.
The two Iranian flagged vessels were escorted to the Indian Ocean island nation's Port of Victoria this afternoon and handed over to the Seychelles police and Fishing Authority for further investigation.
In a press statement issued this afternoon the Coast Guard said the two dhows 'Maoli' and 'Marliki' were spotted by a local fishing vessel early on Tuesday December 16, some 90 nautical miles south east of the Seychelles main island of Mahé.
"The Coast Guard immediately diverted patrol ship 'Topaz' that was on patrol and later patrol ship 'Etoile' as reinforcement. The two Coast Guard ships were supported in the operation by Seychelles Air Force aircraft that observed and tracked the vessels," reads the statement.
"The two dhows were boarded by the Seychelles Coast Guard Vessel Board Search and seizure teams at around midday yesterday.  Seychelles Fishing Authority (SFA) inspectors on patrol were also called in to carry out detailed search of the vessels."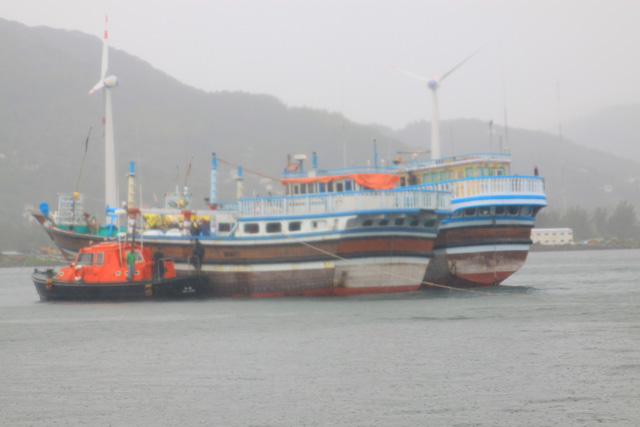 The Seychelles authorities including the police and Seychelles Fishing authorities have boarded the ship for inspection as part of their investigation. (Joe Laurence, Seychelles News Agency) Photo License: CC-BY
Speaking to SNA in a phone interview SFA's Roddy Allisop said a thorough investigation is ongoing to build a case against the fishing vessels.
He confirmed that fresh fish including shark, tuna and bonito were seized on the boats upon inspection.
"They also have on board fishing nets that are not allowed to be used under the laws that regulate fishing activities in the Seychelles waters," Allisop told SNA.
The two vessels suspected of illegal fishing in the Seychelles Exclusive Economic Zone (EEZ) each have 18 crew members, all Iranian nationals.
The 36 crew members and their two captains are currently under police surveillance as the investigation continues.
The two dhows 'Maoli' and 'Marliki' have 18 crew members each in addition to their captains. (Joe Laurence, Seychelles News Agency) Photo License: CC-BY
General
» Be a reporter: Write and send your article
» Subscribe for news alert