New Dornier aircraft for IDC to boost travel to outer islands of Seychelles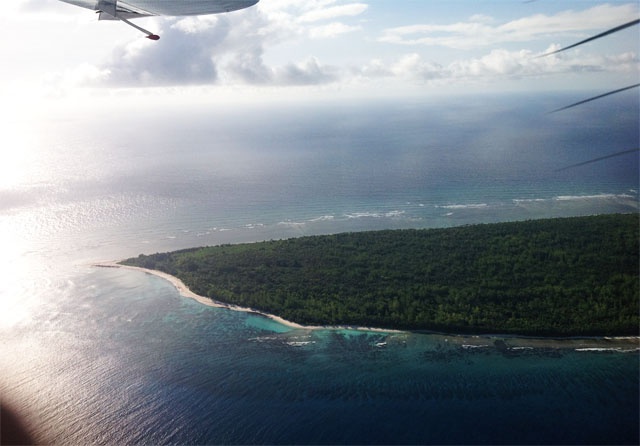 File Photo: Partal view of Coetivy island, one of the outer islands that will be serviced by the new Dornier plane (Seychelles News Agency)
Send to Kindle
(Seychelles News Agency) - A bird's eye view of Seychelles archipelago often leaves visitors in awe of natural beauty of the islands in the azure blue Indian Ocean waters, often described as "paradise on earth."
Taking off from the capital of Victoria or the second most populated island Praslin, passengers of small planes or helicopters, glimpse over several populated tropical landmasses that makes up the archipelago's 115 islands.
Further from the shallow plateau of the granitic islands, one might even lose count of the tropical atoll and low-lying specs of corals inching above sea level, frequented mainly by seabirds.
The state-owned Islands Development Company (IDC) is responsible for most of the transportation to these remote islands and has boosted its aircraft fleet with the addition of a new modern aircraft, a Dornier 228 plane last week, destined to fly to islands such as Remire, Marie-Louise, Platte, Astove, and Coetivy with more passengers.
The aircraft, the fourth for the company, according to a press statement, has been purchased from South African company, Summer Set Charters.
A modern addition to the IDC aircraft fleet
The Dornier aircraft is a twin-engine STOL (Short Take-Off and Landing) that has 18 passenger seats, a maximum payload of 1900kg, a maximum cruise speed of 200Kts (TAS) and maximum endurance of 7 hours flight time and a range of 1400 nautical miles (2592 kilometres), according to the IDC.
The company statement says the new aircraft is 'ideal…for landing on short runways' which are often found on these smaller and less populated islands.
The latest addition to IDC's aviation fleet to increase flights to outer islands of the Seychelles archipelago (Islands Development Company) Photo License: CC-BY
The aviation fleet of IDC is also comprised of a Beechcraft, a Cessna Caravan and a Y12 aircraft.
Currently, the IDC operates regular flights to Desroches, 35 minutes away from capital of Victoria and depending on requests, and flies to nine other islands, including Rémire, Marie-Louise, Platte, Astove and the furthest being Assumption Island, a flight of almost three hours.
These far flung islands of the Seychelles often referred to as 'outer islands' have often been out-of-reach to people living on the inner granitic islands as flights are scarce and expensive whilst boat trips can last over several days.
The Islands Development Company was created on 29th April 1980, as a parastatal body to make some of the outer islands of the Seychelles economically viable.
In 1994, IDC invested in its first aircraft, an AA1 Caravan F406 to travel further west in the archipelago.
More than twenty years later, the Seychelles Island Development company has over ten pilots manoeuvring the skies over a vast Exclusive Economic Zone (EEZ) of 1.3 million square kilometres.
IDC administers 14 of the western coralline islands of the Seychelles archipelago, including the Southern Coral Group (comprised of Ile Platte and Coetivy Island), Desroches island, which is one of the atoll in Amirante Islands, Alphonse Atoll, Farquhar island and the furthest from Victoria the capital, the Assumption island which is located in the Aldabra Group of islands.
Out of the fourteen islands, several such as Farquhar and Coetivy are involved in coconut oil processing whilst others which are home to only 2% of the Seychelles population, are involved in small scale livestock rearing, fishing and farming.
High-end tourism resorts have also been developed on Desroches Island and Alphonse Island.
General
» Be a reporter: Write and send your article
» Subscribe for news alert