Seychelles-Sri Lanka business forum to boost trade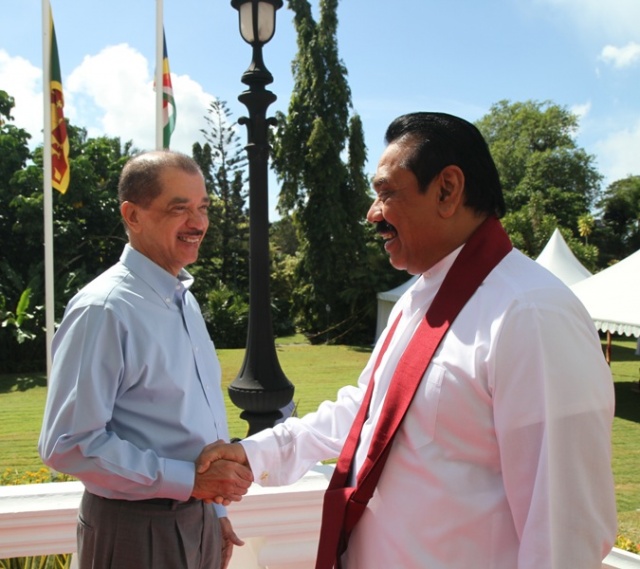 Seychelles President James Michel and Sri Lankan President Mahinda Rajapksa, June 30, 2013, State House Seychelles. Relations between Seychelles and Sri Lanka have improved since Rajapksa's state visit to the Seychelles, which was preceded by Michel's visit to Sri Lanka in 2012. (Mervyn Marie, Seychelles News Agency)
Send to Kindle
(Seychelles News Agency) - Trade between Seychelles and Sri Lanka is expected to increase the establishment of a Seychelles-Sri Lanka business forum yesterday. The Seychelles Minister for Finance, Trade and Investment, Pierre Laporte, encouraged business communities from both countries to forge lasting partnerships to benefit their economies.
The forum saw the participation of over a hundred Seychellois business entrepreneurs and 26 business organisations from Sri Lanka were also represented. The business forum is expected to stimulate potential opportunities in key economic areas of trade, fisheries and tourism.
According to Laporte, Seychelles and Sri Lanka have made great progress in key areas of bilateral cooperation since the establishment of diplomatic relations in 1988.
"With our two Presidents having exchanged very recently State visits and visits by other high level government officials to and from Sri Lanka, this cooperation has seen a renewed momentum, especially in the exchange of technical expertise in the fields of education, health, maritime and nautical services, legal drafting, aviation and defense."
The efforts to boost business ties have been greatly aided by Mihin Lanka, the Sri Lankan national airline's decision in October 2013 to fly from Colombo to Seychelles three times a week, opening up the trade and tourism route for businesses looking for new avenues to explore. A double taxation agreement signed in December 2013 and the proximity of the two countries to Africa and the Middle East provide further incentives for trade and service links to be established.
The recent launch of the Bank of Ceylon in Seychelles points to another sign that avenues are being created to facilitate business between the two countries and generate financing opportunities in industries that have been difficult to obtain finance for previously.
"Relevant steps have been taken over the years and will continue to be taken by the Seychelles government to make Seychelles an ideal place for doing business and to encourage foreign direct investment. Both countries have achieved unexpected and sustained growth as a result of strong direct investment," said Minister Laporte.
"The installation in 2012 of our first fiber optic cable has greatly improved communications and internet connectivity and opened up the area of ICT for more commerce, finance and banking," said the minister. "This business forum therefore provides us with an ideal opportunity to further explore potential opportunities in the area of trade and commerce, fisheries, tourism and generally to further promote our economic relations."
The Seychelles Investment Board (SIB), the Ceylon Chamber of Commerce, and the Sri Lankan high commission in Seychelles hosted the forum held on 23 January at the Seychelles Trading Company (STC) in Victoria.
Investment
» Be a reporter: Write and send your article
» Subscribe for news alert