Seychelles police introduces two top posts in restructuring move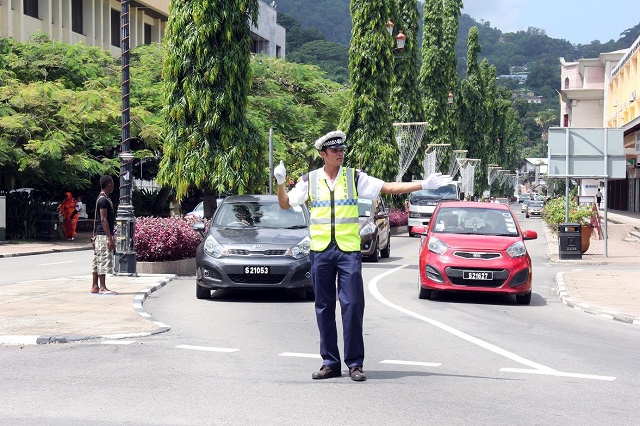 Directing the 800 personnel of the Seychelles police force towards a new lane in 2015. Seychelles Minister for Home Affairs and Transport hopes new appointments and re-organisation will make the Police force 'progressively earn the respect of all Seychellois'. (Patrick Joubert, Seychelles News Agency)
Send to Kindle
(Seychelles News Agency) - The Seychelles police force will be 'more effective' in 2015, according to the Seychelles Minister for Home Affairs and Transport, Joel Morgan also responsible for the police department.
He spoke about the proposed plans for improvement at a press conference in the Seychelles capital of Victoria, yesterday, where it was announced that the Seychelles police force, with over 800 personnel, has been re-structured to ensure law and order in the Indian Ocean archipelago.
As part of the changes, Morgan announced the appointment of two Assistant Police Commissioners who will be responsible for two departments within the Police force; namely Reginald Elizabeth who will be responsible for Policing and Godfra Hermitte, as head of Support.
The two Assistant Police Commissioners Reginald Elizabeth (left) and Godfra Hermitte.(Patrick Joubert, Seychelles News Agency) Photo License: CC-BY
Morgan said the restructuring will allow for "more rationalisation of resources and for more effective output."
According to Morgan, the new Policing Unit is more intelligence driven and includes criminal investigation, Interpol and visible patrolling whilst the support unit will include traffic police, human resources development, police academy and technological support, such as radio communications.
The police force will continue to be headed by Commissioner Ernest Quatre. His deputy South African, Vernon Hunter also remains in his post.
The Seychelles Minister for Home Affairs and Transport, Joel Morgan flanked by the two men behind the restructured Seychelles Police force, Police Commissioner Ernest Quatre and Deputy Commissioner, Vernon Hunter. (Patrick Joubert, Seychelles News Agency) Photo License: CC-BY 
A surge of burglaries recorded
During the press conference Morgan spoke about a series of burglaries in the Beau Vallon and Bel Ombre districts in the North and Anse Royale a district in the south of the main island of Mahe.
These incidents,informed Morgan, has been curtailed and several youths, as young as 13, have been apprehended.
"We have many youths, including girls committing crime and this often linked to drugs", said Morgan adding that the National Drugs Enforcement Agency (NDEA) is doing its best to ensure that dealers are not polluting the youths with drugs.
He added that those caught and convicted of drugs trafficking will continue to be sent to Marie-Louise Island to serve their sentences. The outer island of the Seychelles is where drug traffickers, sexual offenders and refractory prisoners are incarcerated.
"I hope that with the new re-organisation, the police force….. will have a new beginning, to progressively earn the respect of all Seychellois who shall abide by the laws of Seychelles."
Softer approach to reduce drunk driving
Morgan also spoke about several campaigns that the police force is currently undertaking.
This includes the "Arrive Alive" campaign, launched since November to discourage drunk driving.
At the press conference in Victoria, it was announced that as a result of the campaign, 186 people whose alcohol levels were above the permissible level, have been arrested and held overnight.
"This has undoubtedly spared several tragedies, since there have been no fatal accidents during this festive season to date."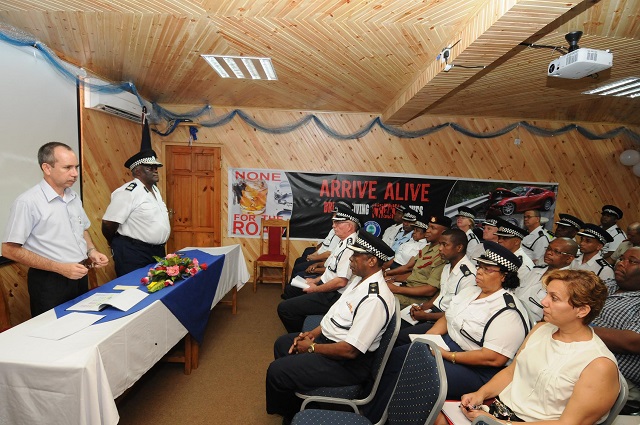 'Arrive Alive' banner hangs on the wall of the press conference room where the new changes and approach of the Seychelles Police were announced to media representatives and high officials of the Seychelles Police Force. (Patrick Joubert, Seychelles News Agency) Photo License: CC-BY 
Morgan said that the police will now be adopting a 'softer approach' from now on and stop detaining offenders overnight. Those found to be driving under the influence of alcohol, will be charged at the nearest police station, but will be given the opportunity to call family members to come and take them home. .
Morgan said this is also being done because it is not practical to have people arrested for drunk driving sharing police cells with drug traffickers or people who have committed violent crime. 
Police officers respond to emergencies and dispatch officers using recently installed radio network communication. The response centre of the Seychelles Police headquarters, based in the capital of Victoria, is expected to be revamped under the new structure of the Seychelles Police and in accordance with 'national situation and needs'. (Patrick Joubert, Seychelles News Agency) Photo License: CC-BY 
Enforcement of measures for New Year celebrations
According to the WHO's Global Status Report on Alcohol and Health 2014, which measured average alcohol consumption in countries throughout the world between 2010 and 2011, litres of pure alcohol consumed by Seychellois per year dropped to 5.6 litres per capita from 10.6 litres per capita recorded in the 2011 report, which contained data from 2003 to 2005.
Seychelles binge-drinking figures are still a cause for concern, with almost 54% of drinkers reporting excessive drinking sessions – a significantly higher percentage than the global average.
Several measures have been introduced to reduce alcohol consumption of alcohol in the archipelago mainly through the restriction of sale of alcohol in shops.
The measures introduced last year will continue to be enforced during New Year celebrations; that is, sale will be permissible only until 9 pm local time on weekdays and 11 pm on Fridays and Saturdays.
The Seychelles government has however called on the police Commissioner to exercise more flexibility for national events and musical shows, when alcohol may be sold from stalls up to 1 am.
Likewise, for New Year's Eve, December 31, alcohol sales may be allowed up to 3 am. But this will apply only to events such as street parties especially organised for the occasion and not for retail outlets.
General
» Be a reporter: Write and send your article
» Subscribe for news alert