Deep sea gardening holds answers for climate adaptation
Coral growing on rope nursery (Nature Seychelles)
Send to Kindle
(Indian Ocean Observatory) - At his offices in the second floor of Kibaki Flats in Bamburi Beach on Kenya's coastal region of Mombasa, Dr David Obura has a commanding view of the Indian Ocean.
Sounds of waves lapping on the beach, Indian crows on the nearby trees are a constant companion. The sea breeze gushes into his office providing relief from the searing heat of the Kenyan coastal region. His offices are not different from a library. Shelves stacked with marine science books and journals stacked adorn this office.
The events of 1998 are still etched in Obura's mind as if they happened yesterday.
"Fishermen alerted us that 'mawe ya bahari' (stones of the sea) - as they refer to corals - had changed colour," Obura says. "Corals had changed colour and lost their lustre. In other words they were all bleached."
At the time Obura was working as a marine researcher at the Kiunga National Marine Park, which is in Kenya's northern most coastal tip bordering Somalia.
Slightly more than 2000 kilometres away at Amitie, a breezy and slow-moving locale of Praslin island, which is the Seychelles' second largest island after Mahe, the effects of coral bleaching were also experienced here.
Amitie is where the not-for-profit organisation Nature Seychelles coordinates a unique and elaborate coral reef restoration initiative. Nature Seychelles marine scientists Claude Reveret and Dr. Sarah Frias-Torres spearhead this labour intensive coral replanting exercise.
"This is our response to climate change effects," Reveret says.
Every working day Reveret and Frias-Torres accompanied by a team of scuba divers descend into the ocean floors around Praslin and the nearby Cousin Island Special Reserve for this unique undersea gardening project.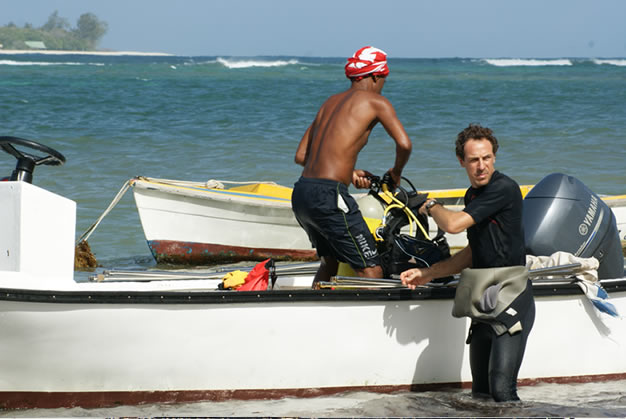 Claude Reveret and a colleague preparing for the labour intensive coral replanting in Amitie beach, Seychelles. (Indian Ocean Observatory) Photo License: All Rights Reserved
Seychelles is an archipelago of 115 islands in the middle of Indian Ocean known worldwide as a tourist destination of choice thanks largely to its scenic beaches. As a Small Island Developing State (SIDS) faced with diverse natural vulnerabilities, Seychelles conservationists are adapting fast to climate related dangers.
How was this unique undersea 'farming' idea conceived?
After years of listening to scientists most of whom are his colleagues warning of the dangers of coral reef destruction, Nirmal Shah, who is the Chief Executive of the Nature Seychelles, decided to confront the problem.
"For years we would be hearing about coral bleaching because that was the big thing in marine science in this region. Scientists came and presented their latest research on re-establishing coral reefs. I got tired of hearing it," Shah says.
"I said okay folks. We know the problems as you people have been researching about it all the time. What are the solutions?" Shah remembers in one of the symposiums organized by the regional scientific body the Western Indian Ocean Marine Science Association (WIOMSA).
"There was pin drop silence in the plenary. The entire scientific community was quiet."
By advocating for a solution, Shah, who also doubles as president of WIOMSA, had dug himself into a hole of responsibility. He had to take the lead. He sought for both technical and financial support to provide a coral reef restoration solution and give meaning to his colleagues studies and findings.
"The interesting thing about coral reefs is that they grow in a desert. Tropical ocean waters are deserts. Coral reefs grow there and create an oasis of life, which benefits everyone," Shah says.
And so four years ago Nature Seychelles received funding support from USAID totalling $500,000 to kick start the project. This was a double achievement for Shah as he managed to not only secure funding from USAID but got the US aid agency back into Seychelles after a 27-year absence. He later secured another $200,000 grant from the UNDP-administered Global Environment Facility (GEF) for the initiative, which he dubbed the "reef rescue project."
"We started this project three years ago," Shah says.
"We have grown corals from the scratch and in the last few months we have been involved in transplanting them from the garden nurseries to the actual restoration sites. The nursery has been a success, because we grew more corals than we expected."
Frias-Torres explains in detail how the coral gardening which will lead to restoration process works. Initially an entire ecosystem survey was conducted all around Cousin Island to decide the exact locations of the nurseries and the translocation sites too. The other aspect that the survey identified was the type of corals to be nurtured.
According to Spanish-born Frias-Torres, who is a marine ecologist, this project came as a result of "coral bleaching which occurs when corals expel the algae living in their tissues causing the coral to turn white and lose its colourful nature and eventually fail to support fisheries and dies."
Frias-Torres acknowledges that high water temperatures and brighter sunlight are the main climate related causes of coral bleaching. The others are human induced such as anchoring, trampling, destructive fishing practices and even pollution.
In 1998 the expansive ocean space that is Western Indian Ocean suffered immeasurable damage on its vast coral ecosystems due to El Nino which Frias-Torres explains as a Spanish term meaning "Christ's child" that was originally used by Ecuadorian and Peruvian fishermen to describe warm ocean currents that led to less fish stocks.
"To an island nation like Seychelles the importance of coral reefs cannot be underestimated as coral reefs act as natural barriers which reduces the force of waves and end up protecting beaches, shorelines and coastal communities from erosion, sea-level rise, and destruction of properties," Frias-Torres says.
According to the US National Oceanic and Atmospheric Administration (NOAA) the global benefit accruing from corals stands at $29.5 billion annually. Globally, around 500 million people rely on corals for food, livelihoods and even coastal defense.
"Coral reefs are one of the most sensitive ecosystems to climate change and the corals in this region have been quite disturbed," says Tim McClanahan, a senior conservation zoologist with the Wildlife Conservation Society (WCS) based in Mombasa, Kenya.
"About 50% of them died in 1998 with the El Nino. Some have recovered but others did not."
McClanahan, whose expertise is on coral reef preservation, has been studying western Indian Ocean corals for over a decade and explains how these undersea coral colonies are tied to the all-important human food chain.
"If reefs and fisheries were better managed they could contribute more to food security," McClanahan says.
"Weak management is undermining their potential."
Eight different types of corals species were chiseled from select 'donor colonies' within the Seychelles archipelago and used to establish the nurseries. The identification of the donor sites where the coral fragments – referred to as nubbins - were picked are those that had withstood the bleaching. The two Indian Ocean monsoon seasons also played a part in the selection of sites.
"In the coral reef gardening we have used those from the colonies that survived the El Nino taken from and tie them to nylon ropes of 20 metres each setting up our mobile nurseries. We have two types of nurseries the rope and net nurseries which make up our coral garden," Reveret says.
"The coral gardening takes six months and some can take a year, depending on the species."
A total of eight rope nurseries with 40,000 nubbins have been established through the labours of scuba divers and their agility to adapt to ever changing ocean currents. The nurseries are monitored and cleaned everyday with hard brushes to quicken growth rates, of course with a little help from the surgeon fish that eat the algae which stunts coral growth.
"As a rule of thumb you don't use only one species of corals and at the same time you get those nubbins that are resilient. What we are doing is to replicate nature." Fries-Torres says.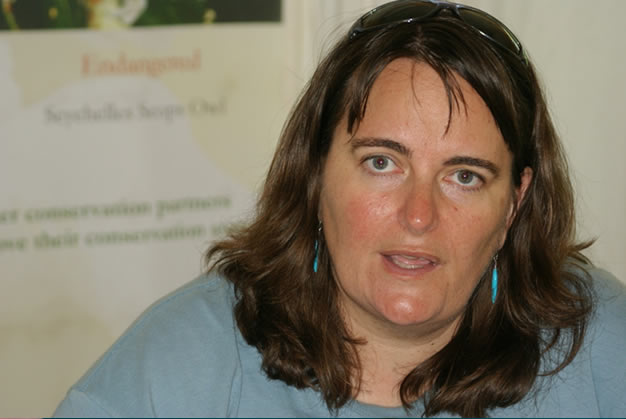 Marine scientist, Dr Sarah-Frias Torres (Indian Ocean Observatory) Photo License: All Rights Reserved
Frias-Torres further explains that many branching coral species have evolved to survive and adapt to hurricanes and typhoons and from little broken pieces they can grow new colonies.
"We are not inventing anything new, we are just using what we know about nature to restore coral reefs. It is this same basic principle that is being applied during replanting by attaching the ropes into the sea floor so that the corals can sense the sea bed and attach themselves and grow."
Shah remembers the challenge he posed to scientists four years ago and smiles cautiously at the strides that has been made so far. Shah explains that the 'reef rescuing' project is much more than replicating nature but biased towards solving challenges posed by nature should other disasters occur.
"So far the results are encouraging. In the next five years we expect to see the whole ecosystem structures' taking shape and that is when we will have full answers and directly involve the community owing to the lessons learnt," Shah says.
"It's a long term problem solving process with a lot of hours undersea and there are no short cuts. However it is very fulfilling to see corals growing again."
Source: Indian Ocean Observatory
Conservation
» Be a reporter: Write and send your article
» Subscribe for news alert