Goodbye 2014, hello 2015! Seychelles revellers shake up capital in New Year celebration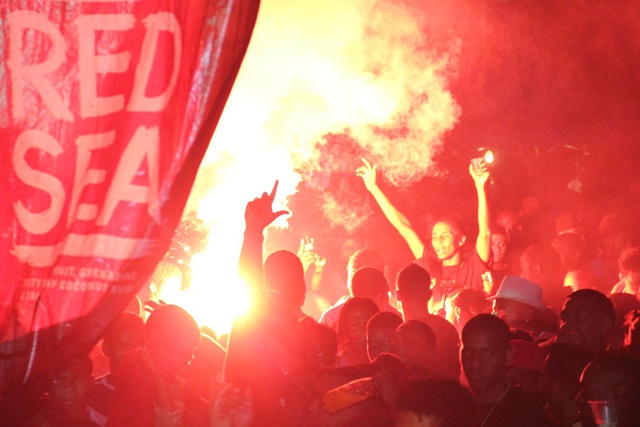 Time to say goodbye to 2014 - revellers at the annual Victoria New Year's Eve street party enjoyed the firework show to ring in the new year. (Patrick Joubert, Seychelles News Agency)
Send to Kindle
(Seychelles News Agency) - The small capital of Seychelles was transformed into an open air street party last night as thousands of revellers descended onto the streets of Victoria.
The annual event was brightened by live bands and local artists until the clock started to tick towards 2015.
Seconds into the New Year, the crowds went wild to wave goodbye to 2014 and their echoes could be heard in the suburbs surrounding Victoria.
As the clock tower, a smaller replica of the famous Big Ben of London, struck midnight, church bells rang in unison and people in the streets exchanged warm New Year's wishes.
Thousands of people crammed into the streets of the Seychelles' capital city of Victoria to celebrate the coming of the new year (Patrick Joubert, Seychelles News Agency) Photo license: CC-BY 
Still cloaked in Christmas lights decorations, Victoria dazzled under a short display of fireworks that burst different lights and colours in the otherwise quiet skies of the Indian Ocean archipelago.
Keeping in the tradition of tranquility that Seychelles boasts as a tourism destination, most families of the 90,000 people however choose to celebrate in a more private setting in family gatherings where food and drinks were in abundance and loud music were played until the early hours.
Some party-goers screamed with delight as the clock struck midnight, while others turned to embrace each other with New Years greetings (Patrick Joubert, Seychelles News Agency) Photo license: CC-BY
Others chose to spend the last day of 2014 in social gatherings, although some of the island's Roman Catholics chose to attend midnight mass to ring in the New Year.
With a New Year promising a new beginning, many Seychellois partake in the tradition of making New Year's resolutions.
This year SNA conducted brief interviews to learn more about some of the changes people want to make in their lives and why.
Throughout the interviews it was clear to see that the majority of resolutions are leaning towards health and fitness.
19-year-old Anne-Marie says she would like to start exercising and eating healthier. "It is a pity that youths seem to be more overweight now than in previous generations. It's time I do my part and gain some confidence, instead of weight!" said Anne-Marie.
Joshua, aged 29, also shared the same feelings "I'd like to take up my old sport again. No more making excuses about time, I used to be really good at football and I was much happier back then."
As for Aubrey, age 38, he would like to quit drinking and smoking, "My wife doesn't drink and I really admire her for that. She is just as happy as anyone else at a party, with the added benefit of being healthy. I'd like to give it a try too even though it will be a challenge."
Another popular resolution was to save more. Brian and Tania, parents of two children, said that saving up will be a priority for this year, in order to finish building their house.
Others were feeling more sentimental, saying that 2015 would be the year they find their soulmate or focus on values such as honesty and being more generous towards others.
"My children tell me that I work too hard. I've decided to indulge more and take care of myself. So hopefully I'll manage to travel this year," said Angelle, age 65.
Young and old came together for the street party in Victoria, and the crowd was entertained by popular local artists and firework displays (Patrick Joubert, Seychelles News Agency) Photo license: CC-BY
General
» Be a reporter: Write and send your article
» Subscribe for news alert