Spanish songs on the streets of Seychelles 'Viva Seychelles, y viva España'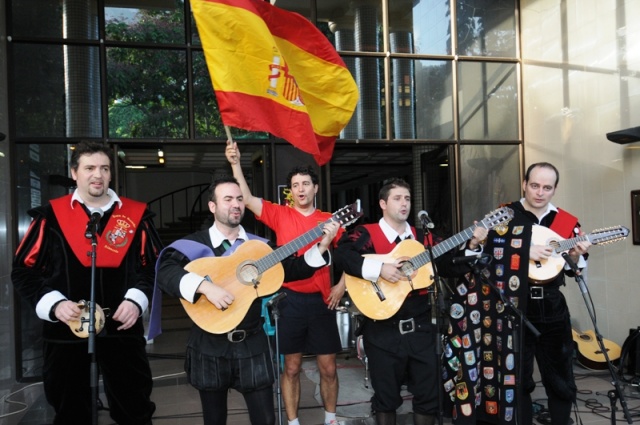 La Tuna cultural group from Spain in first open air concert in the Seychelles (Seychelles Nation)
Send to Kindle
(Seychelles News Agency) - The Seychelles is getting a whole week taste of the Spanish Culture as part of a cultural exchange initiative dubbed 'Viva Seychelles, y viva España'.
Children from orphanages in the Indian Ocean archipelago were the first to enjoy traditional spanish music performed by "La Tuna" a cultural group from Spain Friday April 11.
The open air concert also saw the participation of Seychelles' national dance troupe.
La Tuna is the name given to traditional Spanish bands which according to Spanish history originates from the 13th Century, initially created by university students to earn money for their tuition fees.
Today, such groups comprising of two to five musicians playing the guitar, accordion, tambourine and bandurria still exists as a way of promoting the Spanish culture.
The weeklong cultural exchange is an initiative of local destination management company Mason's Travel together with the Seychelles Ministry of Tourism and Culture that is advocating the need to develop cultural tourism.
"This cultural exchange which comes on the eve of the fourth Carnaval International de Victoria will open Seychelles to the world. It shows that culture can be used to promote tourism and this is a new beginning," said Alain St Ange, Seychelles Minister for Tourism and Culture in a press interview Thursday April 10.
La Tuna troupe will be in the Seychelles till April 20 and will feature in three different shows.
Arts & Culture
» Be a reporter: Write and send your article
» Subscribe for news alert