International students expected to begin studies at the University of Seychelles in 2015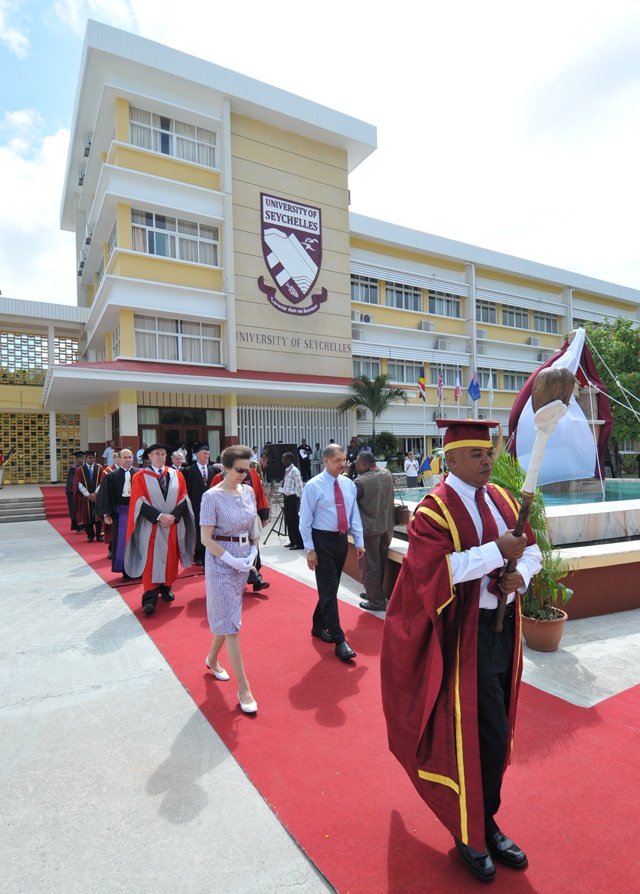 Seychelles President James Michel, Chancellor of the University of Seychelles and HRH Princess Anne, Chancellor of the University of London on 29 November, 2010, at the official inauguration of the University of Seychelles, at the main campus situated at Anse Royale, in the east of the main Seychelles island of Mahé (Mervyn Marie, Seychelles News Agency)
Send to Kindle
(Seychelles News Agency) - The University of Seychelles (UniSey) has reached another milestone in its short but remarkable history as the tertiary institution gears up to welcome its first international students.
After opening its doors in September 2009, the university partnered with several educational institutions such as the University of London to offer students internationally-recognised qualifications.
This year, UniSey hopes to recruit its first batch of 50 students. But before this can materialize, the university has started the process of ensuring that the students have proper accommodation.
"Housing will be one main criterion in recruiting international students," said the Vice-Chancellor, Professor Hardy told the media at the official launch for potential international students was held on Wednesday at the university's main Anse Royale campus in the east of the main Seychelles island of Mahé.
"In order to properly handle this aspect, the Registrar, Michel Denousse, had to take on the job of director of marketing. He introduced a new university brand and reviewed all marketing materials, including the website," added Hardy.
Over 300 jubilant students celebrated their graduation ceremony at UniSey in November 2014  (Mervyn Marie, Seychelles News Agency) Photo License: CC-BY
After five years of establishing itself as a recognized institution in the Indian Ocean, UniSey is now ready to take on new challenges. 
"Why it is important for UniSey to attract international students? Firstly, they will bring different cultural experiences to the classes, which all students will value.
Secondly, with an increasing number of students on the university's programmes, the institution will be able to offer more choices," explained the vice-chancellor.
"Thirdly, international students paying their own fees will help to spread the costs of the university that are currently borne entirely by the Seychelles government. Last but not least, additional students on campus and living locally will bring more revenue to shopkeepers and landlords alike," he said.
The university's Registrar, Michel Denousse, who took on the additional role of director of marketing to make the institution attractive to foreign students, said that UniSey had received interest from students from African and European countries.
"After proper analysis, this is the right time to venture into the international market," he explained. "Right now, we have students from Europe, Zimbabwe, Nigeria and South Africa who are very interested in our environment courses."
"We wanted to establish ourselves properly and have the lecturers required in order to start recruiting international students. For this to be possible, we worked in close collaboration with the Seychelles Investment Board."

The president of the student council, Bertrand Lucas, said that the inclusion of international students would help create a more diverse and vibrant university culture.
"Opening our university to international students is a strategic approach which will enable us to grow as individuals and as a prestigious academic institution in the Indian Ocean," said Lucas. "As a proud local student I look forward to sharing my experiences and creole culture with my future foreign classmates."
According to the newly-released international students' information brochure, courses currently range from around $6,700 to $12,000 per year. Living costs for 40 weeks are estimated at around $9,000, including accommodation, meals, transport, books and stationery.
General
» Be a reporter: Write and send your article
» Subscribe for news alert