Pursuing love to Seychelles and keeping alive the passion for music - Interview Chinese opera singer Xiaoju Lownam
Classical/Opera singer Xiaoju Lownam tells her tale of moving from China to Seychelles over 20 years ago and how she is using her passion for music to teach people in Seychelles. (Patrick Joubert, Seychelles News Agency)
Send to Kindle
(Seychelles News Agency) - The second Seychelles-China Day is being celebrated this weekend. An initiative launched last year with the aim of celebrating one of the key historical origins that makes up the Creole nation of the Indian Ocean archipelago of 115 islands with a population of around 90,000 people.
The Seychelles National Archives have records of the first Chinese arrival in the Seychelles in 1863 aboard a merchant ship. They were followed by a group of 23 more immigrants from Mauritius in 1886.
Today Seychellois of Chinese origin form part of a large community and are represented are in all sectors of society. And there are also many Chinese nationals who have made Seychelles their home.
As the Seychelles - China Day is celebrated, SNA presents an interview with one Chinese lady who moved to Seychelles more than 20 years ago.
Xiaoju Lownam who is married to a Seychellois of Chinese origin has a passion for classical music and works as a Senior voice instructor at the Seychelles National Conservatory of Performing Arts and is also the conductor of the island nation's national choir.
SNA: Xiaoju Lownam where exactly in China are you from?
XL: I was born in the inner Mongolia province, it is around 500 kilometres away from Beijing. So I grew up there but my parents they were originally from Tianjin, which is just next to Beijing. I was born in 1963. We have two families joined together, I have two brothers from my parents and also two foster brothers and one foster sister. So there are six of us altogether.
SNA: Leaving China to come to Seychelles, how did that come about?
XL: ....…My husband studied in China for his profession. (Xiaoju's husband is Andre Lownam, who is a structural engineer). We met each other in 1982, he was a school boy and I was a school girl at that time but at different schools. He was attending university in the south and I was in the North. We started to get to know each other, but nothing happened......after we graduated, we started to work…..he then came back to Seychelles. Then he went back to China and we met again.We got married in 1986 and we had a son, but we lived in China for seven years before moving to Seychelles in 1992.
SNA: Why the move to Seychelles?
XL: You know, this is something I will always think about. I think Seychellois they really love their own country. They can go very far to anywhere in the world but in the end they still look forward to coming back. That's the reason, he wanted to go back to Seychelles (Xiaoju's husband)…every time he said, "We should go back to Seychelles".
SNA: Was it easy to leave China and follow him?
XL: You see it was not easy because I was working as a music performer and I did not believe that there would be many opportunities in Seychelles for me to achieve my goal. That is why we stayed in China for quite some years…I did not want to leave actually…My feeling was that - I would like to stay in China for my achievements. But in 1992 finally I said ok let's have a try to see. Before that, I studied for another three years - education studies, as I prepared to come to Seychelles as a teacher. I believed that in Seychelles I would not be able to join a troupe to do my profession.....because I have been trained as an opera singer/performer. I said to myself in Seychelles there is no opportunity to do that so maybe I can do teaching. I decided to do another course to be able to teach music...So I studied seven years to become a performer and another three years for education.
When I came to Seychelles, I said I have to have work otherwise I would not be able to stay, so luckily, I started to work and now it's over 20 years since I have been here.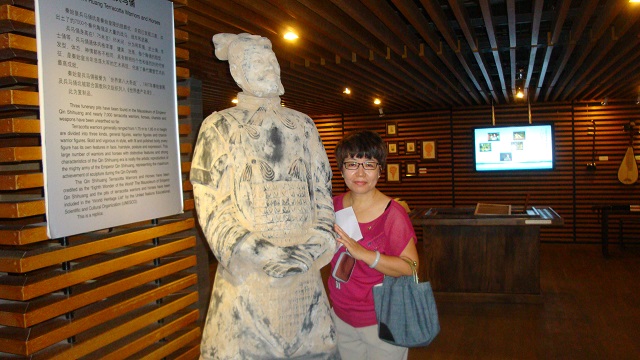 Xiaoju Lownam left China in 1992 to move to Seychelles with her Seychellois husband of Chinese origin. (Xiaoju Lownam) Photo License: CC-BY
SNA: So you have always worked for the National Conservatory of Performing Arts?
XL: Yes, since 1992 when I arrived I started to work and I never changed, I think this is the only job I can do. I am not a business person.....I cannot do business. I am responsible for the national choir…I am also doing voice classes with the national choir....which falls under the Culture division.
When I took over the choir, that was in 1999, there were only six or seven ladies, so we had to re-organise.
SNA: So today you have how many members do you have and how is it different from when you took over in 1999?
XL: In the past years we registered up to 65 members. But since last year we had some reform, we made some changes to improve the quality of the choir……we have managed not to have so many people. We also have our own organisation' budget…so we started to do retirement. When we started the retirement programme many of the senior members were of age so they retired…..Now we are having 35 members who are very active and those people are supposed to be the registered members of the choir. In the future, we will keep this amount. People are joining the choir at a younger age and they are getting training…I am also doing individual training and when they are ready and can sing well, I send them to the choir…So this is like a little factory providing results to the choir.
SNA: What would you say have been your most important achievement working in the music field?
XL: It's difficult to say. I always prefer to aim higher, when something is already done, I feel that "no we should do better, we still have more room to improve", but in a way I feel happy, when I look back and listen to some old records, I find that the national choir has improved very much especially since we are doing this retirement policy and we have more talented members joining, the voice quality has really improved. Now we are at the stage of getting performing and singing experience, building up more confidence.
In 2006, we visited South Africa at that time the group was still mixed with different age groups. In 2010, it was with a much younger choir that we visited China and we won the first prize at an international festival, (the International Folk Arts Festival of Hohhot Inner Mongolia, China). That was really an amazing experience for the national choir, we were able to meet different groups from different countries. And for the past two years, the national choir participated in a list of very important events and we are quite dedicated to complete the job. 
In 2013, we released a CD of traditional songs especially arranged for choir singing.....that was I should say another small achievement......its something on the record that the national choir has done. This recording was a first experience and we loved it so much.
Xiaoju Lownam has been heading the Seychelles national choir since 1999. (Xiaoju Lowman) Photo License: CC-BY
SNA: With the national choir what sort of music do you do is it English, Creole, traditional or classical music?
XL: The national choir we are based on classical skills/techniques, but we do all types of music, we do classical music and we do traditional music…Traditional, I believe should be our roots.....If we do  Chinese music, we will do traditional folk music likewise if we do Seychelles music, we do traditional music, this is our job, that is why we released our CD based on traditional music.
SNA: So you teach your students a bit of Chinese music as well?
XL: Not really, we do it occasionally for certain events like the Seychelles-China Day or when participating in festivals in China. When we did the China trip, we did Chinese music in Creole. And, for such events as the China Day, we do Creole and Chinese music together. We do Chinese Music in Creole and Chinese, which is quite interesting. I tell my members that this way people can follow…if you do it only in Chinese only you can sing, if you do it in creole as well then the next generation can carry it on.
SNA: How good is your creole?
XL: My creole (laughs) "pti gin pa bokou" I know very little.
SNA: But you can sing in creole?
XL: Yes, this is what I like. Creole is quite easy by pronunciation, it's no big trouble for me especially when you are singing it…you just make a little bit of effort and its done its easier than talking I believe. We have done quite a bit of Creole music and I also did a lot of research about the creole music in 2013, when we released the CD…..I research for almost 6 months bit by bit.
SNA: You mentioned Seychelles-China Day earlier, how do you view such an initiative being a Chinese national living in Seychelles?
XL: This is a good event, it's cultural exchange. The Chinese culture and history is very rich which we can share with the Seychellois people. It's a wonderful opportunity and I believe we should keep....it's of mutual benefit to each other. 
The national choir performing at the official launching of the second Seychelles-China Day at Eden Bleu on Friday. (Patrick Joubert, Seychelles News Agency) Photo License: CC-BY
SNA: So as a professional singer how would you describe musical talents in Seychelles?
XL: Seychellois people are very talented....for example they are very rhythmic in general ………I am really satisfied…also most often they don't really have really bright voice, but they are very musical, very good in tune. So when I teach them, I teach them how to focus on making the voice pure and have good resonance.  For those with over 20 years' experience, I have some sort of teaching methods to show them how to avoid their weak points and pick up on the good points…it works quite well.
SNA: How have you adapted from living in the World's most populated country to one of the smallest island nation?
XL: When I first came here, I felt Seychelles is so quiet. When I first landed at the Pointe Larue airport, I said this is like a countryside and not like a big city with the sound boiling…but you could breathe, the air is so fresh the sky so clear, I found that to be a good advantage.
Also because of my personality.......I am not an outgoing type of person, I prefer to be quiet most of the time, even when am performing its a duty, I don't like to go everywhere running around…When I finish my performance, I practice on my own, if I communicate with people its because of the work am doing.......i think this is one the reason that made me stay..... gradually I got used to it.
SNA: You have two children - one born in China and another in Seychelles - your husband is Seychellois though of Chinese origin - how has it been merging the two cultures?
XL: This is something that makes me feel rich. With my family, my children when we are at home we speak Chinese…most of family idea and education my husband agrees with me ……..when the children are at shool, they get knowledge from there and they bring back ideas and we discuss……they manage well, at school they learn English, Creole and French...at home we speak Chinese...the language for them its automatic..when my children see me, they speak Chinese to me, even a simple goodbye, they say it in Chinese. It's quite natural, there's no such contradiction concerning culture or language. 
Xiaoju Lownam with husband Andre Lownam and their two children. (Xiaoju Lowman) Photo License: CC-BY
SNA: Do you go to China often?
XL: In the past I used to to China every year because my parents were not well but since they passed away, I do not go every year, but I do go quite often to see my brothers and sister.
SNA: What is your plan/ambition for the future?
 XL: Because I love the national choir and because we have been doing some interesting work, I have lots of plans. I have strong confidence, I really want the national choir to grow stronger and be able to compete in international events and participate in lots of activities to develop and produce more singers - Seychellois singers, for the national choir…..I am also planning to do more research about the Seychelles' traditional music…we need to put something in writing to publish books.....I think that's the best record we can have.  
Xiaoju's plan is to bring the national choir to greater heights and to do more research about the traditional music of Seychelles. (Xiaoju Lowman) Photo License: CC-BY
 The Q&A interview has been edited and condensed by the editorial team. 
The Interview
» Be a reporter: Write and send your article
» Subscribe for news alert