Seychelles maritime safety body reacts to shark sightings within the port area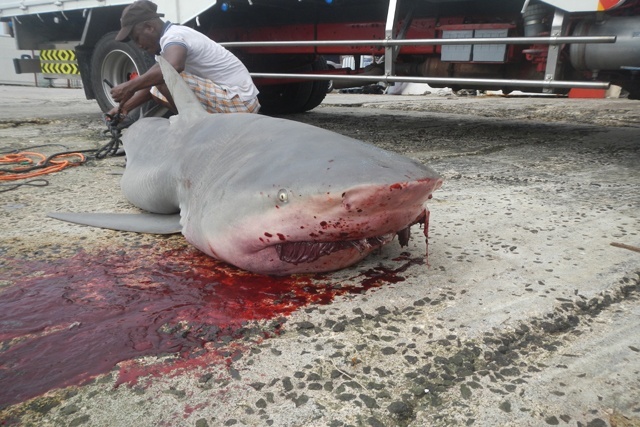 A mature female Bull shark (Carcharhinus leucas) caught near the entrance to Port Victoria in March, (Environment Seychelles)
Send to Kindle
(Seychelles News Agency) - The increase in the number of bull sharks spotted within the Seychelles' port of Victoria has been attributed mainly to heavy rainfall.
"From reports received and after closer monitoring, the determination made as to why there was an increase of bull sharks within the harbour area was primarily due but not limited to, heavy rainfall which changes the consistency of the near shoreline water, decreasing the salinity near river outflows into the sea," said the Seychelles Ministry of Home Affairs and Transport in a press statement.
According to the statement, this provides an ideal condition for older adult bull sharks to reproduce and for younger sharks who naturally have a lower tolerance to salinity at their stage of early development, within this species.
Speaking to SNA Captain Joachim Valmont, the Director General for the Seychelles Maritime Safety Administration (SMSA) confirmed that other factors have also contributed to the increased sighting of bull sharks within the harbour area, one of them being human activity relating to fishing.
"We have asked the stevedores to stop throwing away discarded parts fish into the sea as we have seen fish heads inside some of the sharks that have been caught," said Valmont.
Since November 2013 many bull sharks have been spotted within the vicinity of the main port of Victoria.
"Last year we caught 17 bull sharks measuring some three metres long and since the beginning of 2014 we have caught 6," said Valmont.
In light with the situation, a series of measures have been designed to ensure safety within the port area.
Drumlines have been deployed for example and the SMSA is also prohibiting diving in the area including for people who dive into the sea to undertake maintenance or reparation work on boats docked in the port.
The Indian Ocean archipelago witnessed two fatal shark attacks in 2011 at Anse Lazio, a popular beach amongst tourists on the second most populated island of Praslin.
The two separate attacks, the first to occur in decades, cost the lives of two tourists, a British man and French man.
Since then the Seychelles authorities have enforced several safety measures to prevent such attacks from re-occurring.
Species
» Be a reporter: Write and send your article
» Subscribe for news alert