Football: St Michel grabs first 2015 title winning the Seychelles President's cup for the 13th time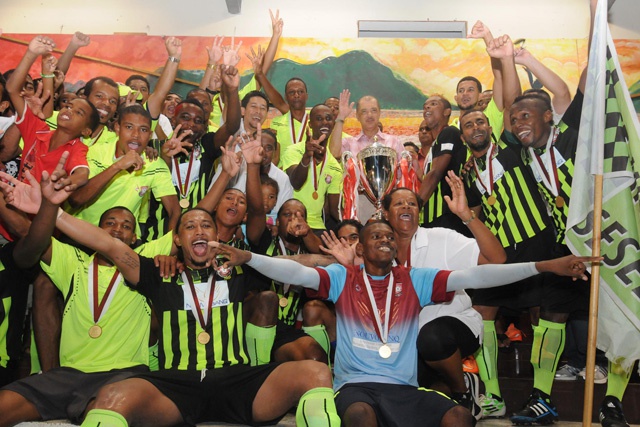 St Michel players and supporters celebrating winning the season opener on Saturday. (Jude Morel, Seychelles News Agency)
Send to Kindle
(Seychelles News Agency) - The Seychelles' football season got off to a tense start on Saturday with last year's winner of three main titles needing penalties to achieve a 5-2 win against its main rival Cote d'Or, taking home the 2015 President's Cup.
Saturday's clash came a week after both teams had played their home matches in the preliminary round of the Confederation of African Football CAF's African Champions league and Confederation Cup.
St Michel – a team hailing from the Anse Aux Pins district on the eastern coast of main Seychelles island of Mahé and Cote d'Or – from the second most populated island of Praslin held each other to a 1-1 draw after 90 minutes of play.
A decent crowd had turned up at 'Stad Linite' - the country's main Stadium at Roche Caiman on the outskirts of the capital of Victoria for the season opener.
St Michel was first attempting to score, coming close on the half hour through Trevor Vidot who raced clear of Cote d'Or's defense only to shoot waywardly off target.
Cote d'Or also missed a golden opportunity of their own shortly after, Ryan Antat blasting the ball high and wide with only the goalkeeper to beat and the goal at his mercy.
In the second half St Michel were again the first to strike but Leeroy Mathiot missed a glaring chance to score, taking a tamed shot at goalkeeper Kitson Cecile which he easily saved from five yards out. 
Cote d'Or's contingent of supporters who were livelier were finally rewarded for their cheers when Dean Suzette chipped the ball over goalkeeper Gino Melanie scoring the first goal of the match.
St Michel's supporters livened up to impel their team back into the game at this point, and they got back on level term with 10 minutes remaining.
The match was brought to a 1-1 draw when St Michel's Malagasy player Jocelin scored on a well-placed free-kick from 30 yards out. In spite of both team's efforts the score remained until the 90th minute.
St Michel and Cote d'Or were tied at 1-1 after a total of 120 minutes of play on Saturday requiring penalty shootout to decide on the winner of the President's Cup. (Jude Morel, Seychelles News Agency) Photo License: CC-BY
30 extra minutes were required but with the score still remaining at a stalemate a penalty shootout was needed to decide on a winner.  
The 2014 league champion, St Michel, finally made the difference and walked away as the winner during the shootouts managing to score four times while Cote d'Or's scored only once.
Nevertheless, the tension filled encounter saw St Michel ending the match with only nine players and without coach Ralph Jean-Louis who was ordered to the stand during the second half.
Cote d'Or also ended the game with ten men as the encounter produced four yellow cards and three red cards, as tempers flared between the two rivals, fighting tooth and nail to claim the season's first trophy.
The Praslin side's resistance did not go unnoticed as St Michel's Mike Delpeche noted that Cote d'Or will be their main adversary this season.
"Cote d'Or is one of the strong contenders, alongside La Passe (a team hailing from the third most populated island of La Digue), who will challenge us for the league trophy this year. They have a good squad and on top of that they are being helped by former Seychelles national team coach Jan Mack which is a plus," Delpeche told SNA.
Commenting on St Michel's performance he said the team was missing its Malagasy striker Hassan Ally who was injured during training last week leading up to the season's opener.
Seychelles President James Michel presenting St Michel's captain with the trophy. St Michel's feat on Saturday is the thirteenth time the team has won the President's Cup. (Jude Morel, Seychelles News Agency) Photo License: CC-BY
St Michel will be playing the return leg of the preliminary round African Champions League against the Mamelodi Sundowns on March 28 at the Lucas Moripe Stadium in South Africa while Cote d'Or will be up against Ethiopia's Dedebit in Addis Ababa.
Both teams are aiming to proceed to the next round of the CAF African Champions League and Confederation Cup respectively.
Sport
» Be a reporter: Write and send your article
» Subscribe for news alert