Seychelles Central Bank reveals almost $34 million worth of cheques bounced over past two years
A cheque being issued (David Goehring/Flickr) Photo License: (CC BY 2.0)
Send to Kindle
(Seychelles News Agency) - Following what the Seychelles Central Bank has termed as an 'alarming increase' in the number of bounced cheques being issued, the Indian Ocean archipelago's reserve bank has issued new guidelines calling on the commercial banks as well as the police to take action against repeat offenders.
These were announced at a meeting on Wednesday which brought together representatives of the different commercial banks and the police, where the severity of the situation was explained.
The issue of bounced cheques is not new to the Indian Ocean archipelago of 115 islands with its population of around 90,000 people. In August 2012, some regulatory measures came into force, including the introduction of a standard $36 (500 Seychelles rupees) bank charge for cheques without provision and the subsequent closure of the accounts held by persistent offenders in a bid to deter such practices.
CBS' Senior Payment Systems Officer, Liz Julienne, confirmed that despite these measures being put into place, the problem seems to have worsened.
According to Julienne, from August 2012 to January 2015, a total of 27,689 cheques, worth almost $ 34 million (a total of 465 million Seychelles rupees) have bounced for the country's entire banking industry due to insufficient funds out of a total of the 68,383 cheques which the Electronic Cheque Clearing System was unable to clear.
This represents a monthly average of approximately 955 and a daily average of approximately 43 bounced cheques.
Last year saw the highest number of bounced cheques (12,121) on record while 2014 was the worst year in terms of the value of the cheques, amounting to a little over $13 million (approximately 190 million Seychelles rupees).
The Central Bank has pointed out that while cheques bounce for various reasons, including missing a second or third signature, amount in words differing from that in figures, the majority of bounced cheques between August 2012 and January 2015, 40 percent in total, was due to insufficient funds. 
Stating that some companies have been found to have issued bounced cheques for an aggregate value of over $70,000 the Central Bank Governor, Caroline Abel said the issue is becoming a real problem, often involving the same businesses or individuals.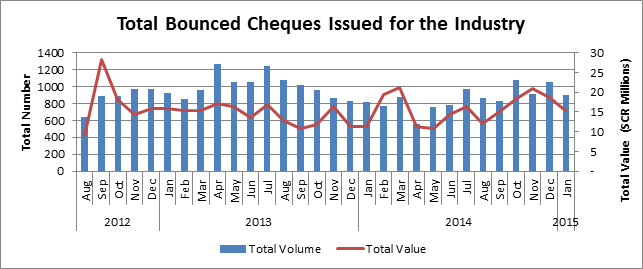 Chart showing total number and value of bounced cheque in the industry from August 2012 to January 2015. 

(Central Bank of Seychelles) Photo License: All Rights Reserved
"Bounced cheques cause people to lose confidence in the banking system. When expected payments fail to materialise, businesses suffer and government lose revenue as a result," said Abel.
She also said that one reason for the persisting defaults was that while the banks were closing accounts, the offenders still remained in possession of their chequebooks, which they continued to use to issue dud cheques.
Abel has affirmed that the CBS is strengthening its position as a regulator under the present legislation, adding that from now on the police will be asked to seize such chequebooks.
She said that commercial banks have also been asked to withdraw privileges for recurrent offenders.
Under the new guidelines, any individual or company found to have issued more than three cheques without adequate funds, will be deemed a recurrent offender and turned over to the police.
Speaking on behalf of the Seychelles Bankers Association, Bernard Jackson, who is also the Managing Director of the Mauritius Commercial Bank (MCB) said that "over the years, banks have developed a rapport with clients and this could explain their reluctance to denounce recurrent offenders."
He said that even when the police were notified, it was done to engage the parties in negotiations to ensure that necessary payments were made.
Chart showing total cheques returned for the period under review (Aug 2012 - Jan 2015) (Central Bank of Seychelles) Photo License: All Rights Reserved
Abel told members of the local press that the new measures represent a 'break in culture' adding that from now on there will be constant monitoring and that the onus for reporting bounced cheques rests with the banks..
She said that parallel to that the CBS is promoting an array of payment platforms including credit cards, debit cards and electronic funds transfer.
Nevertheless, the cheque system still remains a popular mode of payment, which Abel said "we must ensure that it is not abused."
Section 299 A, Part 1 of the Seychelles Penal Code stipulates that it is a criminal offence to issue cheques without adequate funds, to withdraw all or part of the provision after the cheque is issued or in any way prevent the payee from effecting payment.
If convicted, the offender may be sentenced to five years imprisonment or a fine of up to around $3,600 or both.
Finance
» Be a reporter: Write and send your article
» Subscribe for news alert