A creature of mystery – rare dugong is sighted in Seychelles at Aldabra
One of the many wonders at the UNESCO World Heritage Site of the Aldabra atoll in the Seychelles archipelago - a beautiful and extremely rare dugong breaks the surface of the water next to the Seychelles Islands Foundation boat. (Seychelles Islands Foundation)
Send to Kindle
(Seychelles News Agency) - When travelling through the Seychelles archipelago of 115 islands, scattered throughout the warm, tropical waters of the western Indian Ocean, seafarers might consider themselves fortunate to witness a whale lumbering gracefully through the sea or a pod of dolphins frolicking in the waves.
But for a group of conservationists working in the remote far-flung atoll of Aldabra, located in the westernmost reaches of the archipelago, they were recently treated to an almost mythical sight – a dugong speeding playfully through the atoll's waters.
Around two hundred years ago, the dugong, otherwise known as the sea-cow, was a common sight throughout the Seychelles when the archipelago was first discovered by European explorers. The rotund, peaceful creatures which primarily graze on seagrass were a common sight around the other islands in the archipelago, and the northernmost Bird Island was once known as Ile aux Vaches as testament to the large numbers of dugongs which gathered there to breed.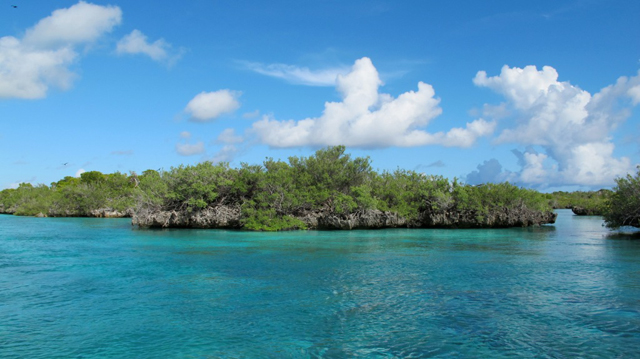 The raised coral atoll of Aldabra is comprised mainly of the larger islands of Ile Picard (West Island), Polymnie, Malabar Island (Middle Island) and Grand Terre (South Island), all surrounding the shallow lagoon teeming with black-tipped sharks, sea turtles and manta rays in the centre of the atoll. (Seychelles Islands Foundation) Photo License: All Rights Reserved
Sadly, the dugongs were hunted to extinction in the Seychelles by seafarers eager to exploit them for their meat and oil. Since those days, the dugongs have not been back to the islands, but in 2001, dugongs were suddenly sighted around the wild, uninhabited western atoll of Aldabra, where up to 150,000 giant tortoises roam freely on the hard, sun-baked land.
The public trust which manages the UNESCO World Heritage Site of Aldabra, the Seychelles Islands Foundation (SIF), believes that the dugongs frequenting the atoll travelled north-west from Madagascar, which lies a scant 426 kilometres away.
Speaking to SNA via email, SIF communications officer Rowana Walton said that East Africa and Madagascar still have healthy dugong populations, but added that it was unknown whether the dugongs were permanently resident at Aldabra or if they migrate periodically between these areas. 
"Aldabra provides a safe refuge for dugongs and has extensive seagrass beds where they can feed and reproduce," she said. "Dugongs may have been present and unrecorded on Aldabra for a long time but they seem to be increasing now." 
Walton said researchers are still unsure why the notoriously shy dugongs had thus far failed to return to the other islands within the Seychelles archipelago, but said possible reasons could include a loss of natural habitat and disturbance.
"It is also possible that the Aldabra dugong population are part of a migratory group from another area and the inner Seychelles dugongs belonged to a different population, in which case a return to other islands from Seychelles is unlikely," she told SNA.
Even with this re-emerging population at Aldabra, which has a large calm central lagoon and outer reef area of 285 square kilometres, the density of dugongs is low.
"This means that the chances of people encountering dugong in this area are also limited," said Walton. 
The dugongs are thought to feed in the numerous seagrass beds both in the lagoon and outside the atoll and have been sighted in both areas.
"There is still much to learn about the movements of this dugong population and we hope that future research may shed more light on where they forage and reproduce," she explained. "It is possible that they migrate long distances to other feeding areas hundreds of kilometres away." 
Aerial survey and an action plan
In 2013, an aerial survey was undertaken by SIF to establish a population estimate for dugongs at Aldabra.  After conducting several survey transects, a total of 14 to 20 dugongs were recorded, but sightings were never in excess of four individuals due to the dugong's nature.
"Dugongs are largely solitary animals and tend to be seen in groups on Aldabra only rarely and most often with mothers and calves or juveniles," said Walton.
The exact number of dugongs at Aldabra is hard to estimate and the SIF says that a more comprehensive survey of the atoll still needs to be undertaken to provide a more accurate estimate. 
As far as the way forward for this extraordinary creature is concerned, Walton said that any action to protect dugongs needed to be collaborative regional efforts, due to the dugong's migratory nature and their larger populations in several countries around the Indian Ocean.
To this end, the SIF announced in March 2014 that it had become part of a recently approved multi-partner regional project, led by the Association for the Conservation and Protection of Dugongs and Marine Mammal Species, to research and conserve dugongs.
SIF's role in the project is to undertake surveys to assess the status of Aldabra's dugong population.
"The overall project marks an essential step forward in understanding the distribution and status of this endangered marine mammal in the region as well as identifying measures for its protection," said Walton. "The continuing protection of the Aldabra atoll and its valuable dugong habitats are also essential to secure the survival of these dugongs."  
Species
» Be a reporter: Write and send your article
» Subscribe for news alert