Indian Prime Minister Narendra Modi begins Indian Ocean tour in Seychelles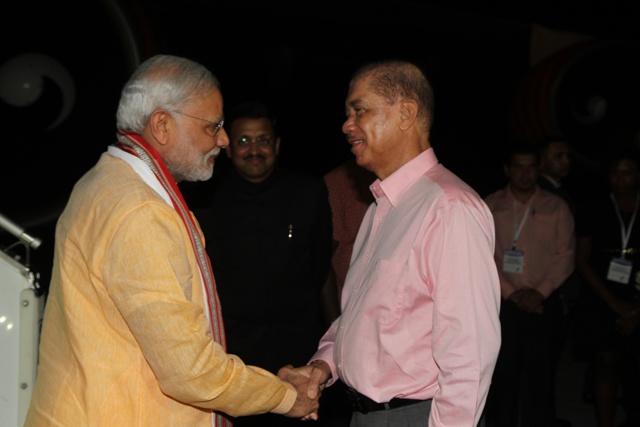 Seychelles President James Michel (left) greeting Indian Prime Minister Narendra Modi on his arrival at the International airport yesterday evening. (Mervyn Marie, Seychelles News Agency)
Send to Kindle
(Seychelles News Agency) - Seychelles and India are set to discuss ways to strengthen the existing ties between the two countries and explore new avenues for further collaboration as the Indian Prime Minister holds talks with the Seychelles President James Michel in the archipelago's capital of Victoria, this morning.
Modi who is leading a high-level delegation to the Indian island state landed at the Pointe Larue International airport on the eastern coast of the Seychelles main island of Mahé, yesterday evening, where he was welcomed by the Seychellois Head of State.
The welcoming party included the Seychelles Vice-President Danny Faure, the Minister for Foreign Affairs and Transport, Joel Morgan, the Indian High Commissioner to Seychelles, Sanjay Panda as well as members of the Indian community in Seychelles.
Modi's one-day official visit to Seychelles is the first leg of his whistle-stop tour of three Indian Ocean countries which will also take him to the neighbouring island of Mauritius and then to Sri Lanka.
Aside of holding bilateral discussions with Michel and other high-level government officials, Modi will also be delivering a public address before some 3000 guests.
The Indian Premier's busy schedule will also feature the signing of several agreements including in the fields of hydrography and energy as well as defence and security.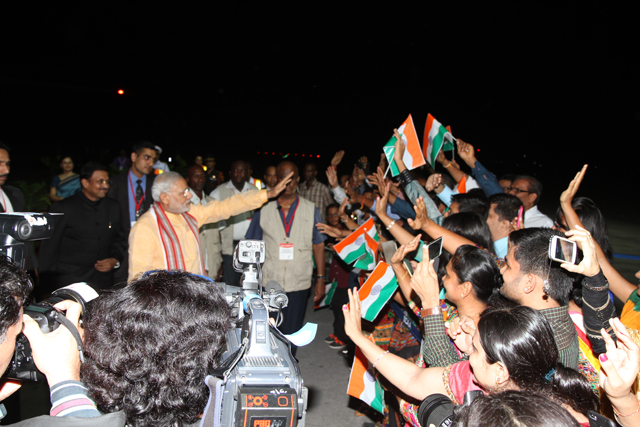 Prime Minister Modi is warmly greeted at the airport by members of the Indian community in Seychelles. (Mervyn Marie, Seychelles News Agency) Photo License: CC-BY
In a statement before leaving India, Modi said he was looking forward to the three-nation tour to Seychelles, Mauritius and Sri Lanka adding that his country has "a strong, multifaceted and important relationship with each, and they all occupy a very important place in our foreign policy."
"India's relationship with Seychelles has been built on the foundation of mutual trust and shared values. My visit to Seychelles will be the first Prime Ministerial visit to Seychelles since 1981. I am keenly looking forward to my meeting with President James Michel, a great friend of India," he added in the statement published by the Indian press.
The Seychellois Head of State has welcomed Modi's visit which he says is a symbol "of the excellent ties between our two people."
"We have longstanding bilateral relations based on our commitment to sustainable development.  India is a close friend of Seychelles," said Michel in a statement issued by State House.
Seychelles and India established diplomatic relations in June 1976.
Prime Minister Modi's visit to Seychelles comes 34 years after the first visit of an Indian Prime Minister to visit Seychelles.
Prime Minister Indira Gandi visited the Indian Ocean island nation in 1981.
Modi and his delegation will be leaving Seychelles this afternoon.
Diplomacy
» Be a reporter: Write and send your article
» Subscribe for news alert