Away from the rat race in the Seychelles – North Island's eco-tourism provides an oasis for endemic species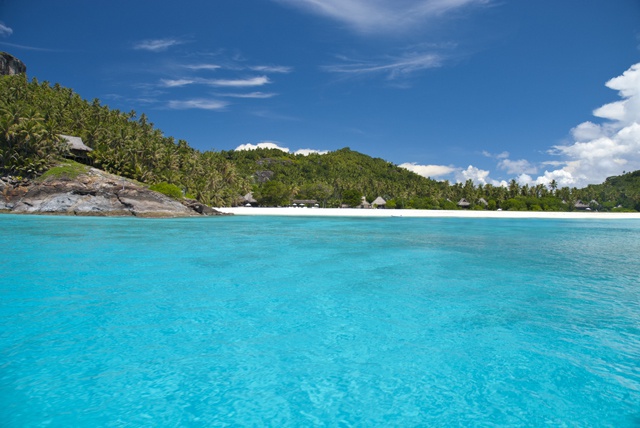 North Island on approach. (Gerard Larose, STB)
Send to Kindle
(Seychelles News Agency) - Visiting the private resort on North Island in the Seychelles archipelago has been on my wish-list for a long while, and finally the day had come. I was sitting aboard a small leisure boat coming from the main island of Mahé, to carry me along the Indian Ocean, which had courteously transformed itself into a tranquil, glass-like state for the duration of the hour-long trip.
After passing the looming and mysterious mountains of the neighbouring island of Silhouette on the left, the boat began its approach towards a smaller, innocuous-looking island, which apart from the coconut trees dominating all but its small granitic peaks, seemed uninhabited.
"Is that it?" I doubtfully asked our photographer, Joe, who nodded, heading towards the bow to take some pictures.
Turning the corner, we found the first evidence that human life existed in this wild place – a large wooden cross erected on one of the rocky outcrops to signify a safe landing spot. Shortly afterwards, we spotted a few wooden structures nestled among the rocks and trees, camouflaged by the bleached colouring of the wood.
A tiny landing craft came out to meet us, and our group was ferried, six by six, onto the shore, aided by large but gently-rolling waves. It's the clarity and iridescent turquoise colouring of the water against a deep blue sky and brilliant white beach that makes the experience somewhat unreal; as though we had suddenly stepped into a version of life straight out of the pages of a travel magazine.
The resort's tiny landing craft can take around six people to the shore at a time (Hajira Amla, Seychelles News Agency) Photo License: CC-BY
Paparazzi-free zone
The picture-perfect atmosphere of the island resonates throughout the resort itself – simple, understated and almost purely functional; the architecture clings low, and dispenses with unnecessary things such as walls, windows and even roofing in some places. After all, why box yourself in when there's all of that amazing scenery, natural light, balmy air and the sound of crashing waves out there?
An understated sea theme echoes throughout, with natural finishes of sun-bleached wood, textured fabrics and castaway décor – allowing me to get a true feel for the resort's adherence to the 'barefoot luxury' motto.
There is after all a reason why the Duke and Duchess of Cambridge, Prince William and Kate decided to honeymoon here in 2011, and since then a string of Hollywood royalty are reported to have whisked their significant others to the island's shores for a romantic getaway, including George Clooney and Gabrielle Union, although the staff at North Island draw a strict cloak of anonymity around their cloistered guests' identities.
North is not for absolutely everyone though, warns Tarryn Havemann, the conservation coordinator. The resort's exclusivity has led to it being declared as the most expensive private island resort in the world, according to a survey conducted by Travelmag.com in June last year, and even those who can afford to stay here need to have a love for nature to get the most out of the experience.
Open spaces and a relaxed but elegant atmosphere - the main reception area at East Beach exudes the resort's 'barefoot luxury' appeal. (Hajira Amla, Seychelles News Agency) Photo License: CC-BY
It may have its rough, unpolished edges, but luxury is certainly something that the resort's management are unafraid to offer. Here on North, guests can request any type of food at any time of the day at any location on the island, and the staff's dedication to discretion and privacy means that even the most famous royal newlyweds in the world could come here on a romantic and secluded honeymoon, far away from prying paparazzi lenses and tabloid broadsheets.
"At first, when we were offered this position, we did some research on the Seychelles and I just refused to believe that the pictures were real - I said there's no way these pictures are not doctored," said Tarryn, who came here from South Africa with her husband CJ, who is the island's Conservation Manager. "But when we arrived, I realised with a shock that the pictures were not Photoshopped – it really is this beautiful, the sea really is that shade of blue and the sand really is that white."
No need for Photoshop on North Island: the island's sandy white bays, blue skies and clean water gives the ocean a bright teal glow, making any re-touching of holiday snaps unnecessary. (Joe Laurence, Seychelles News Agency) Photo License: CC-BY
A triumph for eco-tourism
Sadly, I was not on North Island to while away a few days with poolside naps and having people wait on me hand and foot; I was here to cover a visit by officials from the Seychelles Ministry of Environment, Energy and Climate Change to assess the island's progress towards its lofty self-imposed ecological goals.
After being utilised as a typical colonial plantation in the early 1800s, harvesting fruit, copra and spices, the two-kilometre-square island was eventually abandoned in the 1970s by its owner following the collapse of the coconut industry and the island fell into a sad state of disrepair, overrun with weeds, rats and feral animals.
Now, no longer frequented by the ships of the spice merchants and plantation master, the island's modern patrons arrive by helicopter. They come to get away from the stresses of everyday life and to enjoy the increasingly rich tropical biodiversity that the island has to offer.
One of the few coral block buildings that remain on the island from its plantation days, this old building now houses the North Island library. (Hajira Amla, Seychelles News Agency) Photo License: CC-BY
The South African eco-tourism company Wilderness Safaris, which bought the island for $5 million in 1997, has spent many years and plenty of additional cash in its efforts to eradicate the island's rats, cats, owls and pigs left behind from the coconut farming days.
The resort then embarked on an ambitious plan to re-introduce indigenous trees and birds to the island, including Aldabra giant tortoises and certain birds, as well as endemic trees such as takamaka, badamier and even the coco-de-mer palm, famed as the largest seed in the world.
Curious little white-eyes
The programme has enjoyed one resounding success story so far – the establishment of the Seychelles white-eye, or Zwazo Linet (bird with glasses), as it is known in the local Creole language. The tiny, olive-coloured birds with their black eyes completely surrounded by white circles make a distinctively melodious noise, and around a dozen curious birds came down from the treetops to inspect the delegation as they visited the indigenous tree nursery.
The endangered Seychelles white-eye, or Zwazo Linet, has put down firm roots in North Island, growing from a population of 25 translocated birds to just over a hundred happy and curious little individuals, boosting the countrywide population of these endemic birds considerably. (Julie Gane) Photo License: All Rights Reserved
Fluttering back and forth around some recently-planted endemic saplings, the little white-eyes had the environment officials looking as though they were torn between choking back tears and doing a victory dance, no less the Principal Secretary for Environment, Alain de Commarmond and his Director for Conservation, Ronley Fanchette.
"The Seychelles white-eye is a flagship programme for North Island," said de Commarmond, who was appointed as Principal Secretary in the Cabinet re-shuffle less than two months prior. "It shows that the conservation programme that has been put in place is working very well. The vegetation rehabilitation programme is also going really well, and we as government are here to facilitate and assist where we can. This visit is only the start."
Between 1935 and 1960, the Seychelles white-eye was thought to be extinct until it was rediscovered in the mountainous areas of Mahé. In 1996 it was considered as one of the rarest birds in the world with a population of only 25 to 35 individuals, at severe risk from forest clearings, competition from the invasive Indian mynah bird and rat predation.
However, 1997 heralded the discovery of around 250 individuals on the Seychelles island of Conception, just a few kilometres off the north-west coast of Mahé. In 2001, the Island Conservation Society led a project to transfer 31 birds to the Seychelles island of Frégate, with subsequent translocations to North Island and Cousine. The transfer to Cousine did not succeed but the 25 individuals sent to North Island have turned into an estimated 101 birds.
An uphill task
It's clear that the conservation experts from the ministry care a great deal about their work. While de Commarmond admired the friendly little white-eyes as they fluttered excitedly around the group, Fanchette took time to impart some home-grown horticultural advice for ensuring the survival of the young saplings to CJ and Tarryn.
An Environment Ministry official casts an expert eye over the nursery of indigenous tree saplings, most of them made from cuttings of adult trees on the island and nurtured until they have grown enough to be transplanted onto rehabilitated land. (Joe Laurence, Seychelles News Agency) Photo License: CC-BY
He's right to be concerned, the island's conservation officers agree. Signs are pointing towards 2015 being a particularly dry year, and with its own particular little microclimate, North gets less rain than most of the other inner islands, putting the future of the indigenous trees, the Seychelles white-eyes and even the terrapins skulking in the natural mangrove wetland at risk.
But the island's management are taking no chances – Tarryn says that every year, a geological survey is done using sonar to assess the amount of water available in the natural aquifer, and the team now sets a target to use less than 60 percent of the total, monitoring their usage carefully every day. Effluent water is treated and utilised for the irrigation of the island's 60 acres now allocated for vegetation management and rehabilitation.
The conservation team are fighting an uphill battle, between constantly battling invasive plant species and embarking on a new programme to eradicate invasive mynah birds. Using decoy traps, the team will try to bring the current mynah population, estimated at over a thousand birds, down to between ten and twenty birds.
"It's never going to be possible to completely eradicate them," explained CJ. "We're too close to Silhouette, which is swarming with mynahs. But we want to bring it down low enough to be able to introduce another endemic bird in the coming years, possibly the Seychelles warbler."
The island's flat central plateau (top) is still dominated by tall coconut palms, which can be traversed easily by eco-friendly electric buggies. Driving up to the helipad leads one onto the small but breathtakingly beautiful beach of Petite Anse (bottom). (Hajira Amla, Seychelles News Agency) Photo License: CC-BY
Away from the rat race
Officially declared rat-free in 2006, keeping the rats out of North Island is an arduous, never-ending process.
When arriving on the island, everyone on board the boat was taken to a pest control station where their belongings were inspected for rats and other pests.
"Did you know that rats can swim a distance of up to 70 metres?" asked Tarryn casually, immediately inspiring about a week's worth of nightmares for me.
That's why CJ is focused on getting Protected Area status for North Island, which means greater control over vessels that land on the island.
"We don't want to stop anyone from coming here," he explained. "All we want is the authority to be able to stop them a kilometre out and inspect their vessels for signs of rat infestations before they come in."
Tracks in the sand
Whizzing around the island in a convoy of electric buggies, Tarryn and CJ lead the group to West Beach, on the more remote side of the island. Quite some distance away from the Sunset Bar, where one can sip sundowners while snuggled up on the bright red cushioned chairs out on the deck, a tiny and unremarkable area of sand is cordoned off with sticks.
The Sunset Bar, located on the western side of the island. Guests can sip drinks at the benches, beanbags and the sunken lounge while watching the sun set over the ocean. (Hajira Amla, Seychelles News Agency) Photo License: CC-BY
A coconut husk impaled on a wooden stake hints at the contents of the find – a green marine turtle nest, presumably filled with hundreds of tiny little hatchlings ready to face the huge world after they come forth from the nest.
North Island is an important nesting site for both green turtles and hawksbill turtles, endangered and critically endangered respectively. The conservation team runs a turtle breeding monitoring project, and in 2014 they recorded 215 nests in total.
"So far this year we have only seen 35 nests, but our data shows that the mother turtles don't always nest every year," said Tarryn. "2015 is predicted to be a low year, but the overall trend in terms of turtle numbers is increasing, which is very encouraging."
Turtle nests are cordoned off and marked with coconut husks, specifying the date of nesting and species so that the rangers can work out approximately when the babies will hatch and monitor the nest sites for any signs of predation. (Joe Laurence, Seychelles News Agency) Photo License: CC-BY
"When we have turtles nesting, the guests often don't understand the importance of just how rare they actually are, so we have to educate them about how special it is. We advise people not to disturb them by getting in their line of sight – they don't really go into a trance as some people have suggested... they are after all mothers in the process of giving birth and they need to be respected, so it's advisable to observe them from their blind spot behind them so they are not disturbed in any way."
With an estimated 1 in 1000 survival rate, Tarryn says the newly-hatched baby turtles face a multitude of threats from the moment they emerge from the nest – particularly from crabs and even birds circling above.
The Seychelles Principal Secretary for Environment, Alain de Commarmond, and his team are led around the island by the resort's husband-and-wife conservation team, CJ and Tarryn Havemann. (Joe Laurence, Seychelles News Agency) Photo License: CC-BY
Sometimes the mothers can get into trouble too, recalled Tarryn.
"One morning I was patrolling around Petite Anse when I saw a flash of yellow on the rocks," she said. "It was a mother turtle that got stuck on her side in between the rocks. Luckily I had seen her, so I called for help and soon we had three staff members to help her back on her flippers - in no time she was making her way back to the sea. That's the advantage of being on a small island like this, it's easier to patrol and monitor the beaches here."
For many of the endangered creatures that call the Seychelles archipelago their home, North Island continues to play a small but important role in preserving these endemic species by endeavouring to create a self-contained bubble from the threats posed by human activity and development.
Not alone in its eco-tourism efforts, many of the Seychelles' private island resorts, such as Fregate and Denis Island, have mixed upper-class exclusivity with a keen willingness to work with the archipelago's dedicated conservation experts to safeguard the country's most threatened species, a symbiotic approach that continues to deliver encouraging results for the biodiversity of the islands.
Conservation
» Be a reporter: Write and send your article
» Subscribe for news alert