No longer bystanders in global processes - Seychelles President Michel signs ratified WTO accession protocol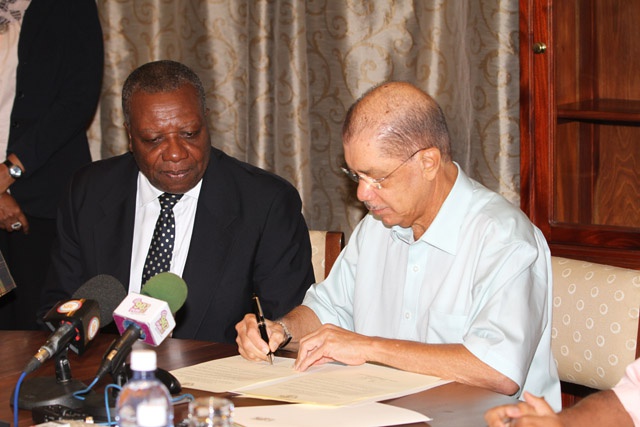 President James Michel (right) signing the ratification of the World Trade Organisation Accession Protocol on behalf of the Republic of Seychelles at State House this morning. (Mervyn Marie, Seychelles News Agency)
Send to Kindle
(Seychelles News Agency) - The Seychelles President Michel has today signed the legal instrument for the Seychelles' accession to the World Trade Organisation, WTO. This comes a day after the accession protocol was ratified by the archipelago's National Assembly.
The signed document which Michel presented to WTO's Director of the Accessions Division, Chiedu Osakwe, at State House, in the Seychelles capital of Victoria this morning, paves the way for the island nation to become a full member of the organisation in 30 days.
A proud moment for Seychelles
Hailing the final step to WTO accession as a proud moment for Seychelles, the Seychellois Head of State expressed confidence that the country can bring additional value to the organisation.
"Joining WTO ensures that we are not bystanders while global processes are shaped and directed by others," he said. "It ensures that we can create more opportunities for our people while also defending their right to development."
"As a Small Island Developing State - we are reliant on open access to trade in goods and services both to ensure that the basic needs of our people are met, and to ensure that we continue to create opportunities for wealth creation and prosperity."
Michel has called on the WTO secretariat to help build the capacity of the private sector, especially among small and medium businesses in the Indian Ocean island nation of 90,000 people.
"Our future success economically depends on our ability to innovate - to build on our strengths and reduce our weaknesses," he said. "Our call to develop our Blue Economy is one such initiative which aims to transform our situation from price takers in the global economy to shapers of new models of development. And to develop the Blue Economy we will need to leverage the research and technological support from across the globe. WTO is well placed to facilitate this access to the key drivers of our Blue Economy transformation."
Michel also highlighted the necessity to continue to link trade and development stressing that this will ensure that long-term investments are secure as long as there is more transparency in international trading rules.
"I am convinced that WTO accession opens up a new chapter for Seychelles' development. A new chapter whereby even though we know we are still vulnerable to external shocks - we have many more tools with which to cope with these shocks. That we have many more tools to build other opportunities that ensure that our economies are fundamentally sustainable," he concluded his remarks.
WTO membership is a commitment to reform
30 days from now, Seychelles will officially become the 161st member of the WTO.
The accession process, which started almost 20 years ago, came to a conclusion in December last year, when WTO's General Council meeting in Geneva, Switzerland approved the archipelago's accession package, including the accession protocol.
WTO's Director of the Accessions Division, Chiedu Osakwe. (Mervyn Marie, Seychelles News Agency) Photo License: CC_BY
The Director of the organisation's Accessions Division, Chiedu Osakwe, has described WTO membership as a commitment to reform.
"Accession to the WTO is a commitment to trade integration to the core values of the WTO which are the values of the market economy, transparency, good governance and the rule of law. This is what you have committed yourself to," said Osakwe, who spoke on behalf of the Director-General of the WTO, Roberto Azevedo.
"What you have done for your country, is not only what has been done for your country but what has been done for Africa and what has been done to update the rules of the multilateral trading system."
Seychelles expected to participate fully in future WTO negotiations
Upon becoming a full member of the WTO, Seychelles will be expected to become actively engaged in future negotiations. One of the events where the island nation will be able to make its very first contribution will be during the 10th WTO Ministerial Meeting. which will take place in Nairobi Kenya from December 15 to 18 this year - the first time such a meeting will ever take place on African soil.
Interviewed by SNA in December last year, the Seychelles Chamber of Commerce and Industry (SCCI) Chairperson, Marco Francis said the WTO membership had to be embraced and utilised to the business community in Seychelles' advantage.
He highlighted the need for the Finance, Trade and Investment Ministry [now Finance, Trade and Blue Economy] to have targeted informative sessions for people in the private sector and businessmen to educate them on what is to be expected and what's in it for them and how to use this for their own benefits.
Currently, the WTO's membership of 160 member states accounts for over 97 percent of the world's total trade volume.
While the process of becoming a WTO member is unique to each applicant country it normally takes an average of about five years for most nations.
Seychelles initially requested membership to the WTO on May 31, 1995, and made very little progress up until it re-initiated the process in 2008.
One of the main challenges Seychelles faced was the limited expertise and experience within its national institutions in trade negotiations and in general and multilateral negotiations in particular.
Since 2008, the government made a significant amount of progress to identify the required legislative changes. By 2010, Seychelles had submitted offers in both Goods and Services, and also established a Working Party on July 11, 1995.
The island nation completed bilateral trade negotiations with nine WTO members that requested talks via Seychelles' working party, namely the US, Canada, the European Union, Japan, Mauritius, Oman, South Africa, Switzerland and Thailand.
Tourism and fisheries are the main pillars of the island nation's economy, with the main export being canned tuna destined mainly for the European market.
Seychelles also depends heavily on food imports with up to 90% of goods consumed coming by air and sea cargo.
According to the Seychelles National Bureau of Statistics, the country exported goods worth just over $230 million in the first 9 months of 2014, including fish products, sea cucumbers and medical supplies while importing nearly $800 million of goods during that same period.
According to provisional statistics compiled by the NBS the largest volume of imports to Seychelles in 2014 were from the UAE, followed by France, Spain, South Africa, United Kingdom, India, China, Mauritius and Singapore.
Finance
» Be a reporter: Write and send your article
» Subscribe for news alert