Victoria heats up for 'Carnaval' – the countdown begins for 5th Seychelles annual carnival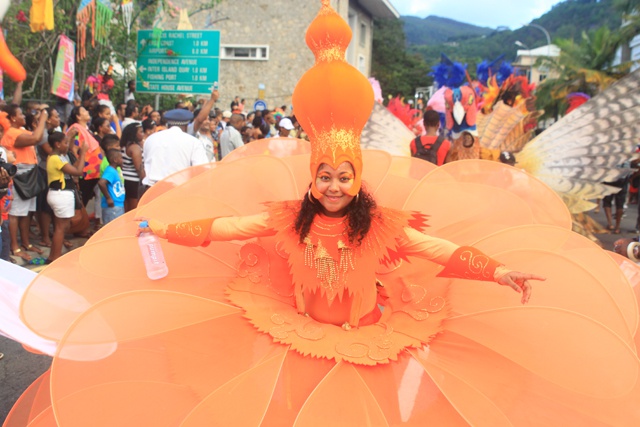 A performing artist from one of the ever-popular Notting Hill carnival groups smiles for the crowd at last year's Carnaval International de Victoria (Joe Laurence, Seychelles News Agency) 
Send to Kindle
(Seychelles News Agency) - More parade floats and more international media coverage is what's said to be in store for the upcoming 'Carnaval International de Victoria' – the Seychelles archipelago's upcoming annual carnival event set to commence on April 24.
With just nine days to go for the start of the three-day long costumed and entertainment-filled extravaganza, revellers can look forward to a total of 52 floats to please the crowds as they parade through the streets of the Seychelles capital, Victoria, located on the main island of Mahé.
According to the Seychelles Tourism Board (STB)'s Chief Executive Officer, Sherin Naiken, who was speaking to the local press on Monday afternoon, around a hundred media houses from all over the world will be covering the event while also exploring the country as a travel destination.
Air Seychelles has also confirmed that it will be sponsoring travel costs for carnival participants and international media organisations, including return flights for the event, reduced cargo rates and excess baggage allowances – all in all, a total contribution of around $360,000 (5 million Seychelles rupees).
"Twenty-nine countries have confirmed their involvement with twenty having a delegation in the float parade. There are thirty-two local floats which, all together, will create a huge and long carnival this year," said Naiken.
Carnival club members from Düsseldorf, Germany showed off their moves and their costumes (Joe Laurence, Seychelles News Agency) Photo license: CC-BY
International ingredients and Creole spice
This year the streets of Victoria, always packed on parade day with festive locals and mesmerised visitors to the islands, will be enthralled at the spectacle of creative floats and spangled costumes of Brazil, Cambodia, China, Indonesia, Germany, the United Kingdom, South Africa, Zambia, Spain, Italy, Swaziland, Kenya, Sweden, Russia, Bahamas, Morocco, Cote d'Ivoire, Mauritius and Reunion Island.
The legendary Notting Hill Carnival Roadshow group from the United Kingdom has confirmed its participation, sending five distinct groups of performing artists to the Indian Ocean island nation to celebrate what they have termed 'the most diverse carnival in the world'.
A delegation from the Miss World organisation, including the reigning Miss World, South African Rolene Strauss will be present as well, joined by Miss United States, Miss Tanzania and Miss Australia.
Brazil has participated in the Carnaval International de Victoria since 2011 and has won the Best International Float prize three times (Joe Laurence, Seychelles News Agency) Photo license: CC-BY
Brazil will be participating as they have since 2011, but this time around with a new addition of the hugely popular Momo King troupe - dubbed in Latin America as the 'King of Carnivals'.
A group of carnival club members from Düsseldorf, Germany will also be attending for the third consecutive year.
Cote d'Ivoire and the Bahamas will be participating in the carnival for the first time.
A new category has been added to the float competition, with international competitions being judged in two categories: best cultural float and best carnival float.
China won the Best International Float prize in 2014, unseating their Brazilian rivals (Joe Laurence, Seychelles News Agency) Photo license: CC-BY
Local floats also have an important role to play in adding a Creole touch to the Carnaval International de Victoria, ensuring that the event remains as spectacular, vibrant and colourful as ever. 
Competition to win the highly coveted best local float prize is heating up as two first-time participants and thirty other local companies and organisations are hard at work on their parade floats and costumes in their efforts to take home the first prize.
A different route
The STB has announced some changes to the route: as in previous years, the parade will start at three on Saturday afternoon on Bois de Rose Avenue, but as it enters Francis Rachel Street the procession will detour into and around the stadium parking area, where the VIPs and carnival judges will be seated.
Colourful Seychellois dancers got Victoria moving to the distinctive island rhythms of the sega beat (Joe Laurence, Seychelles News Agency) Photo license: CC-BY
Once they have circled the stadium car park, the floats will then proceed to the exit opposite the Chaka Bros building. They will then continue on towards the Clock Tower, go down Albert Street past the Deepam Cinema and carry on to Palm Street past the bus terminal and then down 5th June Avenue before coming to an end at the Espace building.
Several stages dotted around the capital will showcase some of the islands' best musical talents. On Sunday 26, a variety of local and international artists will be entertaining revellers enjoying the 'Food Fiesta' and the Kiddies Carnival at Freedom Square, where children from participating local schools will parade, dressed up in costumes made from mostly recycled materials. 
Floats and their colourfully-costumed participants make their way down Francis Rachel Street in central Victoria (Joe Laurence, Seychelles News Agency) Photo license: CC-BY
This year will be the fifth 'Carnaval International de Victoria'.
It all started in 2011, with the aim of having an annual event that brings together not only people in Seychelles but from around the globe to create what is dubbed 'a melting pot of cultures' in the Seychelles capital of Victoria.
Arts & Culture
» Be a reporter: Write and send your article
» Subscribe for news alert