'Made for Seychelles' - uniquely packaged Coke, Fanta and Sprite cans hit the market
The uniquely packaged Coca-Cola, Sprite and Fanta cans featuring the map of the the Seychelles main island of Mahé. (Patrick Joubert, Seychelles News Agency)
Send to Kindle
(Seychelles News Agency) - Seychelles Breweries Ltd (SBL), the Indian Ocean island archipelago's only brewery, is for the first time making available canned versions of Coca-Cola, Sprite and Fanta, three of its lines of soft drinks bottled and sold locally.
All three soft drink brands are produced under license from the Coca-Cola Company, an American multinational beverage manufacturer, which is headquartered in Atlanta, Georgia, with authorized bottlers worldwide.
Seychelles Breweries, being the only authorized bottler of the Coca-Cola Company in the Indian Ocean archipelago, was already producing Coca-Cola, Sprite and Fanta locally in 500 ml and 1.5 litre plastic polyethylene terephthalate (PET) bottles.
In a press statement sent to SNA, the company's Managing Director Patricia Berthelot, said the new 330 ml aluminium cans will offer consumers in Seychelles "a wider choice of format from Seychelles Breweries."
"It will help us to reach some customers in the on-trade sector who prefer cans to PET and also some consumers who for some occasions can find this format more convenient," she said.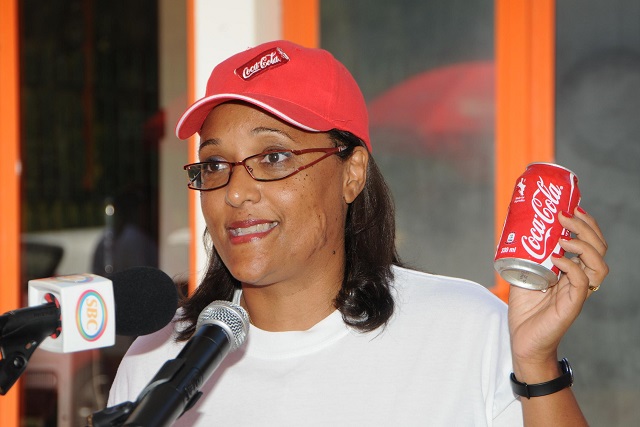 The Managing Director of the Seychelles Breweries Company, Patricia Berthelot, at the launching of the canned soft drinks at the company's production plant at Le Rocher, Mahe. (Patrick Joubert, Seychelles News Agency) Photo License: CC-BY
While the plastic bottle soft drinks are produced at the Indian Ocean archipelago's production plant at Le Rocher on the eastern coast of the Seychelles main island of Mahé, the canned versions are being manufactured by an authorized bottler in South Africa as Seychelle Breweries does not have a production line for aluminium cans.
According to Seychelles breweries, this will guarantee consistency in the taste and quality of the product, which is being "produced and packaged uniquely for the Seychelles Market."
The distinct feature of the cans lies in the sense that it features the map of Mahé along with the tagline 'Made for Seychelles'.
"It is worth mentioning that we are the only market that has such and is a distinguished feature from other Coke cans imported locally," said Berthelot.
A spokesperson of Seychelles Breweries confirmed to SNA that the cans will not be a limited edtition and that they are here to stay, in conjunction with the PET bottles.
From its factory, the 330 ml cans are being sold at $0.88 (12 Seychelles rupees) but the company has said that it does not have any control on the price retailers will charge for the product.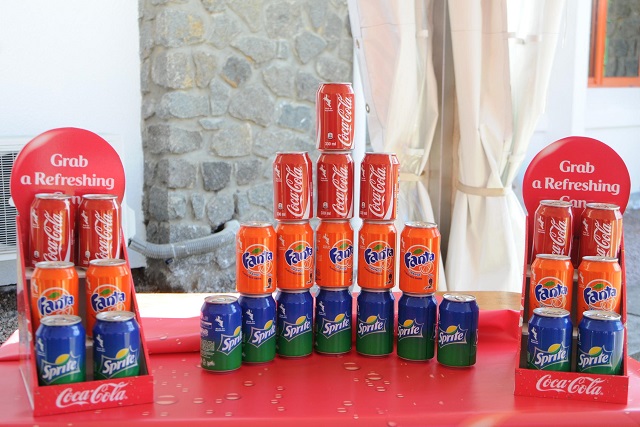 The canned soft drinks will be sold alongside the already existing PET bottles of the three different brands. (Patrick Joubert, Seychelles News Agency) Photo License: CC-BY
In May last year, Seychelles Breweries also made available the island nation's favourite brand of locally produced beer 'Seybrew' in 330 ml cans. However, this was a limited edition to ensure sufficient stocks on the market as the company had temporarily shut down its beer production plant to modernise its ageing infrastructure.
Investment
» Be a reporter: Write and send your article
» Subscribe for news alert