Half a century dedicated to priesthood in Seychelles: Father Gustave Lafortune goes into retirement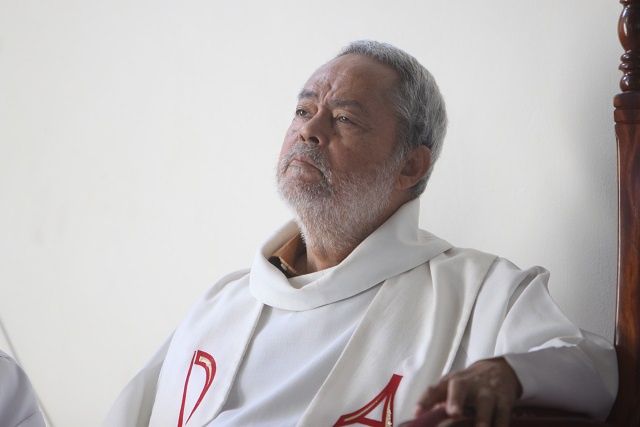 Father Gustave Lafortune have spent almost 52 years in different Roman Catholic parish across the country. (Joe Laurence, Seychelles News Agency)
Send to Kindle
(Seychelles News Agency) - Having spent nearly 52 years serving in various parishes of the Roman Catholic Diocese of Seychelles, Father Gustave Lafortune has witnessed the evolution of the church and of the Seychelles Catholic community.
The Bishop of the Roman Catholic Diocese of Port Victoria, Denis Wiehe, celebrated a special Mass in honour of the work that Father Lafortune has done.
The mass was celebrated at St. Andrew's Parish at Cascade, a district on the eastern coast of the Seychelles main island of Mahé.
SNA met with Father Lafortune while he was moving into the "Domus" building, [the residence of Roman Catholic priests in Seychelles] which is also a national monument since 1984, where he will now be based.   
SNA: Father Lafortune how do you feel about retiring, after all these years of service to the Roman Catholic Church in Seychelles?
Father Lafortune: Of course after 52 years of having worked on different things it is absolutely important to retire, to be able to rest. I left the Cascade parish where I felt like I was being tormented by a lot of beggars. I hope that here I will be able to rest without having to deal with such things. I have several projects in mind and with the grace of God will see how to attain them.
SNA: What are these projects that you wish to accomplish?
Father Lafortune: The number one project is to write a catechism, it's an old catechism that I have been working on for the past 48 years now [smiles]. I started to write the first part and then another, but then I stopped. I am hoping that I will now have more time to focus on this project and make it a reality. Of course, this will go through my superiors before it is printed... I also plan to write one or two booklets to educate people about the reality, how we live, our purpose on this earth, where do we want to go. Today, the world seems to have lost much of its faith. God has been put aside by the vast majority of the population and it's in that line that I want to focus my booklets. And the third project is to compile on CD all the tapes of songs that I have produced and then put them on sale.
SNA: Will the Domus [official residence of Roman Catholic priests at the Cathedral of the Immaculate Conception in Victoria] be your final residence?
Father Lafortune: Yes, Domus will be my last residence, I thought that it would be Cascade but I was obliged by the Bishop who told me that he had decided for me to come and live here for the benefit of the parish as well as for my personal well-being. 
The Bishop of the Catholic Diocese in Seychelles Denis Wiehe celebrated a special mass at the St Andrews Parish at Cascade to honour the work done by Father Lafortune. (Joe Laurence, Seychelles News Agency) Photo License: CC-BY
SNA: How would you describe the transformation of the church over the past 50 years, when you started you used to wear cassocks and now this is no longer the case?
Father Lafortune: The changes have not occurred fast enough, it has taken some time, generations change…traditions and behaviors change ... Yes, in the early days we wore cassocks with the Roman collar ... I still have two ... I do not know what to do with them, I think I'll give them to Caritas [an agency founded in 1975 by the then Bishop Felix Paul to respond to the poor and marginalised by providing the basic human needs of food, clothing and shelter] It is true that there are many things that have changed, for example there was the serious practice against baptism of illegitimate children... or the very harsh practice toward the deceased who were not church attendants whose funerals were held outside church. As time have gone by the church have reversed such practices, it is an improvement. With regards to the priests' habit, this has also changed as we must evolve with time. It's like I can today see beautiful houses which were before built with corrugated iron sheets ... life changes. There are things we think will be in the best interest of the people, the poor, the sinner...so we have to be less strict...
SNA: During your 52 years of service, you have baptized, celebrated many weddings, how would you describe your contribution to help expand the Roman Catholic faith in the Seychelles?
Father Lafortune: I did a lot. I tried as much as possible to instill faith, love of God, love for our neighbours, but we must realize that the world has become more and more materialistic, with the availability of the internet and television. people's behaviours have changed. We try our best...even during my time at Cascade I met people from time to time whom I encouraged, but it all goes in one ear and out of the other... it's like marriages, when I was at Anse Boileau [a district on the western coast of the Seychelles main island of Mahé] I celebrated 162 weddings among which ten couples have already separated and some have changed their beliefs. We try very hard to make parents understand that they have a responsibility to educate their children. But no one really listen... Jesus tried as hard as he could to explain his role and purpose but eventually the majority decided to kill him.
SNA: You have served as a priest in several parishes, which of these parishes you preferred?
Father Lafortune: In the beginning, people were more attached to the church. I remember at Anse Boileau when I was hosting a spiritual retreat during Lent, there were 150 men and women who attended. I will never forget Father Justin who was at the retreat at Anse Boileau at the time, when I asked him to help me with the confessions, he would ask me how many people there would be? And finally by 7pm there were still people waiting for their turn to go into confession ... but nowadays nobody comes to confession so I decided to stop.
SNA: Father Lafortune, in President [of Seychelles] James Michel's biography he describes you as one of his few friends why is that?
Father Lafortune: I have known him for a long time. I am not into politics... we have a good friendship, and I also have a good friendship with the former President Albert René. When I needed help for 'La Salette' France Albert Rene helped me and when I needed help for the church at Anse Boileau James Michel also helped me. I have always had a simple friendship with both of them without having to go into politics. Sometimes when I see something that I am not pleased with I would tell them and it could have cost me dearly. But I gave my opinion anyway.
SNA: Former President Rene was also a seminarist during the time you were in seminary?
Father Lafortune: I believe so, I seem to have forgotten a little bit, he also went to Switzerland to study but he only stayed for a semester.
Father Lafortune has in his days as a priest also composed several songs some of which are quite popular. One of his future projects is to have his songs on CD. (Joe Laurence, Seychelles News Agency) Photo License: CC-BY
SNA: How did you feel during that period of your life when you were a bit like a star with your songs regularly played on the radio?
Father Lafortune:  I was inspired, from a very young age when I was still at school, I wrote poems, I loved to read but unfortunately many of my old poems are lost because one of my colleagues who was not very nice burned many of my things... As I grew up, I continued to write poems and then I learned to play the guitar, and that's when I started to develop an interest in music. My songs have always been an inspiration, it's like a gift from God. I cannot say that I'm a composer, I see myself as a prophet, like Jesus said "I will put words in your mouth."
When I get up in the morning, the good Lord gives me inspiration for a song, its melody and then I start to compose and I continue like this for about an hour until I am satisfied with the song ... with the exception of songs that I have composed in this way, I can say that I have done only two or three with a guitar.
SNA: Which of your songs are the most popular?
Father Lafortune: "En soley pe leve" (the sun is rising), and there's also Jean Paul II [Pope John Paul II] and there are two or three others that people love to sing.
SNA: Do you feel you still have enough strength?
Father Lafortune: Yes, I do everything by myself, the only problem is that last year I had eye surgery, and I do not see properly with one eye, so I cannot drive and I always have someone with me. I will try and see if I can go to Mauritius to have laser surgery to correct the problem.
SNA: If anyone ask for your service, will that be possible?
Father Lafortune: Yes, I have not come here to sit and do nothing. I will continue to work, it also depends on the parish priest, if he asks me to perform a funeral or a mass…things like that. I will not be able to receive people like I used to in the districts because now I need to get some rest. 
Residents of the Cascade bidding farewell to Father Lafortune. (Joe Laurence, Seychelles News Agency) Photo License: CC-BY
The Interview
» Be a reporter: Write and send your article
» Subscribe for news alert